Demand for Hawking PhD thesis crashes Cambridge's website
More than 30,000 people have tried to access the work, released earlier this morning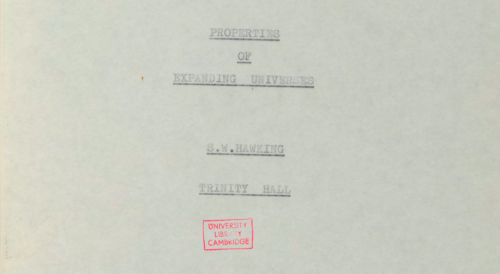 The world's most famous scientist. The world's second-best university. Unfortunately, not the world's greatest web server.
The University of Cambridge this morning released online the PhD thesis of eminent physicist Stephen Hawking, entitled Properties of Expanding Universes, and it turned out to be more popular than your average academic article.
More than 30,000 people have tried to access the thesis since the University published it at one minute past midnight, causing the website to crash intermittently.
Hawking said that he hoped to "inspire people" by publishing the thesis, adding "Anyone, anywhere in the world should have free, unhindered access to not just my research, but to the research of every great and enquiring mind across the spectrum of human understanding.
"It's wonderful to hear how many people have already shown an interest in downloading my thesis – hopefully they won't be disappointed now that they finally have access to it!"
The thesis is the most requested item in the University's collection. Previously, people wanting to read it had to pay the library to print off a copy, or pay a visit to see the physical copy.