Cambridge's Disciplinary Procedure
Reclaim the Night celebrates Cambridge's feminist legacy
Marchers chanted with placards raised to reclaim their public space and further the legacy they have been passed by Cambridge feminists in history
Cambridge turns out to Reclaim the Night
An estimated two hundred women and non-binary students gathered tonight to rally through central Cambridge for the annual Reclaim the Night march, placards raised and chanting, stopping onlookers in their wake along the route.
Those gathered marched through Parker's Piece to the Grafton Centre, before turning back and walking through Market Square in time for a vigil in King's Chapel. As they marched, they chanted, "Say it once, say it again, no excuse for violent men," and "Whatever we wear, whenever we go, yes means yes and no means no." As the marchers progressed, customers rushed out of restaurants to snap pictures, while shopworkers hung outside of the entrances to stare.
This year's Reclaim the Night march was part of an annual effort which began in the UK in 1977, and intensified in protest of police response to the Yorkshire Ripper, who murdered sex workers, which resulted in a warning to all women not to go out at night. Marchers tonight mirrored a network of similar events throughout the country across the year.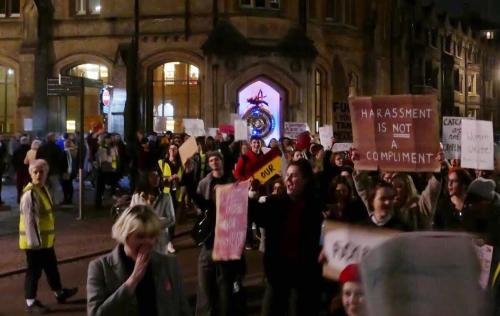 Over the years, the march has grown in Cambridge. Addressing the crowd gathered, CUSU women's officer from 2015 to 2016, Amelia Horgan, described the march in her first year where 30 people turned out. Tonight, former CUSU women's officer Lauren Steele said to those gathered in King's Chapel for the vigil: "There are so many people I can't see to the back."
To the crowd who gathered at Parker's Piece at 5:30pm, Horgan described how women and non-binary people are told to walk with "key in hand, phone on emergency", which, she said, has stopped them from being able to walk the streets without fearing men. She said, tonight, those gathered would march "even though we've been taught to fear the night, to expect sexual violence to happen."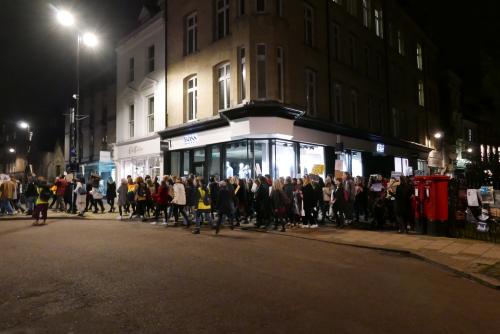 She said: "The night has never been ours", but that through the march, women and non-binary people could "claim the entire world". However, she stressed the importance of taking into account the experiences of women who face oppression in different forms, and asked: "What does a night mean for a migrant woman without national status" or "trans women," or those "unable to travel without facing violent state oppression?"
CUSU's current women's officer, Lola Olufemi, echoed her sentiments of marching for women who face further oppressions. She said: "We march for trans women," for whom "walking the streets can be a daily battle".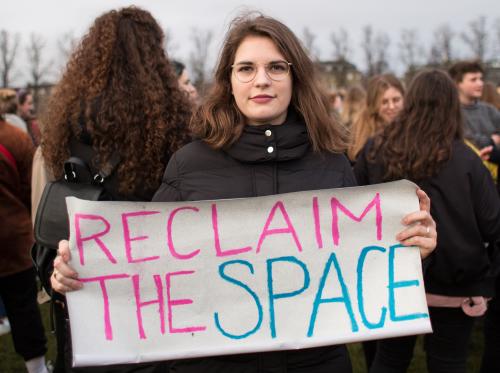 "We march for and with survivors of sexual violence and domestic abuse", she added, as well as for those in Ireland, for the repeal of Ireland's 8th amendment – which prevents terminations in the womb except in exceptional circumstances – for sex workers, especially those of colour, and women in indefinite detention both in the UK and Palestine.
Speaking to Varsity, Claire Sosienski Smith, CUSU women's officer-elect, said: the "turnout tonight was incredible," and added that "the idea of people coming out and watching us and taking videos," shows the march caused an "important" form of disruption, as women need to continue taking up space and be seen "as people," rather than "as a spectacle."
With a succession of CUSU women's officers from the past five years – Lauren Steele, Amelia Horgan, Waithera Sebatindira, Lola Olufemi and the newly-elected Claire Sosienski Smith – making appearances at the march and vigil, there was a real emphasis placed on the importance of feminist memory in activist efforts at Cambridge. Speaking on Parker's Piece, CUSU women's officer from 2016 to 2017, Waithera Sebatindira, told the audience that "feminist memory is also a command," as "looking back at our predecessors work, and the baton they've handed to us, dropping it is not an option."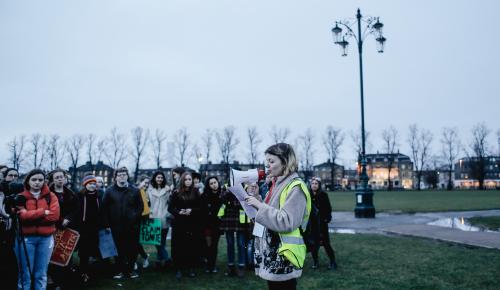 Horgan, too, spoke about her time as CUSU women's officer, when she would sit and read the CUSU archives, where she found out about, for example, women who occupied Senate House. She said: "When I read these things, I felt brave. I knew that it was people who made this miserable world, and that meant people could change it."
Sebatindira shared her experiences too of exploring the CUSU archives, which she called, "a treasure trove of individual battles fought at different times". She said: "This is one of the things that feminist memory does – it emboldens."
When feminists today find themselves exhausted, Sebatindira added, "we can look back at what our predecessors did with fewer resources."
In a dim, warmly-lit King's College Chapel, marchers gathered again to hear keynote speaker Sara Ahmed, notable feminist scholar, speak about survival, and "those of whom for survival is political." She described herself as a "feminist killjoy," and went on to say that feminists are "heard as snappy whatever [they] say" as they fight against systems of oppression, while "those who are enabled by that system will fight so hard to deny its existence."
If you have been affected by any of the issues raised in this article, the following information and support is available: