Women get more Cambridge offers than men for first time ever – but more men get in
Admissions statistics from 2017 also show a 50% rise in offers for those from areas with lowest participation in higher education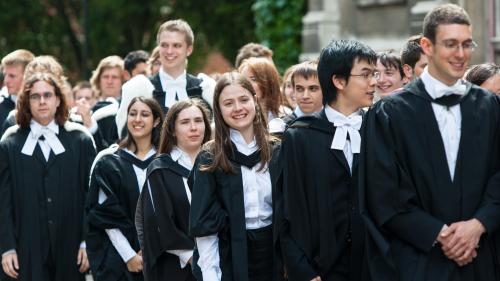 Cambridge offered more places to women than men for the first time in its history last year, but more men took up their offers, new admissions statistics show.
The figures, which were released by UCAS and only include home applications, show that 1,660 women received offers to study at the University in 2017, compared to 1,645 men.
However, only 1,275 female offer holders took up a place to study at Cambridge, slightly fewer than the 1,315 male offer holders to do so.
Oxford also offered more places to women than men for the first time last year, but exactly the same number of women and men took up places there – 1,275.
Last year, 33.4% of female applicants to Cambridge were offered a place, representing a slight fall compared to the year before, but still ahead of the 28.4% offer rate for male applicants.
This represents a continuation of the trend for higher offer rates for women that has been present for at least seven years, but 2017 was the first year in which this translated into a higher number of offers being made to women.
There are various reasons why an offer holder would not eventually take up their place, including failure to achieve the required grades, deciding to study at another institution, or complete withdrawal from the university application process.
Cambridge's overall offer rate for 2017 fell to 30.7%, a drop of 2.5% from 2016 and the lowest since 2011.
UCAS's new figures also record Cambridge admissions statistics broken down by which POLAR3 quintile an applicant comes from, a system that ranks UK areas by how likely its young people are to enter higher education.
In 2017, there was a 50% increase in offers made to applicants from areas with the lowest participation compared to 2016. 150 offers were made to those from Quintile 1 areas, which have the lowest participation, as opposed to 100 the year before.
This represents an almost 7% increase in the Quintile 1 offer rate, which rose to 32.1%. The offer rate for those from Quintile 5 areas, those with the highest levels of participation, fell by almost 5% to 32.3%. However, over 10 times more applicants from Quintile 5 areas took up places than those from Quintile 1 – 1,135 compared to 110.
White applicants continued to be the ethnic group with the highest offer rate, but were equalled by mixed race applicants for the first time since at least 2010, with both groups standing at 32.3%.
The offer rate for Asian applicants fell slightly, dropping to 24.5% from 29.6% in 2016, but rose from 18.5% to 21.6% for black applicants. 55 black students took up a place at Cambridge last October, an increase of 15 compared to 2016.
In July, a Varsity analysis revealed that Cambridge had accepted more black men than former students of Eton College for the first time on record – 22 and 21 respectively. Another all-male private school, St Paul's School, had 22 students accepted.