CUCA set to host tobacco-funded lobbyists
A political pressure group against tobacco control will visit CUCA on 10th February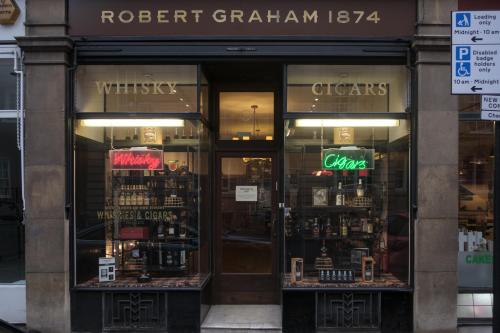 Cambridge University Conservative Association (CUCA) will be hosting a political pressure group against tobacco control activity, named FOREST, at the Robert Graham cigar shop on February 10th as part of its event line-up this term.
FOREST, short for Freedom Organisation for the Right to Enjoy Smoking Tobacco, receives 96% of its funding from the UK tobacco industry, and campaigns against what it deems the 'denormalisation' of tobacco. Branding itself as a "voice and friend of the smoker", the lobbyists work chiefly through communicating with politicians and the media, using platforms such as Twitter, to call for an end to the "stigmatisation of smokers".
In its term-card, CUCA invites its members to "Find out more about different pressure groups with FOREST!".
Speaking to Varsity, Connor MacDonald, the CUCA Chairman for Lent 2018 said, "While the Association does not necessarily endorse the views of FOREST, we appreciate the dangers of regulatory overreach and want to hear the perspectives of groups on the front line against it.
"The event in question is primarily social and aims to provide our members with free cigars should they so wish to smoke them (we have judged that this is something that our membership in general would quite like)."
MacDonald insisted: "Lobbying is an important component of democratic political processes and our members are adults capable of making informed and reasoned judgements. There is no compulsion to attend.
"As such, CUCA is committed to open and free debate and we will endeavour to explore controversial but important areas of discussion, of which this is one."
His comments were supported by Vice-Chairman of the association, Dylan Coll-Reed, who issued a unanimous statement.
In a statement released to Varsity, FOREST said: "Forest neither promotes nor encourages smoking. We support freedom of choice and personal responsibility, which is quite different. Tobacco is a legal product enjoyed by millions of adults. The health risks are well-known and we support all reasonable measures designed to discourage children from smoking.
"Once you're 18, however, you are an adult and old enough to make informed choices about all sorts of things, including smoking and drinking. The idea that students should join a moral crusade against smoking is a chilling reminder of the evangelical temperance movement of the early 20th century. Do we really want to go back to that?
"I was delighted to accept CUCA's invitation to talk about Forest's work, not least because it sounds like an enjoyable evening. Smoking and the nanny state are issues that divide opinion so I'm looking forward to a lively discussion. Forest is non-party political so if the Labour Club or Liberal Association want to invite us to address them too they only have to ask! Our message to members of CUCA and other political groups is simple. Health is important but so too are pleasure, freedom of choice and personal responsibility. Respect other people's choices, even if you don't agree with them.
"Most important, join Forest in our fight against the intolerant, narrow-minded puritans who want to stifle debate on this and other lifestyle issues. You're at Cambridge, for God's sake. Listen to all sides of the argument and make up your own minds."
CUSU Ethical Affairs Officer, Dylan Amin, told Varsity: "While there is nothing we can do to prevent this association between CUCA and FOREST, we are surprised to hear of its existence.
"The arguments for tobacco control are coherent, powerful and backed up intensely by research, encouraging CUSU to be in support of it. For the environmental, social and moral good of the society our students live in, we condemn FOREST's work, making us thoroughly disappointed by this event."
Other upcoming events this term include a proposed visit from the controversial Eurosceptic Tory Jacob Rees-Mogg on February 8th, alongside regular 'Port and Policy' meetings