Freestyle rap video sparks debate about Cambridge's black access gap
Videomaker Patrick Sylla and African-Caribbean Society head Ore Ogunbiyi disagreed over the tone of media debate around black students at the University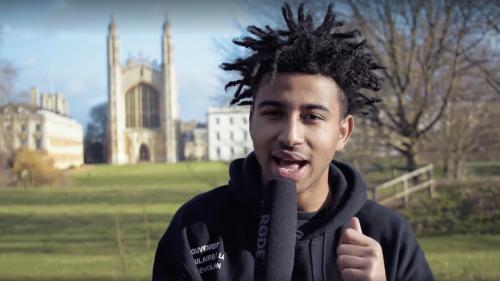 A freestyle rap about the experiences of a black Cambridge student has gone viral, sparking a new debate about access for black students at the University.
The video was recorded by Patrick Sylla, a third-year natural sciences student at Jesus College, who also produces videos with student-run channel 'Tell Me About'. Since it was publicly posted on his Facebook page yesterday, the freestyle has been viewed over 7,000 times and attracted hundreds of likes.
Posing the question of 'What's it like to be a black Cambridge student?', Sylla criticised press coverage around the topic – arguing that they could be off-putting to prospective black students for "insinuat[ing] that you can't enjoy your time here if your skin is brown".
"I like Cambridge," Sylla said, "and I don't want a twisted version of my life being made money off by the papers." He went on to question the value of this narrative, asserting its potentially damaging effects on young black people's willingness to apply to Cambridge and on attempts to solve the problem of black underrepresentation among the Cambridge student body.
Sylla's freestyle, which he uploaded on Facebook
The experience of black students at Cambridge, where they are significantly underrepresented compared to national metrics, has received increasing attention in the national media. Cambridge takes in black students at a rate significantly below the national average.
In statistics for 2015/16, the University had only 119 UK undergraduates who identify as black, excluding those of mixed ethnicity, out of total of 9,342 – just over one per cent. Out of 1,212,055 UK domiciled students who were studying in Britain in 2015/16, seven per cent were black.
In July last year, analysis by Varsity showed that in October 2016, Cambridge accepted more black men than former Eton College students for the first time in its history. It also revealed that success rates for black applicants have consistently been far lower than the overall average across the past decade.
"The Guardian tells me that I won't like it here at Cambridge because I'm half black," Syalla rapped, "I feel profiled not by the University but by articles like that. If I read those articles before coming here, I probably wouldn't apply. Them telling me my time here would be dictated by race is an outright lie."
However, Sylla's video has attracted criticism from several students, including Cambridge University Afro-Caribbean Society (CUACS) president, Ore Ogunbiyi.
Earlier today, FLY – Cambridge's network for women and non-binary people of colour – published an article titled "We Need Your Support, Not Your Freestyles", written by Ogunbiyi, which challenges Sylla's characterisation of both media coverage and student experiences.
Discussing her own viral article about "surviving Cambridge as a black girl", published in Varsity last month and since republished by the i newspaper, she argued that articles such as hers – which address experiences of racism and racialisation as a student — "gain the traction they do because they strike a chord" with young black people "across the country".
"They don't scare students off. They remind students who are going through this that they aren't alone, that there are support systems for them and that the problems of systematic and institutional racism are bigger than just us."
In a public Facebook post, Sylla said Ogunbiyi's response article was "worth a read", saying that "it highlights the variety of experiences had by people here and how different people face different struggles based on gender and sexuality - which is an important conversation to have. It also discusses the amazing (and time consuming) work that is being done by black women in ACS, which i have huge amounts of respect for."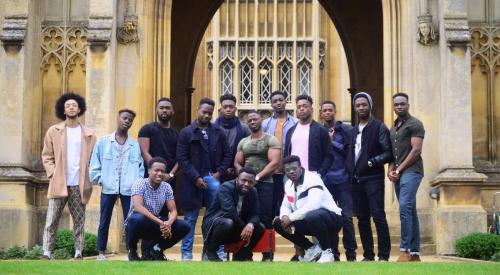 "Clearly, the article takes issue with my video – conversations on these issues can only be a good thing, and the opinions presented by Ore are valid," he said.
Improving access for black students has been a key focus of Olivia Hylton-Pennant: this year's CUSU access and funding officer, and a former Newnham access officer.
In Easter 2016, before she took up her role, Hylton-Pennant passed a motion through CUSU Council which mandated the student union to work with CUACS "to offer access initiatives that aim to increase the number of black students at the University of Cambridge", and to lobby the University for the introduction of CUACS's annual access event. In July last year, CUACS held an access event in London in conjunction with law firm Linklaters to inspire Year 12 students to apply to Cambridge.
In April last year, photographs of fourteen black male undergraduates went viral on social media after being posted on Facebook by CUACS. They were posted as part of an effort to "capture just some of the black men who contribute to one of the world's most innovative intellectual spaces".
"It's important for prospective black students to feel as though Cambridge is somewhere that is open to them," Hylton-Pennant told Varsity in July. "Something as simple as having the opportunity to come into contact with a black student can make a huge difference – I know from personal experience. That played a huge part in my decision to apply to Cambridge."
The University pledged in its most recent access agreement to improve access for student from underrepresented ethnic backgrounds, and is in the process of developing a new outreach scheme. In October, Labour MP David Lammy described Oxbridge colleges as "fiefdoms of entrenched privilege", after revealing data which showed a quarter of colleges across the two universities made no offers to black students from 2010–2015.