Oxcam bring sand to Sidgwick in Paradise Papers tax evasion protest
Students made a mock 'tax haven' beach on the Sidgwick Site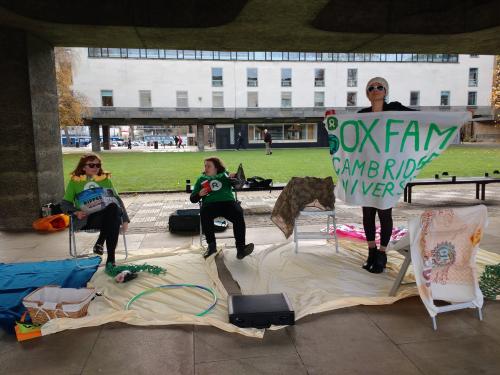 Oxfam Cambridge University (Oxcam) protested tax evasion by institutions including Cambridge and its colleges on Wednesday, setting up a mock 'tax haven' beach on the Sidgwick site.
The question of tax evasion question was brought into sharp relief last month, after the revelation that the University and several of its constituent colleges invested millions in tax havens. Part of those investments helped to fund a company dealing in oil exploration and deep-sea drilling.
Oxcam president Miriam Quinn told Varsity that their aim was to "highlight the issues associated with tax avoidance and tax havens, which are depriving governments across the world of crucial tax revenues which could be used to provide vital services for their people.
"Oxfam GB are calling on the UK government to use their position of power to introduce public country-by-country reporting for all multinational companies operating in the UK."
Oxcam was founded in January 2017 as part of a global Oxfam campaign to end poverty and inequality. It helped put together the 'Stand As One' campaign in support of refugees and produced 'Rights of Passage', a play which detailed the experiences of three LGBT+ refugees. Tax evasion and avoidance are high on their list of priorities, as an organisation that aims to tackle the issues facing the systematic root causes leading to poverty and the marginalisation.
Corporate taxes make up a disproportionate amount of the tax bases in developing countries – twice as much as in richer countries, according to Oxcam's briefing. The failure of companies to pay their fair share of taxes hence has great effects on the world's poorest communities.
Quinn told Varsity that their stunt was a good way to emotionally and intellectually engage students in the issues surrounding tax evasion. Stunts, as oppose to a conventional protest, "are good at drawing people in," Quinn says. "In my experience at least, people are then keen to find out why there's a beach in the middle of Sidgwick Site, so it allows for conversations to be started."
When the contents of Paradise Papers were first revealed, a spokesperson said on behalf of the colleges and University: "The Colleges and the University are charities and therefore their holdings in investments are tax-exempt in the UK, US and many other countries. This means there is normally no tax to pay."
In reaction, Quinn said "It should be public information where Cambridge and Oxford, as well as other universities, companies and individuals, are paying taxes.
"It's only when this information is public that these groups and individuals can be questioned on and made to justify their decisions."