David Miliband speaks out on refugee crisis
Miliband answered questions on the Talking Politics podcast, hosted by David Runciman, head of the Department of Politics and International Studies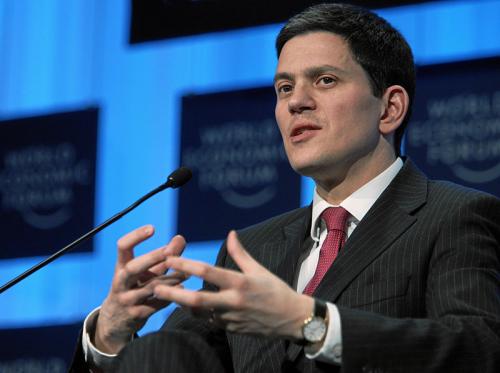 Former Foreign Secretary David Miliband spoke earlier this week to the head of the University's Department of Politics and International Studies David Runciman, on the Talking Politics podcast.
The podcast, hosted by Runciman, is released every Thursday and features a regular panel of experts and invited guests discussing pressing political issues at a time where "politics has never been more unpredictable, more alarming or more interesting."
In this week's episode, Miliband, who is currently President and CEO of the International Rescue Committee, discusses his new book, Rescue- Refugees and the Political Crisis of Our Time. In addition to conversation about climate change, Brexit, and the failures of the Blair government, Miliband explains what the refugee crisis can reveal about the state of world politics, and comments on the difficulties of social democracy in an "age of extremes".
Miliband stresses the importance of distinguishing between the politics of immigration and the refugee crisis, stating that the rights of refugees are "completely different" to the rights of immigrants and the state's responsibility towards them, adding: "a refugee is someone who can't safely be sent home." He continues later in the podcast: "the reason we've got a global refugee crisis is because we've got a set of civil wars around the world that are not being resolved…because we've got a global diplomatic crisis." He added: "until we can see a rebirth of peace-making, peace-building and peace-keeping then the refugee crisis and displacement crisis is going to grow and grow."
Miliband also answered questions directly from Varsity.
In light of Miliband's statement in a TED Talk earlier this year, where the ex-labour politician stressed the importance of voting for politicians who would put into practice solutions to aid the refugee crisis, Varsity asked: if the current Labour opposition were in power, do you think that they would help solve this problem?
David Miliband responded, "I think there is a good deal of confidence they want to move in another direction" from the Conservative government. Miliband remarked upon the current administration's handling of the refugee crisis and pointed to Theresa May's decision to cancel the commitment made by David Cameron to take 3000 unaccompanied children from the Middle-East, calling it "incredibly mean-minded." Miliband added: "at the moment only six refugees per parliamentary constituency are allowed to come in from Syria. That seems to me to be completely nugatory." He stressed, "I'm hopeful that Britain will not take the status quo as being the best it can do."
Several Cambridge students have embarked upon initiatives to make their own positive impact on the refugee crisis. As Varsity reported earlier this month, Tiara Sahar Ataii, a second year languages undergraduate at Robinson, set up 'SolidariTee', a national fundraiser and campaign which supports refugees with legal aid in camps across Greece.
The campaign, which is projected to raise over £30,000 includes participants from universities across the UK, including Edinburgh, Oxford, Imperial, UCL, Bristol, Liverpool, Leeds, Durham, Exeter and Manchester. Students have been buying and sell custom-made 'SolidariTees' to wear on the 'Day of SolidariTee' which this year, falls on Friday 24th of November. The £10 cost of a t-shirt is equal to one night of accommodation for a human rights lawyer in Greece. T-shirts will be available to purchase on Friday 24th at the University's Sidgwick Site and on King's Parade.
Another student initiative to aid the refugee crisis is 'RE:action', a student-run volunteering network started by second year law student at Trinity Hall Ghazzal Maydanchi. RE:action focusses on "what Cambridge can do, with its special privileges, skills, and resources, to support the lives of refugees and migrants in need of protection."
Speaking to Varsity, Maydanchi said: "We're all about centralising the skills, resources and talents we have privileged to the University of Cambridge and mobilising them towards effective action for refugee and migrant protection. The focus is targeted, asking the question: what activism are we best placed to do to make the most meaningful impact?" She added: "At present, this means we partner Cambridge students directly with NGOs present and doing amazing work in the field to alleviate the access to justice gap for refugees and migrants in their migration journey." She stressed the "innumerable amount of opportunities for people to educate themselves, and get involved however they can."
In response to Varsity's final question to Miliband, about a Prime Minister's right to revoke Brexit, he said: "my instinct is that to countermand the vote of the people need also a vote of the people because otherwise you do risk democratic outrage. But I think that the idea that democracy should end on 23rd June 2016 with the referendum vote and no-one is allowed to discuss or debate what Brexit means or whether it should go ahead seems to me to be an anti-democratic move."
He added: "I was in office when we put in Article 50, which is the triggering mechanism for Brexit, and there was no question in my mind that things could change in the two years that would allow a country to change its mind and re-submit its letter to the E.U. council and say we want to put a blocker on things."