Cantabs show 'defiant love' on Transgender Day of Remembrance
Students gathered to mark the event in a candlelight vigil on Jesus Green and a commemoration event in Emmanuel College chapel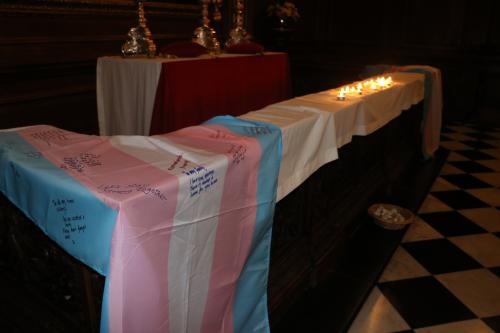 On Monday, Cambridge marked the Transgender Day of Remembrance with two vigils, organised by Ali Hyde, former CUSU transgender representative and incoming CUSU LGBT+ committee president, and Mariah Hickman, incoming CUSU transgender representative.
The Transgender Day of Remembrance is observed internationally on the 20th of November each year to honour the people killed as a result of transphobia, and to draw attention to the continued violence facing the transgender community.
The first vigil was open only to transgender people, and took place by candlelight on Jesus Green, while the second took place in Emmanuel College Chapel and was open to anyone who wished to mark the day.
Speakers read out the names of those killed and several minutes of silence were observed, followed by the lighting of candles.
People were also invited to write messages of support and solidarity on a transgender pride flag.
The Trans Murder Monitoring Project revealed that there were 325 reported murders of trans and gender-diverse people between 1st October 2016 and 30th September 2017, with the majority of these killings – 171 – occurring in Brazil. This is an increase from the same reporting period over the previous year, when 295 people lost their lives.
Mariah Hickman said: "Of course, any list of names can only scratch the surface. Some violence goes unreported, and some deaths are reported but using the wrong names, pronouns and genders, or with the motive left out"
The importance of honouring those who took their own lives – often "due to the physical and verbal violence that trans people are bombarded with" – was also emphasised.
Hickman told vigil attendees, "this day is a necessary act of defiant love, defiant compassion, and defiant remembrance."
Other local events were also organised to commemorate victims of transphobic hate crimes, including a service in Corpus Christi's Chapel with readings, music, and prayers.
Last month, Murray Edwards college revised their application requirements for transgender and transitioning applicants, no longer requiring transgender women to have their gender legally recognised to apply to the college.
This week, Lucy Cavendish Student Union president Ida Svenonius told Varsity that the college are looking into changing their policy, and "many internal discussions are therefore currently being had, including a recent panel discussion open to all members and fellows of the college."