Queens' refuse to condemn DoS over fresher email
Despite attracting widespread criticism, Queens' has remained silent on the email sent to NatSci freshers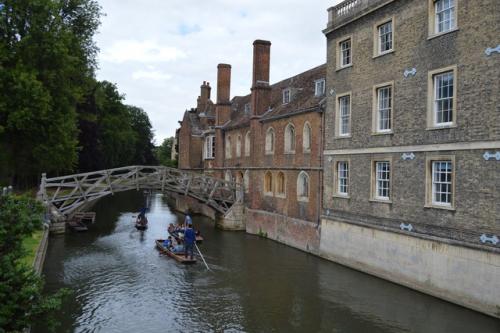 Queens' has refused to condemn an email sent by Professor Eugene Terentjev to first-year students warning them not to have a "good time", despite criticism from CUSU and Student Minds' Cambridge.
Terentjev, a Director of Studies at Queens', and the Queens' Senior Tutor Dr James Kelly, have both declined Varsity's requests for comment.
The email, which was sent to first-year Natural Sciences students at Queens', sparked outrage when it was made public on social media by the student-run Facebook page Memebridge.
Terentjev writes: "There are things that need to be said, and these first few weeks of your Cambridge experience are quite critical in the way your path forms"
Claiming to be precipitated by "the rumours that there is again a rise of various 'drinking games', especially in Formal Hall (although not uniquely there)", the email advises students not to engage in such behaviour.
It says: "Please be careful how you handle yourselves here in these early weeks: remember that you are NOT at any other uni, where students do drink a lot and do have what they regard as a "good time" – and you are NOT on a course, as some Cambridge courses sadly are, where such a behaviour pattern in possible or acceptable."
"Physical Sciences is a VERY hard subject, which will require ALL of your attention and your FULL brain capacity (and for a large fraction of you, even that will not be quite enough). You can ONLY do well (i.e. achieve your potential, which rightly or wrongly several people here assumed you have) I you are completely focused, and learn to enjoy the course. People who just TAKE the course, but enjoy their social life, can easily survive in many subjects -- but not in this one."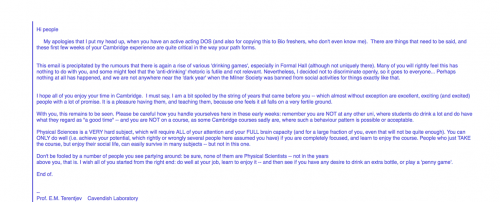 The email ends with the instruction not to be "fooled" by the sight of other students partying as "none of them are Physical Scientists".
Student-run mental health campaigning group Student Minds Cambridge were quick to condemn the email, posting on their Facebook page: "We want to stress that this is not an appropriate or acceptable message to spread to students."
"No matter how much work you have, no matter your current levels of attainment, there is nothing more important than your mental health"
They added: "We are very concerned that this could be extremely damaging to the mental well-being of the students in concern, and potentially others as well. This could enforce feelings "imposter syndrome" commonly experienced by Cambridge students. It is important to remember that there are many reasons different people get different grades, and it does not mean that they do not deserve their place here."
CUSU Welfare and Rights Officer, Micha Frazer-Carroll, also took to social media to condemn the email, saying: "There are pertinent remarks to be made regarding student wellbeing in Cambridge. To offer support regarding drinking culture in Cambridge could have been a positive thing - words of wisdom on work/life balance, or getting enough rest among social commitments might be another. But the email sent last week took neither opportunity - it only looked to criticise the very premise of having a social life, or any sort of life, outside of study.
"CUSU Welfare and Rights supports students in prioritising their own wellbeing - and not simply because it 'enables you to work better', but wellbeing for wellbeing's sake."
When contacted by Varsity, Professor Terentjev declined to give comment. On Memebridge, however, he was tagged beneath the email and asked "was this you?", to which he responded "I was told to offer no comment"