As Cambridge shows its support, the fight for decolonisation goes on
While the push for reforming curricula is louder than ever, those involved are keen to stress that this has been a long time coming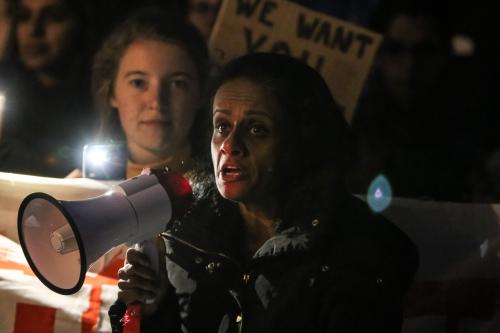 Decolonisation isn't new to Cambridge, but you'd be forgiven if you'd heard that word more times in the past week than in many months previously.
It's certainly never been as loud, or as noisy, as it was at five o'clock on Monday evening outside Senate House, as roughly 200 people gathered on King's Parade in order to, in the words of co-organiser Safieh Kabir, "express solidarity with Lola, in defiance of racist media".
There is a definite sense that the decolonisation movement has been given greater prominence in the wake of The Telegraph's coverage. Ever since they put a photo of CUSU women's officer Lola Olufemi on their front page, alongside the erroneous caption "Student forces Cambridge to drop white authors", students and academics alike have rallied to the defence of both Olufemi and decolonisation as a cause.
Indeed, the rally itself was a response to the coverage in the right-wing media, and the abuse Olufemi has received as a result. Speaking to Varsity, Kabir called it a kind of "emergency rally", an event where those wishing to show their support for Lola could make it felt.
"If you're in solidarity with someone, you need to express that solidarity in concrete ways. Sometimes it's necessary to do stuff that's a mass declaration, that's a public spectacle," continued Kabir.
The rally certainly attracted the attention of many passers-by on King's Parade, no doubt drawn in by the chants of "hey, ho, racist theory's got to go" and "democratise, decolonise". The banners brought along by many of the attendees served as reminders of rallies past; never underestimate the versatility of a poster that reads 'This Concerns Everyone'.
Yet while it's true that decolonisation might be receiving more publicity than it's used to, those involved in the project are keen to stress that this is something people have been working on for some time.
One attendee, Matt Kite, argued that the reason that decolonisation was now receiving more of the limelight was not because of the press coverage. "I think the thing that's made the biggest difference is that there is this genuine grassroots movement, there is such a big level of support for it among students in Cambridge," he told Varsity. "I think if that wasn't the case then it wouldn't have got the foothold that it has."
This was a sentiment echoed by Dr Priya Gopal, a long-standing advocate for curriculum reform in the English Faculty, who opened proceedings at the rally by paying tribute to the work of those people who had got the movement to where it is today – presumably, the point at which a rally could draw 200 people on a cold Tuesday evening.
The presence of Dr Gopal, as well as Dr Sarah Franklin, the head of the Department of Sociology, serves as reminder that this is not just a student movement. The narrative pushed by the right-wing press – that this is a bunch of uppity students forcing academics to make changes against their will – isn't an accurate one.
Dr Nicholas Guyatt, who coordinated an open letter signed by over 120 fellows in support of Olufemi, was particularly angered by this point. Speaking to Varsity, Guyatt said: "I've been very frustrated by the efforts of the right-wing media to present this as a clash between students and faculty because it isolates the students and that's not right."
"Anyone looking into this, just making a few calls, would know that this has been a student-faculty initiative for the past year, across many faculties."
The coverage of decolonisation in the national press might well have raised its profile, then, but it would be wrong to think that this is a recent campaign. And, from the determination of the students and staff who turned up on Tuesday, it doesn't look like it'll be going away anytime soon, either