Fire safety review gives University buildings the all-clear in wake of Grenfell tragedy
A survey of University and collegiate buildings throughout Cambridge has found that all comply with fire regulations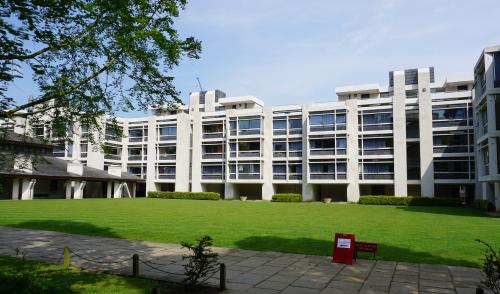 A fire safety survey, carried out in the wake of the Grenfell Tower disaster, has found that all buildings belonging to the University of Cambridge and its colleges comply with safety regulations.
A joint review was carried out by the central estates office and the Office of Intercollegiate Services to address concerns about dangerous cladding which arose in the wake of the fire in London, in which at least 68 people died.
In a report presented to the University Council (UC) in July, senior pro-vice-chancellor Duncan Maskell said "There could be no complacency", but noted the "overall risk profile of the University estate remained low".
Reviews were carried out across many local bodies following the Greenfell fire in June, often focusing on the tower's cladding, which reports say may have exacerbated the fire. The University estate comprises 565 buildings, of which almost a quarter have some kind of cladding, and there are hundreds more buildings built from a variety styles and materials throughout the colleges.
The Higher Education Funding Council for England (HEFCE) wrote to the heads of all the institutions it funds in the wake of the Grenfell disaster, instructing them to urgently conduct fire safety reviews and report back to the them.
In a survey of Cambridge's estate conducted ahead of the July UC meeting, six of the University's buildings were identified as being "of some concern", as they had either aluminium composite material cladding panels, or "other non-conforming panels in terms of fire resistance".
Maskell's report noted that the University does not have a 'stay put' fire policy, encouraging occupants to stay where they were in the event of a fire. A 'stay put' policy had been employed at Grenfell Tower, and came under widespread criticism following the disaster.  
Further examinations were carried out on these six buildings, a University spokesperson told Varsity, and all were eventually deemed to be "fully compliant with fire regulations".
The survey conducted ahead of the July meeting was only of the University's own estate, not of college-owned buildings, and the minutes note that the Office of Intercollegiate Services (OIS) had asked colleges to conduct similar fire safety surveys of their own estates.
Dr Matthew Russell, the head of OIS, said that the Office had collated information from all colleges regarding "accommodation and associated fire risks in the light of the Grenfell incident", and that no buildings were identified as being at risk or of concern.