Cambridge Festival of Ideas 2017: interrogating truth and exploring India
Celebrating its 10th anniversary, the festival will welcome speakers such as former Labour MP Tristram Hunt and Professor Richard Evans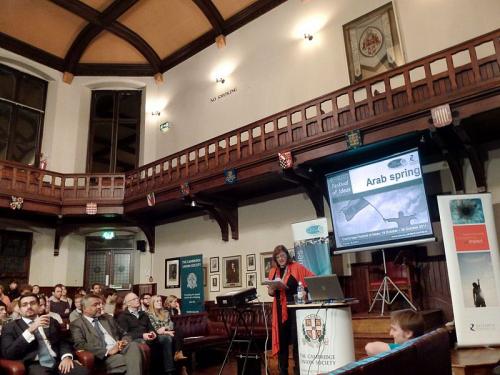 The University of Cambridge's 'Festival of Ideas' will celebrate its 10th anniversary next week, with a week-long programme of events and speakers focusing on the theme of truth.
Events will take place across the city at venues, including both the University of Cambridge and Anglia Ruskin University, in addition to many theatres, pubs, halls, colleges and outdoor spaces.
Speakers at the Festival include former Labour MP Tristram Hunt, Professor Richard Evans, author Pankaj Mishra, classicist Tom Holland, author Ruth Dudley Edwards, Dr Maria Misra and Professor David Reynolds.
The annual festival, which runs from Monday 16th to Sunday 29th October, will also celebrate the UK–India Year of Culture. It will mark the 70th anniversary of Indian independence with a series of collaborative events between the University of Cambridge Museums and Cambridge University Botanic Garden entitled 'India Unboxed.'
A celebration of Diwali, the Hindu festival of lights, will take place at the Botanic Garden on Wednesday 25th October. Featuring an immersive light-based installation in the garden's glass houses by artist duo Studio Carrom, attendees will also have the opportunity to listen to live music, sample Indian food and drink and make their own lanterns.
Important historical questions as well as current political issues are a fundamental part of this year's programme. In 'Empire and Brexit', Tristram Hunt and Gideon Rachman, foreign affairs commentator for the Financial Times, will debate the impact of the British Empire in relation to its role in Brexit. 'The truth about political campaigns on social media' will encourage discussion about how political parties use social media to target voters, and question if these strategies had an impact on the Trump and Brexit Campaigns.
Technology is another key feature of this year's festival, which includes a series of events exploring the impact of artificial intelligence on human relations. Marta Halina's talk 'Can Machines Think?  Halina will explore the uniqueness of the human mind and question the possibility building machines with an 'innerlife.'
As well as a wide-range of talks, there is also a number of hands-on activities and workshops scheduled, including pottery making, book-binding and treasure hunts. The programme will also feature an interactive computer simulation game of the British economy, led by Professor Tony Cockerill, Professor of Economics at the University.