University museums recognised by Arts Council England
Nine university museums will receive a total of £4.8 million in funding and National Portfolio Organisation status from 2018-2022.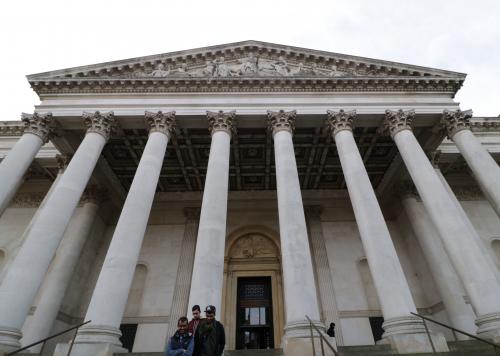 Arts Council England (ACE) yesterday awarded University of Cambridge Museums (UCM) with a substantial grant and National Portfolio Organisation status, in recognition of the important role they play in research and learning.
The art gallery Kettle's Yard, which works in partnership with UCM, was also awarded £1,163,028, further enhancing the reputation of the University museums as the largest cultural provider in the region.
Alongside Kettle's Yard and Cambridge University Botanic Garden, seven other museums comprise the UCM group: the Fitzwilliam Museum, Museum of Archaeology and Anthropology, Museum of Zoology, Museum of Classical Archaeology, Whipple Museum of the History of Science, Sedgwick Museum of Earth Sciences, and The Polar Museum.
The funding announcement will enable the museums to continue their mission of connecting more people with the collections — which feature over eight million objects – and reach new audiences, who may face barriers to visiting the museums.
The grant will allow for the expansion of popular programmes such as 'Summer at the Museums' and a range of other partnership work with schools, charities, community groups and other cultural organisations across Cambridgeshire and the wider region.
The grant will also facilitate the sharing of exceptional international research, both for academics in Cambridge and for a global community of researchers and scholars.
The announcement does, however, appear to mask an overall decline in financial resources, as the UCM will face a funding cut of 17%. Cambridge's funding cut compares unfavourably to other top universities, as Oxford and Bristol's equivalent consortiums will see their funding reduced by 10% and 15% respectively.
In 2015-16, the total economic impact of the UCM was estimated to be at least £16 million. As the UK's highest concentration of internationally important collections outside London, the collections contribute to major academic studies at home and abroad, and last year welcomed more than one million visitors.
The vast scope of the collections includes paintings by Monet and Picasso, biological and geological specimens collected by Charles Darwin, rare material from the now-extinct Dodo, casts of Greek and Roman sculpture, and meteorites and moon rock from beyond our planet.
Both the Museum of Zoology and Kettle's Yard are currently undergoing major redevelopments and will reopen in the coming year with substantially improved exhibitions, visitor facilities, and resources.
Recent successes for UCM include 'Cam Lates', alternative, after-hours events at the museums featuring comedy, music and film screenings, and 'Twilight at the Museums', where families explore the museums by torchlight after hours.
Acknowledging the work already completed, UCM Museums Officer Liz Hide said "since 2012, Arts Council funding has transformed the way the museums can work together to open up their collections for everyone. We are delighted that Arts Council England recognises the positive impacts through their continuing support."
Professor Eilis Ferran, Pro-Vice-Chancellor for Institutional and International Relations at Cambridge, added that "the University of Cambridge Museums exist for all of us, and are open free to the public, and this funding will enable them to continue to share this resource for the future."