Owen Jones visits Cambridge to canvass with CULC
The writer and Guardian columnist spoke to activists before campaigning in Newnham ward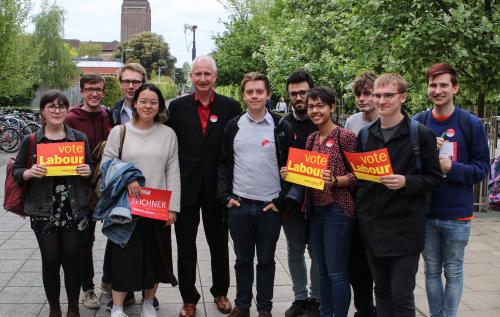 SIDGWICK SITE — The English Faculty was buzzing with an excitement rarely present during exam term (bar the occasional smug prelimmer grabbing a play before going off to enjoy the Cambridge sun). Owen Jones – writer, columnist and activist – was imminently arriving for a canvassing session with attendees from Cambridge Universities Labour Club (CULC). This is not the first time that Jones has joined in campaigning for Labour in the city: two years ago he also visited in advance of Labour's narrow victory.
The room quickly filled up with eager Labour supporters, ready to attempt to ensure a strong vote for Daniel Zeichner, who is seeking re-election, through canvassing. Jones arrived just after six, giving a speech about inequality and investment and taking questions from audience members.
Cambridge is one of the closest seats in the UK, with the Labour majority only 599 votes ahead of Liberal Democrat and former MP Julian Huppert, who is standing for election again. This prompted Jones to recommend students vote in Cambridge over their home constituencies as it is unlikely (unless they live somewhere like Chester where the Labour majority is 93) that their home seat will be tighter. Although targeted at Labour voters, all Cambridge students are in the fortunate position of living in a constituency where their vote really could alter the outcome, no matter which party they choose. Although Jones expressed optimism for a Labour victory in Cambridge, the Lib Dems narrowly gained more votes than Labour in the local elections and bookies expect Huppert to retake the seat he lost in 2015.
Jones admitted that he feels "2015 was bleak" but expressed a strong belief that come this general election, "we're going to hear the words: 'Cambridge Labour hold'". He called on undecided voters to support Labour, claiming "Lib Dems promise one thing and then vote another", honing in on Huppert's voting record, specifically on him voting in favour of the so-called 'bedroom tax', to support his point.
The Conservatives were not left out of his criticisms. He lamented that "we're not getting any policies in terms of the big challenges facing this country, like education, like the economy, like health". Beyond criticising Theresa May's 'Strong and stable' slogan as an avoidance tactic, he bought up "the issue of trust" pointing out that Theresa May had previously claimed that an early election would be "playing politics". Further to that, he argued that she called the election on a false premise, Brexit being obstructed by the House of Commons, something he was keen to suggest "is not true".
Jones suggested that a vote for the Green party would be a vote for the Lib Dems, claiming that Labour's stance incorporates many of the Greens' major points.
Jones endorsed Zeichner specifically, as he did in 2015, arguing that he is an "independent minded, local MP, who's prepared to stand up for his principles".  He specifically focused on Zeichner voting against Article 50, going against the party whip.
Zeichner and Huppert both officially launched their campaigns this week. In the next few weeks, they will see who can make the most compelling arguments in this notoriously volatile seat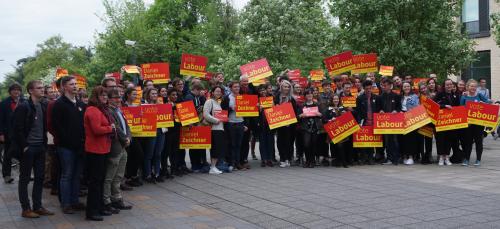 Speaking after Jones, Zeichner further discussed Brexit, saying that he "accepts the referendum result" but highlighting that "there was nothing on the ballot paper to suggest people were voting for a hard Brexit".
Following the speeches, many audience members set off canvassing with Zeichner, and Jones in Newnham ward, a Lib Dem stronghold. Jones had stressed the importance of canvassing in his speech and encouraged new door-knockers, saying it is "the least scary and least intimidating thing to go canvassing".
Katie Clark, who attended the event and went canvassing afterwards praised Jones, saying "I thought Owen was really impressive and his speech was a really passionate reminder of just how much difference there is between having a Lib Dem and a Labour MP for Cambridge"