Lords passes amendment to sever link between TEF and tuition fees
The amendment is a major defeat for the government, under whose plans tuition fees are to be raised according to a university's score on the Teaching Excellence Framework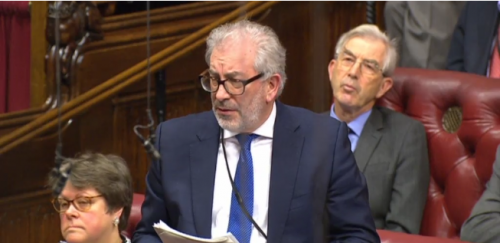 The House of Lords has passed an amendment to sever the link between the Teaching Excellence Framework (TEF) and tuition fees, in a major blow to the government's Higher Education and Research Bill.
The amendment, which passed by 263 votes to 211, states: "The scheme established under section 26 must not be used to rank English higher education providers as to the regulated course fees they charge to a qualifying person; or the unregulated course fees they charge to an international student; or the number of fee paying students they recruit, whether they are qualifying persons or international students."
Under the terms of the Higher Education and Research Bill unveiled last year, a university's ranking in the TEF would be used to set the tuition fees it would be allowed to charge its students, threatening a number of institutions with rises of some £250. The amendment seeks to prevent this from occurring.
In a speech proposing the amendment, Lord Kerslake accepted the necessity of a framework to evaluate the quality of teaching and that "student fees need to be able to rise to reflect inflation."
However, he argued that the TEF is "not ready" to calculate teaching quality with any certainty. He also noted that "the TEF rating will relate to the university, not the subject or course", meaning that "it is perfectly possible to have a mediocre course in an otherwise excellent university, and indeed vice versa", potentially resulting in an unfair assessment of fees for individual students.
Baroness Deech, also speaking in support of the motion, added that if the link between the TEF and tuition fees were allowed to stand, "the established - we might say "better" - universities will be able to charge more and will attract those students who can afford to pay it and who can afford to choose. By and large - of course not always -less-established universities will come out lower and will not be able to raise their fees. Not so well-off students will go to them."
The Bill will now return to the House of Commons, where Conservative MPs are likely to be instructed to strike down the amendment.
Speaking to Varsity about the vote, CUSU Education Officer Roberta Huldisch said: "The huge Government defeat in the Lords on linking TEF and fees is a testament to what we can achieve when we harness our collective power as students. CUSU was one of many Students' Unions around the country who, supported by the NUS, spoke out tirelessly against TEF and fee rises in committee meetings, in conversation with students, and through our boycott of the National Student Survey.
"Every single student and campaigner who has voiced their discontent over the past few month is part of this success. However, we're not sure what this will mean in practice, and TEF is still harmful even without the link to fees, so we would encourage everyone to keep up the fight and keep boycotting. We hope to have more information and clarity soon."
In a statement on Facebook, NUS Vice-President for Higher Education Sorana Vieru described the vote as "a major win for students and for NUS - not a complete win, not the end, but a major concession IF it can be held on to."
However, she added that as the amendment moves to the Commons, students opposed to the reform "will need to keep pushing", promising that the NUS "will definitely be mobilising" and warning students to persist with the NSS boycott, which is intended to derail the reforms