Varsity Profile: Loyd Grossman
Cambridge graduate student and pasta sauce magnate
"The funny thing about Wikipedia," Loyd begins, "is most of the time it is completely fabricated. For years on my page it said I went to this great private high school in Ontario. They invited me a couple of years ago, as one of their most 'esteemed alumni' to a cocktail party they were holding. And I had to write back and tell them I didn't actually go to their school." A long low laugh is emitted at the end of this sentence. He was not an extra in Grease, though he wishes he had been, and definitely did not invent the McFlurry.
Your eyes have not deceived you, however: he has appeared on multiple television shows and on the shelves of almost every supermarket in the country.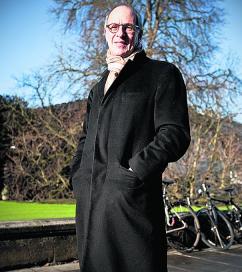 Having been on television for twenty years, Grossman thought he had left his Through the Keyhole days behind him. "There are just so many cookery shows on TV at the moment, I flick past them and inevitably end up watching The Hills." He took the offer of BBC2's Step up to the Plate, he says, because it involved serious chefs and didn't just imitate the cookery template already there.
In the summer of 2008, Grossman decided to stop putting off coming to study history of art at Magdalene. He has been planning to apply since 1980, when he postponed it because "the" magazine of the time, Harpers & Queen, offered him the post of design editor.
His father was an art dealer and he was always surrounded by interesting art as well as being taken to museums from an early age. He is passionate about buildings, and full of praise for Cambridge. His favourite spot? "This place [Auntie's Teas] isn't too bad, is it? It's great to sit here and look out at Senate House."
He has reformed his band, Jet Bronx and the New Forbidden, and is currently playing three gigs a month. "Yeah, we're gigging hard," he says. "My aim though is to play here in Cambridge. I hope to be able to do that before the end of the year." The band includes two of his oldest friends: their ages range from 30 to his own 58 years, and Grossman describes their music style as "alternative, in your face, high energy rock".
He insists that he is totally involved in his sauce enterprise. "People buy products because they trust them. With my name on the pot I feel personally responsible and accountable for what is contained in the jar." Unlike so many other celebrity-endorsed products, for Grossman it has never been about cashing in and leaving. Perhaps that's why the business is now grossing almost £50 million per year.
His favourite of all the available sauces is Puttanesca. "It's my pet really. The market research said it wouldn't sell because 'it's got too much flavour and people won't know how to pronounce it.' But I thought food was all about flavour, no?"
By Caedmon Tunstall-Behrens