Students stand in solidarity to push University Council to divest
Cambridge Zero Carbon Society held an emergency divestment protest outside Senate House on Monday morning, urging the University Council to respect Regent House divestment Grace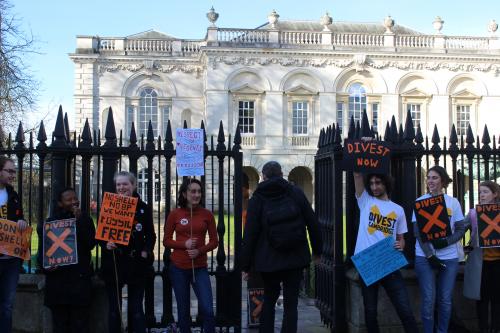 On Monday morning, Cambridge Zero Carbon Society held a silent protest outside Senate House, calling University Council members to uphold the Regent House motion to fully divest from fossil fuels. Participants stood in solidarity at the two entrances to Senate House, forcing Council members to walk past them as they held striking placards, wore orange and taped orange Xs over their mouths. Not a word was said by students to Council members, except in cases when Council members respectfully acknowledged the protest.
The protest was intended to demonstrate Zero Carbon's concern that the voices of members of the University are being ignored by the University Council in its decisions regarding divestment.
Monday marked the first University Council meeting since a Regent House Grace called for the University to fully divest from fossil fuels. Approved in January, the motion required that "none of the University's Endowment Funds should be invested directly or indirectly in companies whose business is wholly or substantially concerned with the extraction of fossil fuels."
But the Grace, while it carries some inherent moral weight and was signed by over 140 Regent House members, cannot directly control the University's investments, as this power lies with the University Council. The Council agreed to approve the Grace, a necessary prerequisite for its being put before Regent House, only on condition that "the Grace cannot operate as a mandate in respect of the exercise of their fiduciary responsibility for the University's investment practices", which has so far allowed it to avoid committing to divestment.
Howden's sentiments were strongly echoed by attendees of the protest, who came from varied academic backgrounds. Rory Goldring, a second-year Sociology student at Emmanuel College, condemned the arguments of Council as "flawed, illogical, immoral and undemocratic. We are here today to make known student opposition to the Council's position, and that we will settle for nothing less than the University's full divestment."Zero Carbon alleges that this inaction is a threat to the University's internal democracy. In a press release calling for Monday's emergency protest, Sarah Howden of the Cambridge Zero Carbon Society said that the University Council has set "a very dangerous precedent for democratic decision-making in the University. We want to show that this won't be ignored. We will continue protesting until the Council agrees to respect the demands of Cambridge academics, staff and students."
Miriam Quinn, a first-year HSPS student at Murray Edwards College, asserted that "if Cambridge University starts to lead the way, others will follow. We need to show people that we are not just leading the way academically, we are leading the way in a practical sense. This is a really great way to take positive steps as a university and an institution to be on the right side of climate change."
In June 2016, the University ceased to invest in thermal coal and tar sands, some of the more harmful forms of fossil fuel, and announced that it currently had no intention of purchasing investments in these areas. However, student campaign organisation People & Planet estimates that over £370 million remains invested in fossil fuels. If passed, the Regent House motion will constitute the divestment of the largest university endowment fund in the world, at approximately £5.8 billion
If you have been affected by any of the issues raised in this article, the following information and support is available: