Exclusive: Fashion show headliner defended by BME campaign and FLY
FLY, CUSU BME Campaign, CUSU Women's Officer and the organisers of the Cambridge University Charity Fashion Show have spoken to Varsity after Princess Nokia hit a student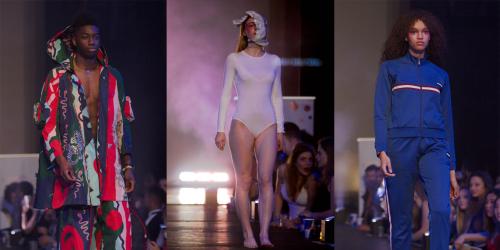 The CUSU BME students' campaign, CUSU Women's Officer and FLY (the network for women and non-binary people of colour) have defended the headline act at Cambridge University Charity Fashion Show (CUCFS) after she hit a student during her performance last night, condemning the actions of the student who allegedly shouted insulting comments at her.
Princess Nokia, an alternative hip hop and R&B artist, had completed two songs and was halfway through a third when an audience member was heard shouting something at her.
Witnesses say that they saw the artist climb down from the stage, hit the man three times in the face and throw a drink in his face. She then got back on stage and before leaving said, "When a white guy disrespects you, you punch them in the face".
Witnesses told Varsity that the student "looked a bit shaken but not massively," and was otherwise unhurt. The BME campaign and FLY met with Princess Nokia backstage following the incident and said that she was "shaken by the incident".
Princess Nokia explained to the BME campaign and FLY that she could "see [the student] mouthing dirty obscenities like, show me your tits".
The student has since claimed that he had been shouting "Yes Abigail" instead. He said: "I was standing in the audience and was told by a fellow audience member that the name of the performer was 'Abigail'. Given that I was enjoying the performance, I shouted out 'Let's go Abigail!'. After I shouted this, she came down from the stage. She slapped me and threw drinks on me."
In a joint statement released exclusively to Varsity, the BME campaign and FLY described the alleged heckling as a "disgraceful public display of sexism and misogynoir". 'Misogynoir' is a term coined to refer to misogyny directed specifically at black women.
Audrey Sebatindira, the CUSU Women's Officer, has also condemned the actions of the student: "I express my disappointment as CUSU Women's Officer that Princess Nokia endured such a blatant instance of misogynoir on our campus.
"Sexual harassment of any kind should not be inflicted upon fellow members of the university or those who visit it, nor should it be ignored when it does occur."
In one passage, the BME campaign and FLY statement, written by FLY Co-ordinator Richelle George and CUSU BME Campaign Vice-President Jason Okundaye, describes Princess Nokia's reflections on her reaction to the situation: "she soberly expressed that everything had 'happened so fast'; however, she affirmed her 'zero tolerance' stance towards 'instances of sexism and sexual harassment'."
In an update to their statement, George and Okundaye said that Princess Nokia had told them that she "does not condone violence". However, earlier they wrote: "Princess Nokia expressed her regret that her performance had been cut short, saying to us that she wanted to 'let the women of colour know she was sorry' but stressed that she felt the incident in question left her in a position where her safety and comfort were severely compromised."
The organisers of the Cambridge University Fashion Society also gave an exclusive statement to Varsity: "Thank you to all who took part in and attended a wonderful evening celebrating diversity, beauty and body positivity. It is unfortunate our headliner ended early under unforeseen circumstances, and we hope this did not taint the overall message of the night."
The BME campaign and FLY expressed their "solidarity" with Princess Nokia, and also their "respect for her willingness to share her experience with us despite being obviously upset by the night's events".
They argued that this is not an isolated incident: "the humiliation experienced by Princess Nokia onstage is all too common in the daily experiences of women of colour at Cambridge." They added, "such occurrences of harassment are neither unusual nor unexpected for women of colour".
They also said that the incident is representative of a growing problem, describing it as "symptomatic of the increasing hostility white-dominated spaces and institutions project towards people of colour".
The statement argues that the episode demonstrates the failings of tolerance in Cambridge: "Princess Nokia's experience leaves us with the reminder that Cambridge is not yet the safe place it should be for marginalised people, who are still vulnerable to provocation and harassment. As Cambridge students, we must respond to this reality with an embarrassed readiness for change."
The Fashion Show took place on the evening of 15th February at the Cambridge Corn Exchange on Wheeler Street, with proceeds from the show going to The Douglas Bader Foundation.
CUCFS became embroiled in controversy late last term when it was revealed that the charity it had originally elected to support was unregistered and based only in Florida.
This article has been corrected to include the names of the authors of the BME campaign/FLY statement