Student's t-shirts to raise funds for refugees
A Cambridge student has designed and produced "Love Trumps Hate" t-shirts, to encourage fellow students to take action against the refugee crisis.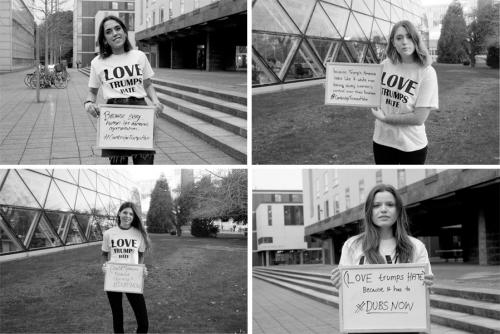 A University of Cambridge student has organised a t-shirt campaign in order to raise funds for an NGO providing legal support to refugees.
'Cambridge Trumps Hate: Day of SolidariTee', organised by Tiara Ataii, a first-year German and Arabic student at Robinson College, will take place on Friday 24th February. Students and members of the wider university community are being encouraged to "turn Cambridge awash" with "Love Trumps Hate" by wearing t-shirts bearing the slogan. 
Tiara, who designed the t-shirts and spent the entirety of her student loan to buy them, explained to Varsity what prompted her to set up the campaign: "After the protest a couple of weeks ago [following Trump's inauguration], I remember thinking how electric the atmosphere was, and how it would be amazing to have a follow-up campaign.
"People seemed to have two main thoughts; firstly, that this was suprapolitical – that this was something that all people should be invested in, and secondly, that they wanted to do something. Solidarity wasn't enough. So I thought of a way to combine both a show of support and something more practical, and came up with the idea of selling t-shirts."
She also explained some of the difficulties she has faced as the campaign's founder and sole facilitator, including "an emergency late-night delivery on foot." She said: "There was a period before the t-shirts came [when] I was wracked by fear that no-one might buy them apart from my close friends.
"Luckily, that hasn't been the case and we've already sold a large amount; via Cashew, Paypal, cash in hand, or even through appointments arranged by people emailing by CRSid."
She was keen to point out that rather than simply showing solidarity, her campaign seeks to encourage students with "the luxury of a fairly responsibility-free existence" to take positive action. "Ultimately, raising awareness is just a means – not an end. It's useless unless people feel compelled to act in some way – be it by talking to their MP, donating, protesting."
Profits from the sale of the T-shirts will be donated to the NGO Advocates Abroad, which was set up last year by American human rights lawyer Ariel Ricker. According to its website, the charity aims to "uphold fundamental rights and restore human dignity to all refugees and asylum seekers with the free and timely service of qualified asylum experts and attorneys".
Based on the Greek island of Lesbos, the NGO's teams of human rights experts and attorneys across Greece and Turkey offer legal aid and advice to refugees, as well as researching violations of refugees' human rights. Tiara, who worked with the charity briefly while volunteering at a refugee camp in Chios, Greece, praised their efforts: "I was just so impressed."
Founder and director of Advocates Abroad, Ariel Ricker, commended Tiara on having achieved "a very beautiful thing." Citing the "overwhelming tragedy faced day after day after day" by their volunteers, she said that the campaign would help "not just to make a political statement but to commit to a better world, a better humanity." She stressed that alongside the many British lawyers giving up their time to volunteer with Advocates Abroad, campaigns like SolidariTee were instrumental in providing "another point of contact" between the NGO and supporters in the UK.
Tiara also reflected on her hopes for the future progress of the campaign. A photo shoot she organised to publicise the campaign "has proved really popular," prompting her to organise another public photo shoot on Saturday 18th February in Market Square. "It would be amazing to turn the collection of photos into a book," she said, with the aim of raising further funds for Advocates Abroad: "It would be a great way to look back to February 2017 and see people's opinions and objections regarding the current upsurge of fascist thought."
The T-shirts cost £10 and can be purchased via the 'Cambridge Trumps Hate: Day of SolidariTee' Facebook event page