Anglo-Saxon artefacts unearthed on Cambridge building site
Coldham's Lane site reveals sixth-century settlement and rare jewellery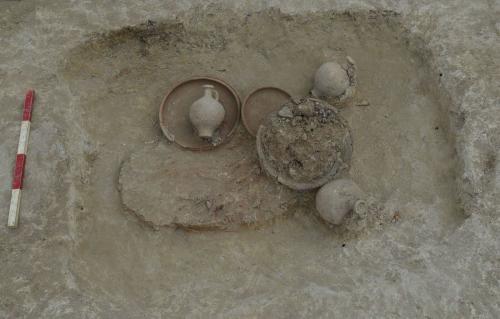 Anglo-Saxon artefacts dating back almost 1,500 years have been unearthed during the excavation of a site earmarked for new houses.

The site, located on the corner of Hatherdene Close and Coldhams Lane, next to the city airport, appears to have been the location of a sixth-century settlement, predating the Middle Saxon settlement in nearby Church End.
A range of rare artefacts have been found during routine digging for the development, including brooches, multi-coloured glass and amber beads, rings, and hairpins, along with more functional equipment such as small knives, pottery, and weaponry including spear heads and shield bosses.
One of the most important findings from the site is a virtually intact glass drinking vessel known as a "claw beaker". These items, often found in Anglo-Saxon graves, are not normally found outside of Kent and the south of England, and were produced in northern France, the Netherlands, and Germany.
The excavation also revealed a web of late Iron Age ditches defining a field system, suggesting that the settlement may even be Roman in origin. Central Cambridge was settled in approximately AD 70 by the Romans, who established a small fort on Castle Hill. By Anglo-Saxon times, however, the settlement had fallen into decline, and was described by the eighth-century monk and chronicler Bede as  a "little ruined city".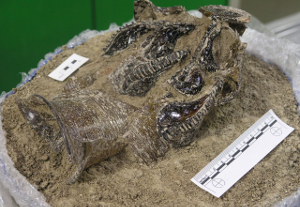 This discovery is particularly important as archaeological evidence dating to the sixth-century is virtually non-existent, making the Coldhams Lane excavation an important development in understanding how people lived at this time.
The excavations were carried out by Oxford Archaeology East on behalf of CgMs, an archaeology specialist, and Weston Homes, the property developer overseeing the Coldhams Lane development.
Head of Archaeology and Build Heritage for CgMs, Duncan Hawkins, described the importance of the collection as "immeasurable".
Speaking about the findings, Hawkins said "the site fell out of use in the 7th century but we discovered evidence of 8th century Middle Saxon activity including post-built structures, possibly workshops and livestock pens. Pits dug in this attest to local industrial activity and further processing of soil samples should help us understand what these were used for."
In a press release, Bob Weston, chairman of Weston Homes, said: "the Anglo-Saxon artefacts are of strong historical importance, so we are taking all measures to ensure that they are being carefully preserved and recorded. Only once this work is complete will our new housing scheme be implemented."
The 3.1 acre site, which will provide 57 homes in Cherry Hinton, has now been cleared, and the artefacts will be housed in local museums.