CUSU launches offer holders' group in wake of rep controversy
Move appears to be designed to pre-empt copycat groups after Memebridge calls for boycott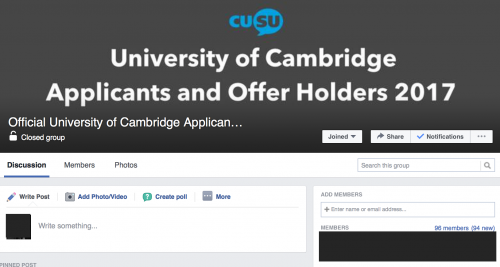 CUSU have launched an official Facebook group for prospective students holding offers for September 2017, which describes itself as "the only official page of the University" and warns that people should "be aware of copycat pages run by companies trying to sell you events".
Last year, CUSU did not run an offer holders' group, instead waiting until July to launch their 'official' freshers' group. Several offer holder pages were active well ahead of the launch of the CUSU page, most notably two groups established by the founders of Agora, a ticket-selling website.
The move came in the aftermath of concerns raised by the administrator of Memebridge, a popular Cambridge-focused meme page, about the practices of external companies, which create groups for Cambridge freshers that appear predominantly focused on promoting tickets sales for events.
Yesterday, in an expletive-laden Facebook post, the Memebridge administrator, who manages the page anonymously, called for a boycott of genuine-looking offer holder and freshers' pages they claim are set up by non-students in order to market freshers' week events.
Some students told Varsity that they had noticed the Facebook group created by the 'Big Freshers' Bar Crawl', which has since been deleted, and believed that reps who were not students at Cambridge were using the page to promote events.
Alistair Pryke, a student at Queens', said: "the advertisers were hardly subtle, none took more than a minute of browsing through liked pages or joined groups to tell they didn't go to and weren't applying to Cambridge".
Varsity found that Facebook users who have identified themselves with the University Applicants organisation are admins on a different group, called 'Cambridge Freshers 2016 - 2017'. This page, one of a number set up by companies or groups not related to the University, opens its description by saying "welcome to your university group".
Links from the page include posts by freshers and offer holders, as well as a number of posts promoting an event which University Applicants ran at Kuda, in association with Ministry of Sound. Memebridge accused these groups of "posing as 'official' pages". However the description on the 'Cambridge Freshers 2016 - 2017' page states that it has "been created independently by University Applicants as a student community on Facebook and holds no affiliation with the university". Three of the page's admins appear to be accounts with broadly the same name, suggesting they are duplicates.
The presence of private companies operating parts of the Cambridge social media landscape is not limited to Fresher's Week. Ticket-selling company Agora, the founders of which ran one of the largest alternative freshers' pages last year, also directly manages the popular 'May Ball Marketplace' event.
The 'Cambridge University Freshers & Postgrads 2016' and 'University of Cambridge Freshers 2017-17' groups have nearly 3,000 members each, nearly as many as the 'official' CUSU-run page. Both are described as "student-run", despite Leif Denby, co-founder of Agora and a former student at Cambridge, being listed as their founding admin. Denby is listed as having graduated in 2015 on his LinkedIn page. Students share events in the groups, while other administrative users frequently promote Agora's ticketing platform