Cambridge City Council receives grant to combat rough sleeping
The grant follows a number of spending pledges by the City Council to deal with issues surrounding homelessness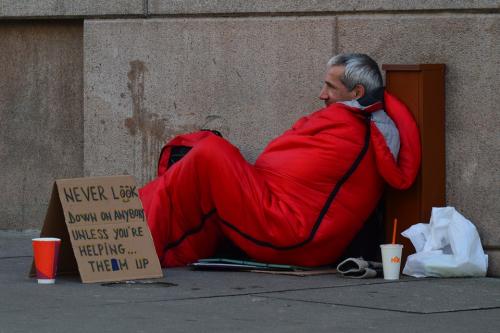 Cambridge City Council has been awarded a government grant worth £390,000 to address the problem of rough sleeping in the city.
According to a press release from the council, the grant will be used to co-ordinate with partner organisations to develop a new scheme to tackle rough sleeping. It will involve the creation of a 'multi-disciplinary street team' which will work to combat a variety of problems commonly experienced by homeless people, including substance abuse and mental issues.
The council's figures show that between 2015 and 2016 there were 152 individuals sleeping rough, which describes those bedded down in the open air, on the streets of Cambridge. The figure for homelessness – a broader term to include those lacking permanent accommodation – was 418 households.
Executive Councillor for Housing Kevin Price said: "Securing a grant of almost £400,000 is a great pre-Christmas bonus that will enable us to help a large number of Cambridge rough sleepers to get off the streets over the next two years, and fund the support they will need to stay off the streets too."
He added that the decision to award the grant to Cambridge City Council was "a tribute to the professionalism of our council team and our tremendous partnership of nine organisations and local charities working to give homeless people who are sleeping rough in Cambridge a helping hand and the backing and resources they need to achieve a fresh start."
This follows council approval earlier this year of grants totalling more than £720,000 for organisations tackling homelessness and surrounding problems, including Centre 33, which offers advice and advocacy services for young people threatened by homelessness, and Cambridge Women's Aid, which helps women and children fleeing domestic abuse.
The council will also increase the number of council or housing association tenancies it makes available to people who have been sleeping rough from thirty to forty.
In addition to this, Cambridge Street Aid, launched by the council in November, has raised £3,100 pounds in just 23 days through charitable donations. The initiative "asks people to donate to a fund to help people in need who are homeless, rather than give cash directly to people asking for money on streets" as stated in the press release by the council.
The fund will give grants of up to £750 to help those on the streets who need find "the support, accommodation and employment they need to turn a corner in their life."
The creation of Cambridge Street Aid follows controversy over the treatment of homelessness in Cambridge in October, when the Cambridge Constabulary claimed that "most people who beg are not homeless, and are using the money they receive to fuel a drug or alcohol addiction" and advised members of the public "to support [homelessness] organisations rather than hand over spare change to those on the streets."
Barry Griffiths, the Community Engagement Officer at charity Jimmy's Shelter, argued that such a policy "keeps the problem on the streets" and "infringes upon individual liberty."