Cambridge to participate in Year Two of the Teaching Excellence Framework
Increases in the funding of teaching, and therefore fees, are expected at Cambridge as the University agrees to participate further in TEF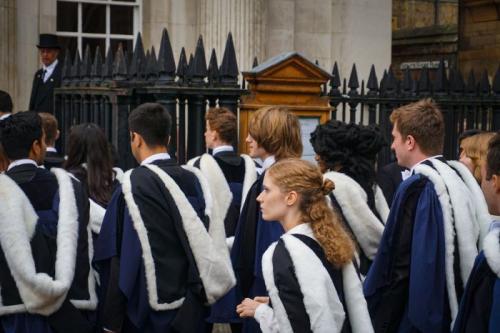 The University will participate in Year Two of the Teaching Excellence Framework (TEF), which allows an inflation-dependent fee increase up to at least 2021, the Council and General Board decided on Monday.
The TEF, described by the government as a "system of recognising excellent teaching in higher education", links the funding of teaching, and therefore fees, to teaching quality. Teaching quality will be measured based on graduate employment, student retention, and student satisfaction as determined by aspects of the National Student Survey.
Under the terms of Year Two of TEF (TEF2), by spring 2017 institutions will be classed as Gold, Silver or Bronze according to teaching excellence, a ranking that will last for three academic years from 2018-21. Those who receive a Gold or Silver ranking will be allowed to increase fees at the full rate of inflation for all three academic years. For example, if inflation increases by 2 per cent each year then fees will increase by 6.1 per cent.
Institutions with a Bronze rating will be able to increase at half of the inflation rate in the last two years of TEF2 (2019-21) but in the first year of TEF2 there will be no differentiation in fees according to ratings, meaning that they too will be able to raise fees in line with inflation for 2018-19.
As a result of the University's participation in the first year of TEF, the University already "anticipates that the tuition fee will be raised to £9,250 for those students starting their undergraduate studies in October 2017", according to the Cambridge University Reporter.
With 11,820 undergraduate students recorded in 2015-16 the October 2017 fee increase alone should bring Cambridge an extra £3 million.
The fees will be subject to a compound increase - that is, the increase will be calculated as a percentage of the already increased fee (£9,250 in 2017-18), not of £9,000, and will therefore be larger. This will be of little consequence while inflation rates remain low, but threatens spiralling costs for them if inflation were to rise significantly. An inflation rate of 10% would cause fees to double in little over seven years, and inflation is on the rise.
In August, 51 student unions and the NUS signed an open letter against TEF warning that fees could reach £11,697 by 2025-26 if it were implemented.
The measure of inflation chosen by the government against which to increase tuition fees is 'RPIX', the Retail Price Index minus mortgage payments. The RPI tends to be more volatile than the alternative measure of inflation, the Consumer Price Index, which further stacks the deck against students.
The University's decision to participate in TEF2 comes in spite of an open letter against TEF2, written in November and signed by 443 members of the University. The letter voiced concerns about TEF2, especially the tuition fee increases and "spurious metrics" for measuring quality.
It is signed by CUSU and every member of its team, a number of JCR presidents, and multiple academics, among them University and College Union representative Waseem Yaqoob.
The Cambridge University Reporter explains that the decision was made on the recommendation of the Planning and Resources Committee and the General Board's Education Committee, with the support of the Colleges' Committee.
CUSU Education Officer Roberta Huldisch campaigned strongly against TEF, arguing in the Varsity comment section at the beginning of December, that "undergraduates could be paying £12,000 a year to go to university by the end of the next decade."
Huldisch wrote "On paper, TEF is all about measuring, incentivising and rewarding excellent teaching in universities. In reality, the policy will raise many things, like fees and the level of artificial market competition infused into the higher education sector, but it almost certainly won't do the same for teaching quality."
A spokesperson for the University told Varsity: "The University will participate in Year Two of the Teaching Excellence Framework. Cambridge welcomes the Government's desire to recognise teaching excellence, and supports the continued emphasis on a higher education system that embeds principles of diversity, choice and quality."
A CUSU statement on the University's decision said: "We are dismayed and disappointed that the University Council on Monday decided to participate in TEF 2, a move which is likely to embolden this government's attempts to turn Higher Education into a market. The government aims to remove the cap on tuition fees and raise fees year on year, increase debts for future students, and, for the first time, allow some Universities to charge higher fees than others.
"As we have said consistently throughout this process, we do not object to attempts to increase the quality of teaching and we will continue to work with the University to ensure that excellent teaching is maintained at Cambridge.
"However, with its focus on student satisfaction, an easily manipulable metric, and on employment statistics, largely influenced by socio-economic background, we struggle to see the way in which this Teaching Excellence Framework is a framework for measuring excellent teaching."
It adds that CUSU is prepared to resist the implementation of the framework, saying: "We have clear and unambiguous mandate from CUSU Council to oppose and frustate the implementation of TEF 2, and that does not stop with the decision made at University Council.
"It is likely that our efforts will be focused on the National Student Survey (NSS) but we will seek to clarify exactly how we intend to oppose TEF at the first CUSU Council of next term." Among the options it is considering are "a boycott" and "a sabotage" of the NSS.
It concludes by urging that no action be taken before it has made this decision, "to make sure that our collective action to prevent the government turning Higher Education into a market is as effective as possible."