Regent House vote on fossil fuel divestment likely
A vote on full divestment from fossil fuels now requires the approval of the University Council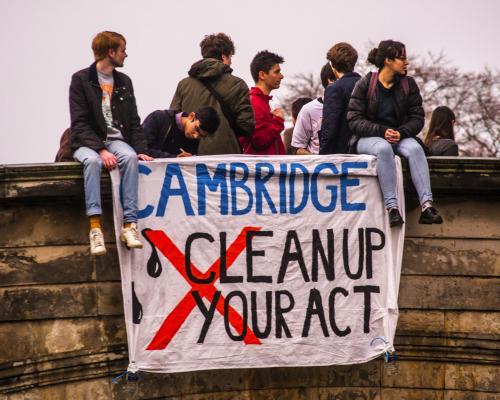 Cambridge may be about to fully divest from fossil fuels, as a motion signed by at least 130 fellows has taken the issue one step closer to a vote by Regent House.
The motion, known as a 'Grace', proposes that "none of the University's Endowment Funds should be invested directly or indirectly in companies whose business is wholly or substantially concerned with the extraction of fossil fuels." It also says that the Council must "publish a Report to the University within 12 months setting out how this is to be achieved."
Having exceeded the necessary 50 signatures, the Grace will go to the University Council, who will decide whether or not to approve a vote by Regent House, the governing body of the University.
Generally this stage is a formality, but Revd. Jeremy Caddick, who has been heavily involved in the campaign for divestment, recently told Varsity that he had "known situations where they haven't". However, that decision itself would have to be voted on by Regent House, so a vote of some kind will take place regardless.
Currently, Cambridge does not invest in coal and tar sands, but it has yet to fully divest from oil and gas companies. This partial divestment was guaranteed by a report published in June by the Advisory Committee on Benefactions and External and Legal Affairs (ACBELA) working group on divestment.
The Grace follows a heated discussion on divestment at Regent House at the end of November, in which multiple heads of departments and representatives from the University's Zero Carbon Society (ZC) and Positive Investment Cambridge (PIC) voiced their opinions on the University's investment policy and the ACBELA working group report.
At this meeting six students and eight members of Regent House spoke in favour of divestment, while seven Regent House members argued against, suggesting a split in opinion in Regent House.
Student opinion, by contrast, appears to be strongly in favour of divestment, with CUSU Council previously voting 33–1 in support of ZC and the campaign group's petition on the issue having gained over 2,300 signatures.
Chris Galpin, a ZC representative, told Varsity that he is happy about the likelihood of a divestment vote: "I think that this is a great success for Zero Carbon. The fact that this Grace is not just being voted on, but has been brought to a vote by such a large number of fellows, is a real sign of just how much our campaign has resonated with both fellows and students."
Galpin said that he was confident that ZC could win the vote but acknowledged that there is still a lot of work to do, particularly collaboration with members of Regent House: "We're hoping to have discussions with fellows next term so that we can work out any concerns they might have and really build an overwhelming consensus." 
One such fellow, Professor Lawrence King of the Department of Sociology, who at the Regent House meeting gave a speech in favour of divestment, told Varsity, "Of course I welcomed the Grace." As to whether he thinks the motion will be passed he said, "I certainly hope so."
However, Professor Michael McIntyre, Emeritus Professor of the Department of Applied Mathematics and Theoretical Physics, argues that recent developments in the fossil fuel industry mean that "the Grace is too blunt an instrument." 
Speaking to Varsity, McIntyre explained the new developments that have led to this change in opinion: "after the Senate House Discussion, I learned that some of the fossil-fuel companies have endorsed the Paris Agreement on climate change – even if not all of them – and still more importantly that there's been a game-changing development in the form of the Oxburgh Report on Carbon Capture and Storage (CCS)."
CCS is a technology that allows the CO2 emissions produced from the use of fossil fuels to be captured, preventing it from entering the atmosphere. McIntyre said that the Oxburgh Report "makes CCS begin to look financially and therefore politically possible. If CCS is taken seriously, then fossil-fuel burning becomes an option for clean energy alongside renewables."
Natalie Jones, a PhD student in Law, told Varsity that although the Grace will be helpful, there is still much more to be done: "Divestment alone is not enough to align our markets with a sustainable future, which will require reallocating trillions of pounds of capital. We welcome this vote for opening up conversation on the ethics of university investments and how we might achieve this goal, but we hope it represents a starting point, not a final ambition."
This article has been corrected to reflect the fact that a vote on divestment requires the approval of the University Council