What is intermission?
Formerly called degrading, the process of taking a break from Cambridge has long been the subject of scrutiny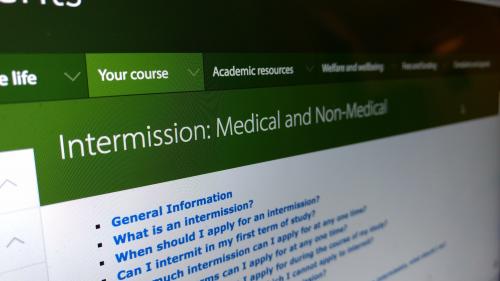 The process of intermitting, or 'disregarding terms' as it is referred to by the University, is a break from studies designed to give students time to recover from an "illness or other grave cause" that has made it impossible for them to continue their studies.
Such "grave cause[s]" can include bereavements, family circumstances, needing to deal with an emergency situation, or other serious issues that have impeded their ability to study effectively at Cambridge.
It is most common for students who intermit to resume their degree at the start of the next academic year, although each case is determined on an individual basis. The total period spent intermitted is not usually allowed to exceed two academic years, although exceptions are made if the student has spent the majority of that time waiting for treatment they need to undergo before returning to their course.
The process of "disregarding" part (or all) of an academic year allows students to take examinations in a subsequent year in which they would not otherwise have been allowed to sit them. To be granted this, the student's college must apply to the University Council's Applications Committee, usually requiring the submission of medical evidence demonstrating that the student is currently unable to continue their course.
If an application is granted, the student must then sign a written agreement stating how their intermission will work, which is also signed by their senior tutor. These agreements often stipulate that the student must leave Cambridge (unless their home is in the city), or that they sit exams before they can resume their course, and they are usually banned from using University or college facilities while they are intermitted.
Exceptions are sometimes made about the student remaining in Cambridge if they are receiving treatment for a physical or mental health condition that would be lost if they returned home.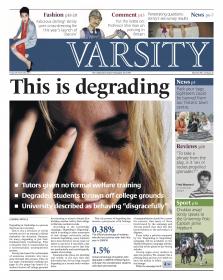 The justification given for such measures is that the process of intermission is intended to mitigate any disadvantage that has been caused to the student by their circumstances, rather than to grant any academic advantage. This also means that intermitting students cannot receive any additional tuition.
The intermissions system has repeatedly come under fire in recent years. In 2011, students launched a petition to change the name of the process, which was known at the time by the University as "degrading".
The petition, started by the campaign 'Degrading is Degrading', called for a removal of "any and all restrictions of movements of students," as well as an end to the requirement for students to leave Cambridge, "or for Cambridge based students to be banned from their college."
It also called on the University to work with the campaign and the Disability Resource Centre to "produce detailed policy on the degrading process to be made accessible to all students and be enacted equally throughout the University."
The petition, which called for "a fairer, less degrading system giving students needing to intermit the respect they deserve," received over 1,600 signatures, and the process was subsequently renamed "disregarding terms" in the University's Statutes and Ordinances.
At the time, then-CUSU Education Officer Morgan Wild told Varsity that "the University's treatment of students who are forced to spend time out of their studies is anachronistic and hopelessly out of step with the rest of the country."
Students who are considering intermission are advised to speak to their tutors, and are able to contact the Students' Union's Advice Service for support