First Muslim-Jewish dialogue centre opens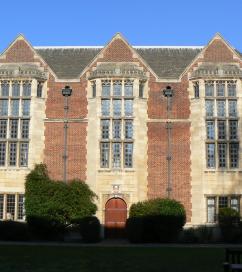 A new Centre for the Study of Muslim-Jewish Relations (CMJR) has opened in Cambridge.
The Centre, the first of its kind in the world, was opened last Thursday by Chief Rabbi Sir Jonathan Sacks. Its aims, explains co-founder Dr Edward Kessler, are to "pursue teaching, dialogue and research into the encounter between Muslims and Jews". Dr Kessler says that "the Jewish-Muslim encounter demonstrates much misunderstanding, bordering on despair". The Centre's curriculum will include an examination of anti-Semitism and Islamophobia, phenomena both currently hitting the national and international news. Sacks described "a tsunami of anti-Semitism" across Europe in the light of a report on the first day of this month showing that anti-Semitic attacks in Britain have reached record levels. A report published in December by the European Monitoring Centre on Racism and Xenophobia charted the rise of Islamophobia across Europe, citing hundreds of cases of violence against Muslims.
Faculty of Divinity lecturer Dr Kessler set up the sister organization, the Centre for the Study of Jewish Christian Relations, in 1998. The CJCR is established as the leading European academic institute in the study of Judaeo-Christian relations, and has seen over a thousand undergraduates take part in its programmes since its foundation. Dr Kessler is optimistic about the prospects for the CMJR. "There has been a great deal of interest from both faith communities and beyond", he explained. Dr Richard Stone, Chair of the Commission on Islamophobia, welcomed the Centre on Tuesday, expressing a hope that it will further understanding between Jews and Muslims. The founders deny that the Centre has been set up in response to violence and political crises in the Middle East. It has, however, been welcomed by a number of Arab countries and comes after a Jewish-Muslim conference held at Westminster Abbey last year at which several of the most high-profile Middle Eastern embassies were represented.
The Co-Convenor of the Cambridge University Faiths Forum, Preet Majithia, suggests that the challenge is to "spread the message of respect and understanding beyond those who are interested and attend such events to a much broader cross-section of society, where ignorance and prejudice still prevails".
Tom Woolford