Class Lists decision to be delayed until end of Michaelmas
Regent House voting on the future of Class Lists will open on 28th November, after CUSU referendum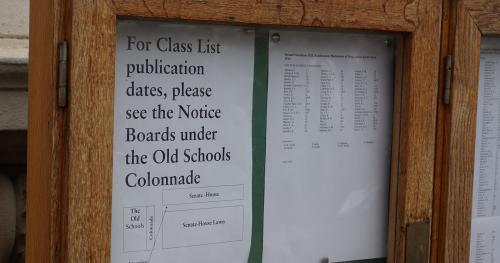 The date of the Regent House vote on the public display of Class Lists has been announced by the Vice Chancellor in the Cambridge University Reporter, after fellows called for a ballot on the matter last week.
The academic and senior administrative staff of the university and its colleges that comprise the Regent House will commence voting on the future of Class Lists from 10am on 28th November, and will have until to 5pm on 8th December to cast their vote.
The news has been well received by the 'Save the Class List' campaign, which is petitioning CUSU to hold a referendum in the hope of altering the student union's stance on abolishing the practice of displaying Class Lists in public.
In a statement, the campaign welcomed the "Great news", saying: "This means the student referendum can take place BEFORE the vote in Regent House, and fellows will be able to vote bearing in mind what students really think on the issue."
Two weeks ago, the 'Save the Class List' campaign confirmed that they had in June passed the 350 signatures needed to trigger a referendum, which means under CUSU's constitution that the student body will have to be presented with a ballot by the 25th October.
The announcement in the Reporter was accompanied by the names of those who called for a vote, showing 55 names – a fact also welcomed by 'Save the Class List', who noted that the number of names was "more than double those required for a vote to occur."
They went on to note that the names "included a broad cross section of the University, including two masters, the President of the Cambridge University and College Union and many young fellows in their twenties and thirties."
The two masters in question are Sir Gregory Winter, master of Trinity College, and Professor Sir Alan Fersht, master of Gonville and Caius College.