'Shameful': No reply to open letter calling for NUS to tackle anti-Semitism
Exclusive: One month on, National Union of Students has sent no formal response to CUSU letter demanding it 'do more' to protect Jewish students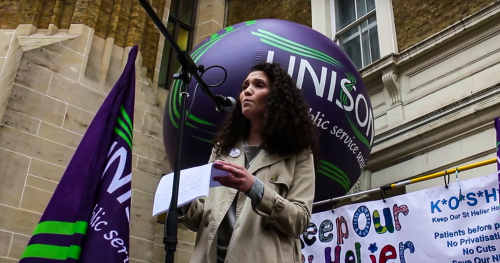 Over a month after CUSU sent a letter to the National Union of Students (NUS), demanding that it improve its relationship with Jewish students, the UK-wide body has still not sent a reply, Varsity can reveal.
In the lead-up to last month's referendum on CUSU's continued affiliation with NUS, which resulted in a narrow victory for the remain vote, a Council motion mandated CUSU to send a letter to NUS calling on it to address allegations of internal anti-Semitism.
A letter, dated 17th May, was publicly released on 23rd May. Varsity can confirm that, as of Thursday this week, no response has been sent by NUS.
A NUS spokesperson said: "Although NUS has not yet sent a formal written response to CUSU, over the last month NUS officers and staff have spent time in Cambridge discussing with the union and directly with students the concerns raised in the open letter".
They added that they "will be responding formally to the new president [Amatey Doku] and working with him to ensure we represent and support all students."
Current CUSU President, Priscilla Mensah, did not respond to Varsity when asked if a response had been received.
She did however tell Varsity she has "a meeting scheduled with the NUS Chief Exec next Monday, and will discuss what plans NUS has for an institutional response to the complaints made by CUSU".
Mensah has not responded to an offer to give comment on the lack of formal response.
The letter, which was drafted initially by student disaffiliation campaigner Adam Crafton, called upon NUS to "do more to protect the rightful place of Jewish students within the student movement", and called for the organisation to "set out clear actions and next steps to fully ensure reports of anti-Semitism within the organisation are dealt with".
Concerns had been raised following the election of Malia Bouattia as NUS's next President. Bouattia has previously made remarks including describing her alma mater Birmingham University as a "Zionist outpost". The leaders of over 40 university Jewish societies across the country wrote a letter to NUS calling for concerns about Bouattia's alleged anti-Semitism to be addressed.
Reacting to the news that no formal response had been sent to CUSU, Crafton outlined his disappointment with NUS.
"It is now almost a month since CUSU, mandated by their student council, published an open letter condemning anti-Semitism within the NUS and demanding an urgent response", he told Varsity. "It is shameful that the NUS are still to provide any indication of an institutional response to the concerns of students at Cambridge."
He said that "46% of Cambridge voted to leave the NUS and many more who chose to remain or abstained have since been in touch with me to cite their disappointment with the organisation's failure to demonstrate a willingness to tackle anti-Semitism within the organisation. The notion of reform from within appeared hopelessly naive at the time and now seems utterly fanciful. As a Jewish student, I am grateful to be graduating this summer and no longer fall under the umbrella of a backwards and toxic organisation."
Varsity revealed last month that NUS was not pursuing ongoing investigations into Malia Bouattia or any other members of NUS.