Cambridge students call for NUS disaffiliation
Group calls for CUSU referendum, as NUS President-Elect faces accusations of anti-Semitism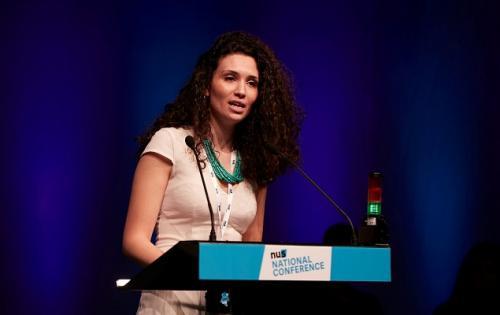 A group of Cambridge students have called for the disaffiliation of CUSU from the National Union of Students (NUS), following the election of its new president, Malia Bouattia.
The group, named 'NUS: Let Cambridge Decide', has submitted a formal motion CUSU Council calling for a university-wide referendum on Cambridge's membership of the NUS. They expect a vote to occur before the end of the academic year.
Bouattia won by a margin of 44 votes, defeating the incumbent Megan Dunn in the first round of voting. She is currently the NUS Black Students' Officer, and pledged in her manifesto to "build a stronger national union ready to lead the way in the fight for the education we all deserve and need".
However, Bouattia – the first black and Muslim president of the NUS – has sparked controversy on the basis of comments she made in the past, and faces allegations of anti-Semitism.
The Independent has reported that the NUS's new President-Elect has been questioned in an open letter by more than 300 heads of Jewish student societies and protesters as to why she referred in 2011 to her alma mater, the University of Birmingham, as being "something of a Zionist outpost in British higher education".
The Union of Jewish Students (UJS) released a statement after Bouattia's election, saying it hoped the relationship with her would be positive, but that many Jewish students remained concerned.
"There will, however, still be many Jewish students who have not been satisfied with Malia's response so far to the concerns raised by Jewish students over the last few weeks," it said. "Now, knowing the result of the election, these questions still need to be answered."
Bouattia also made headlines when she spoke against a motion condemning the actions of ISIS. The NUS has said that Bouattia disputed the wording of the notion, not its sentiment.
Upon her election, Bouattia was congratulated by advocacy group CAGE, which former NUS President Megan Dunn has criticised as a "deeply problematic organisation", whose leaders "have sympathised with violent extremism and violence against women".
It has also emerged that Bouattia has shared multiple platforms in British universities with Moazzam Begg, a previous detainee at Guantánamo Bay, who was charged with providing terrorist training and funding extremism.
NUS: Let Cambridge Decide said that Bouattia's election is "a horrifying message to Jewish students in the UK". It continued by saying that "attention has been repeatedly drawn to her anti-Semitic comments. Unfortunately, Malia's election is just the latest event in a tide of anti-Semitism sweeping UK universities."
The Cambridge students have also taken issue with the fact that at an event in 2014 – as NUS Black Students' Officer – she claimed a "Zionist-led media" oppresses the "Global South", and gave support to "resistance", even if this assumes a "violent form".
In regards to calls for disaffiliation, CUSU's current President Priscilla Mensah said: "CUSU represents a significant number of Jewish students and takes their concerns, with regards to the outcome of the elections, very seriously.
"As the democratic body for the students of Cambridge, we would endeavour to support any students seeking to bring a motion to CUSU Council on CUSU's current relationship with the NUS."
Responding to these allegations, Bouattia said that "for me to take issue with Zionist politics, is not me taking issue with being Jewish," and that she does not see "a large Jewish Society on campus as a problem".
In her election speech, Bouattia said: "I know many of you will have seen my name dragged through the mud by right-wing media. You'll have read that I'm a terrorist, that my politics are driven by hate. How wrong that is. I know too well the price of terrorism, the consequences of violence and oppression. I saw a country ripped apart by terror, was pushed into exile by its doing. I know too well the damage done by racism and persecution – I faced it every day." She went on to say that she "will continue to fight it in all its forms, whoever its target, whether it's anti-Semitism, Islamophobia, xenophobia or any other bigoted idea".
Elinor Clapson, chair of Cambridge Universities Labour Club, tweeted: "Oh lord I have concerns wabout Malia Bouattia too but can't deal wth [sic] budding outraged middle class white man crusade to disaffiliate from NUS" in reference to the Cambridge campaign.
Bouattia's election has drawn other criticism from the Jewish community in Cambridge. The Cambridge University Jewish Society (CUJS) has issued a statement saying that they "are appalled at the election of Malia Bouattia as NUS president.
"She has repeatedly made both overtly anti-Semitic remarks and other comments which cause Jewish students to feel threatened. Whilst we recognise her democratic mandate, CUJS strongly believe Malia Bouattia is unfit to be President of the NUS and a representative of the student population. We are grateful to our fellow students who opposed her campaign and who we know will continue to stand in solidarity with us over the next year."
Furthermore, the Guardian reports that Wes Streeting, Labour MP and former NUS president, is concerned that Bouattia's radical left-wing politics would hinder the influence of the union. "I struggle to see how she and now the majority of the NUS executive can reasonably claim to represent mainstream students across the country," he said. "It is a gift to the Conservatives which allows them to further marginalise student opinion when there is a real need to fight on issues like interest on student loans and cuts to bursaries. NUS has really hit the rocks."
Manchester and York universities have also announced campaigns for disaffiliation.