In Unaccompanied Company
Music Editor Elisa Halkes speaks to some of the a cappella groups bringing harmony to the Cambridge music scene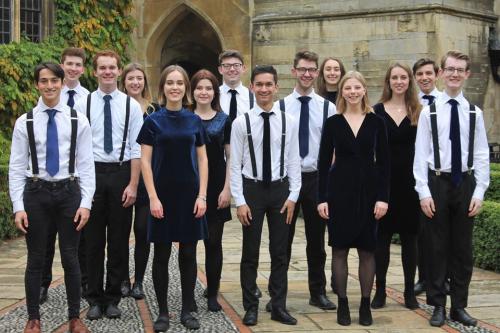 The Cambridge music scene is filled with talent. Here, I spoke to some of the a cappella groups making a name for themselves, touching on unity, special moments, and what the future has in store.
Hi! Tell us a little bit about yourself...
FITZ SIRENS: Hi, I'm Sophie (third-year geographer), the leader of The Fitz Sirens, a student all-female a cappella group based at Fitz which has been going since 1994! We're a group of eight women from a range of years and colleges who perform a mix of jazzy classics and contemporary arrangements in a range of settings (from private dinners, to concerts, to May Balls). We love that, as a group, we get to perform in so many styles; however, Gloria Gaynor's 'I Will Survive' is particularly close to our hearts.
CADENZA: I'm Alice and I'm in my second year studying history at Queens'. I have been the President of Cadenza A Cappella group for 2019-2020. Cadenza is a mixed group which was founded in 1997, and we perform a range of pop and jazz pieces. Most of our arrangements are written by our members, and you can find us performing at May Balls, at our termly concerts in a range of venues including Trinity Chapel and Kettle's Yard, or you can listen to our EP 'Under the Lights' on all major streaming platforms.
NOTORIOUS: Hi! I'm Lily, I'm in third-year at John's studying history of art and I'm the president of Notorious for 2019/20. Notorious are a 13-strong all-female a cappella group. Our repertoire is mostly made up of pop classics (read: May Ball bops), although we throw in some jazz and folk style music too. We tend to perform complex arrangements, including pieces in 12 or 13 parts, and we especially like to arrange our own music when we can (our Musical Director Emily Myles is a capella arrangement guru). Even though we are an all-female group, we  have a big enough range to sing a lot of arrangements for mixed voices, and I think that makes us stand out.
Where do you locate a cappella in the music scene, specifically in the landscape of Cambridge? The media have often portrayed it as cheesy - do you think perceptions are changing?
FITZ SIRENS: I think a cappella is really important in the Cambridge music scene. Cambridge has a really strong classical and religious music scene, which is fantastic, but I think the a cappella scene here provides an opportunity to perform more contemporary and secular music which diversifies some of the options available for student musicians (although I do think more should still be done on that front). I also like that we are student-led; I think this makes for a relaxed rehearsal setting, and a group where everyone feels they can share ideas and be very involved in shaping group performances. As for being described as cheesy, I think this applies to some of the repertoire we do, and is no bad thing! Often we find audiences seem to engage more with the songs we have 'cheesed up' with choreography and lots of energy. However, I think we also do a lot more than that – The Sirens have a reputation for sass and class which we work hard to keep up, and our work this year on 'Royals' (Lorde) and 'Sweet Dreams' (Eurhythmics and Beyonce mash-up) has particularly built up that side of our repertoire.
CADENZA: I think the main issue with misconceptions of a cappella is seeing 'cheesy' as a bad thing. People come away from our performances smiling, that's for sure. However, I think this shouldn't diminish the musical value or quality of the group – Cadenza prides itself on our members all having strong musical knowledge and talent, and this shines through in our arrangements. Choirs are rewarding if you have the time to dedicate to it, but being part of an a cappella group is a much more relaxed opportunity to develop your musicality and to perform some more modern material.
NOTORIOUS: Yeah, I definitely agree that a cappella can be cheesy – aided, no doubt, by Pitch Perfect – and we do sometimes pander to that in our performances. But I think that if you can get past the aura of cheesiness, a cappella can also be really impressive; particularly if you get the chance to listen to it outside of the usual context of 3am at a May Ball. We perform hour-long sets off copy, and we love putting on concerts throughout the year which give people the chance to really listen to us. In terms of the university scene, a cappella is a well-embedded staple of May Week, but I would love to see more a cappella groups taking part in bar nights – we love headlining events like Oxjam and Pink Week finale, and in this context a cappella often provides a welcome and upbeat contrast to solo singers with guitars.
By its nature, it seems working as a unit is key - how do you get the balance right in terms of bringing out the strengths of different voices whilst ensuring the sound works as a collective?
FITZ SIRENS: When we are auditioning, we look for a real balance of voice types and skills across the group. We need the full range – altos who can belt, sopranos with great range, those with great musicality, those who can pick up music quickly, and those who are confident performers. Our priority is this musical side, but it is also really important that we get along as a group, so we do look for people who we think will work together really well too. Once auditions are done, we then spend a lot of time in the first term getting to know each other well, getting to know our different voices and skills, and getting to grips with our classic set pieces; this, I think, is really important for making sure we sound great and all get along well throughout the year.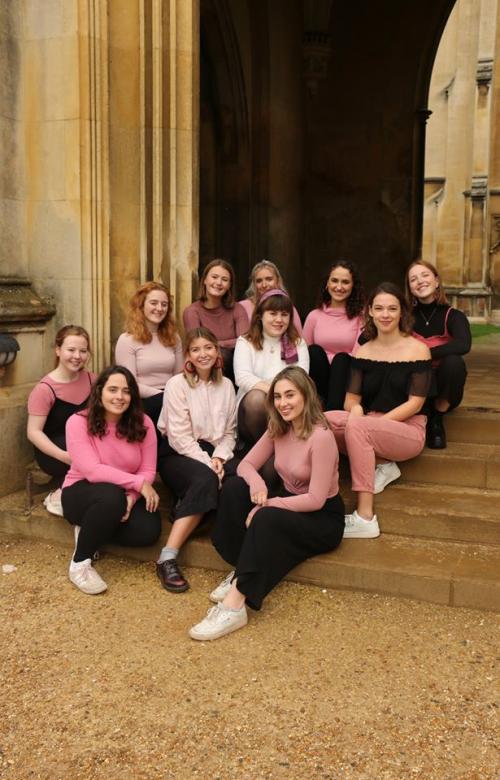 CADENZA: It's supremely important that our blend is perfect as a group, and I think, for Cadenza, this has been our best year yet. All of our members are so talented and focused, and it means when we're all on the top of our game, the sound is really amazing. Our musical director Pia Rose Scattergood has been so great the past two years and it really helps to have someone with perfect pitch to correct our intonation! Above all, we really get on as a group, and having a laugh in rehearsals and enjoying our performances together has been so important in getting the energy right.
NOTORIOUS: Blend is kind of the name of the game – in our auditions, we're looking, not just for great solo voices, but for ones which mesh well. We get to know each other's voices very quickly, so we can establish a natural balance between parts and bring out the specific qualities of certain voices. Our Musical Director puts a lot of time into making sure that our balance is right and solos usually get added later – it's always more important that all the parts underneath are secure first. I think it's just as, if not more, important to get on well as a group. We always have fun in rehearsals and we do social things together a lot, which makes it ten times easier to work as a unit. If you look forward to your rehearsals, you're going to work a lot better during them.
What have been some of the stand out moments for you over the last year?
FITZ SIRENS: We have had some fantastic performances this year. Our Christmas video was a very exciting one – 'Cycling Home for Bridgemas' arranged by Anna Cooper (3rd year Music, Homerton) – which was really fun to make. We also loved performing at Selwyn Snow Ball, which was one of first gigs this year and feels extra special now our May Ball gigs have been cancelled, and in Sidney Sussex chapel in a charity concert with 'Notorious' for International Women's Day (we love women supporting women). However, our real highlight of the year has to be our annual concert with The Fitz Barbers last term; both groups were at the top of their game, and it was really exciting to perform all of our set to an audience of friends and family.
CADENZA: My personal favourite this year was our performance at Kettle's Yard in March. It was a stunning venue and gave us an opportunity to perform our most refined arrangements, including a hugely challenging jazz version of 'Cooler Than Me' by Mike Posner, which I'm proud to say we pulled off. There was only standing-room left, and some of our old members came to watch. It's such a shame that we've lost a physical Easter term as we had a lot planned, but for me that was a great 'note' (ha) to end on.
NOTORIOUS: We loved putting on our International Women's Day concert with the Fitz Sirens – it's always fun to hear how good you sound in a chapel acoustic and it was lovely to sing with our fellow all-female a cappella friends. Singing at Student Action for Refugees's fundraiser was one of our best gigs of the year – the atmosphere was great and we had such a fun time (it was also lovely to watch some Notorious members perform solo!). It has also been so much fun to meet such a lovely group of people. We have loved rehearsing together for the last two terms. Music is such a great way to meet people you otherwise wouldn't in Cambridge.
Finally - the circumstances are now clearly unusual: what's next for you? Zoom a cappella performances have been doing the rounds online - is this an exciting new step forwards, or will the strength of collective performance always lie in real time, live performance?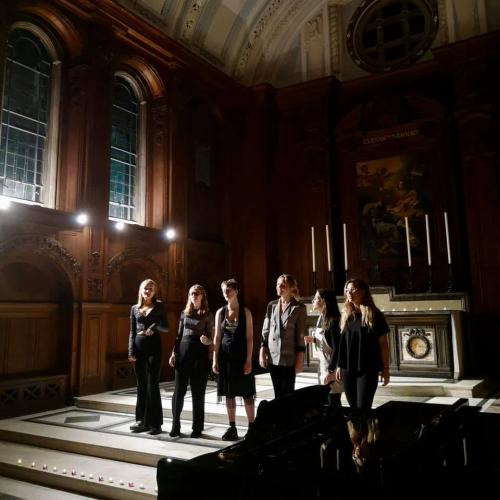 FITZ SIRENS: We've still got a few tricks up our sleeve in the time of Covid-19! Whilst it's very difficult to rehearse remotely, we are working on some exciting new content which we hope our audience will enjoy after exams (keep an eye on our Facebook page!). We hope to meet in person for rehearsals next year (mainly so we can have a big Sirens hug), but we will just have to wait and see if that's possible.
CADENZA: We're so excited to come back to Cambridge in October and perform together in person again. We've already handed over the leadership for next year and myself and Pia are so excited to see what they have in mind. In the meantime, however, without saying too much, we do have some virtual projects in store!
NOTORIOUS: We are so sad not to get to perform at all the May Week events we had planned – particularly our riff-offs with Cadenza which have gone down so well in previous years. But we are determined not to let all of our rehearsal efforts go to waste! We are currently working on some online video performances that we hope to release soon. I think the impressiveness of a cappella performance lies in the fact that it's live – you can't help but feel that some of the magic is lost when people have a piano next to them to keep them in tune. That said, some of the virtual performances that a cappella groups are producing are really cool and hopefully we can add to that soon – although syncing up 13 part arrangements is proving slightly tricky (if you're good at sound mixing hmu!!). What will happen next year remains to be seen, but I'd certainly hope that as Notorious heads into its fifth year, it can carry on being one of Cambridge's most exciting and impressive a cappella groups. There was a lot of music that we didn't get the chance to work on this year, including a great arrangement of Katy Perry's Teenage Dream which will hopefully entertain audiences in the year to come!
Varsity is the independent newspaper for the University of Cambridge, established in its current form in 1947. In order to maintain our editorial independence, our print newspaper and news website receives no funding from the University of Cambridge or its constituent Colleges.
We are therefore almost entirely reliant on advertising for funding, and during this unprecedented global crisis, we expect to have a tough few months and years ahead.
In spite of this situation, we are going to look at inventive ways to look at serving our readership with digital content and of course in print too.
Therefore we are asking our readers, if they wish, to make a donation from as little as £1, to help with our running costs at least until this global crisis ends and things begin to return to normal.
Many thanks, all of us here at Varsity would like to wish you, your friends, families and all of your loved ones a safe and healthy few months ahead.
Sponsored Links
Partner Links