Born in the wrong generation? Think again…
Will Randell explores how the modern world presents us with new opportunities to revisit the classics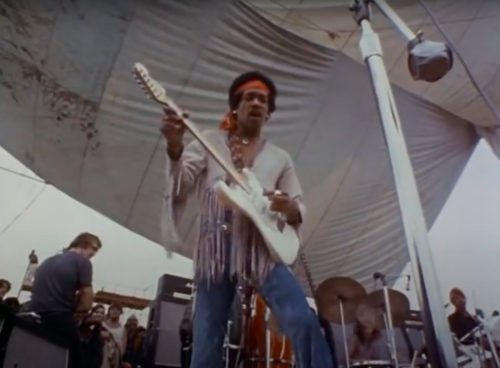 Nostalgia, for most of us, is associated with positivity. That warm feeling that laps over you whilst looking through old family photos, finding a once loved toy, or returning to a forgotten place from your childhood - still glistening in the sepia-tone haze that has a habit of glossing over and fading our oldest memories. You might, therefore, expect stories, photographs, and recordings captured throughout what many view as a 'golden age' of modern music –  somewhere between the 1960s and 1980s – to evoke a similar response: transporting you back to heady summer festivals, bustling arenas, or swanky London clubs – thick with cigarette smoke, names, and faces long since dissipated. What I experienced upon first immersing myself into the culture of this period turned out to be, however, the antithesis of nostalgic warmth.
Rather, a feeling of hollow isolation born out of the realisation that the lives and works of those I most closely related to and enjoyed were now largely seen as artefacts, distant from relevance and, if given any modern exposure, fetishised for their obscurity, reduced to an existence on the plastic: print production lines of the fast fashion industry. 
"You yearn to swap places with one of the endearingly pixelated hippies writhing around to Hendrix"
This all seems awfully dramatic, I realise, but born-in-the-wrong-generation syndrome brings with it some rather serious symptoms. For one, you might be haunted by the compulsion to trawl frantically – feverishly, even – through decades worth of grainy concert footage. Entranced, you sit shrouded in a fog of incense smoke, devising ways to travel across the fabric of time – yet to no avail. You yearn to swap places with one of the endearingly pixelated hippies writhing around to Hendrix, thrashing out his holy grail of a set at Woodstock, or perhaps find yourself at Madison Square Garden in the summer of 1973, soaking up the thunderous concoctions of the then-youthful, and distinctly hungrier, Led Zeppelin.
Unfortunately, these desperate attempts to travel across the fabric of time have an effect only on the fabric you wear: which is now, invariably, corduroy. And, to make things worse, someone always seems to rudely thrust open the door to your bedroom just as you reach a state of meditative bliss (invoked by listening to 'Dark Side of the Moon' six times consecutively), thus allowing the cursed sonic fumes of Radio 1 to seep in. Ugh. Sooo mainstream.  
What preserves, then, my thirst for the tantalising pursuit of a new song, album, or artist I've never heard before, then?….
In truth, we are blessed with a richer, more expansive mine of music than ever - which, as I have come to realise, is far too easily ignored. A self-confessed Hendrix fanatic, I have scoured every source of music – be it Spotify, Youtube, or HMV – for alternative mixes, unreleased material, and live recordings. Whilst, thanks to my efforts, (read: obsession) I have managed to compile a relatively comprehensive library of the music I love, I have been most excited by what I never knew I was looking for in the first place: a fresh perspective. The sheer quantity of modern re-interpretations, covers, and original (albeit heavily inspired) material I stumbled upon is enough to make even the most dedicated purists drool all over their nice new corduroy trousers. 
Of the artists re-injecting a fresh dose of goosebump-inducing electricity into the fibres of the needle-worn classics we love so much, I shall try to limit my ramblings to a mere few: I shall talk about, perhaps, four or five thousand? Is that too much? Fab. 
John Mayer, for one, whilst simultaneously occupying the spot of the most effortlessly cool human being ever to walk a stage,  churns out thrillingly energetic renditions of old favourites with an ease that almost matches those who played them first. Perhaps most impressively, he handles these pearls of musical brilliance with a respect often forgotten in an industry that can, so often, be vicious. A particular favourite of mine is his 2014 rendition of Dylan's 'All Along the Watchtower' at his Made in America set at Grand Park: he sweeps the potentially delicate classic from its feet, gives it a thoughtfully crafted (and enthrallingly loud) polish, and sets it back down on the mantelpiece as good as new. New enough, in fact, that the song assumes an air of modernity that punches through the airwaves just as incisively as it did in 1967.
Another, perhaps unexpected, source of re-interpretive brilliance is a cultural behemoth known for stadium-shaking, open-chord anthems. I think it would be ridiculous to suggest they can claim to demonstrate much originality in their composition – if, say, you're a fan of  T-Rex's 'Get It On', their 'Cigarettes and Alcohol' is the same song – which would be a filthy act of plagiarism if it didn't sound so damn good… Regardless, Oasis manage, invariably, to steep everything they touch in attitude and momentum. Their rendition of 'I am the Walrus' at Glasgow Cathouse, (1997) for example, is outrageously good. Blooming canopies of lashed out rhythm guitar carry a volley of cannon-fire drums thundering along, whilst, of course, LG's trademark snarl slices through it all, unwavering, and with the strangely intoxicating arrogance of one who knows they've pulled off something rather special. Equally blistering is the Brit-rock giants' take on The Who's 'My Generation'. The original record, first released in 1965, is a fine example of the early Who's mastery of the swinging dancehall RnB, that became the soundtrack of the Lambretta-revving, parka-clad 60's youth. Daltrey's addictively repetitive, stabbing lyrics on the hit, sharply reeled out in a now iconic morse-code stutter, are taken on brilliantly by the younger of the Gallagher brothers, who trades Daltrey's jagged lines for lashings of his grainy, whining slur. (My favourite versions of 'My Generation' include their live rendition on the Jonathan Ross show in 2005 , and on the Little by Little EP, released in 2002).
After countless happy hours spent exploring the kaleidoscopic expanse of these refreshingly contemporary performances and recordings, I have a renewed trust in the idea that, if a song is truly great, it will continue to exist, going through continuous metamorphoses as it is taken on and refashioned by artists who were inspired by it themselves. By truly great, by the way, I refer to the rare breed of compositions that exist in listeners' minds surrounded by an atmosphere of personal memories, images, and emotional responses: in this way, the song itself becomes an idea in our minds, of sorts, separate to the original artist or their context. This is what makes them so malleable for the artists that take them on as works of their own.  
Rare enough is the synthesis of these works in the first place. Sometimes, however, there is such intense chemistry between an already well loved song, and the artist that takes it on, that, as an audience, it is difficult not to begin believing that, somehow, the creator and interpreter of the piece met, briefly, on the same plane of human experience at some point. 
"The lead lines seem to have been wrenched painfully, viscerally, even, from deep inside – cutting into the listener with a searing bitterness"
Such is the magic running through many of the angry, euphoric, even heartache-soaked notes on Stevie Ray Vaughan's Couldn't Stand the Weather (Legacy Edition, 1984). Vaughan's own music poignantly exposes his emotional and romantic vulnerabilities: 'Lenny', for example, (Live at the Spectrum, Montreal, 1984) is a shimmering serenade to his wife performed with a sigh-like delicacy – made especially touching considering the bluesman's potentially raw force of expression unleashed elsewhere in his work. The frontman – who burned through a tumultuous life punctuated by the tragedy of childhood abuse, alcoholism, and drug addiction – seems to be granted a wealth of creative potential by the work of (cue shameless obsession) Jimi Hendrix. The lead lines upon which Vaughan soars over the rumbling rhythm section on 'Voodoo Child' (performed at the same show as 'Lenny') seem to have been wrenched painfully, viscerally, even, from deep inside – cutting into the listener with a searing bitterness impossible to turn away from. When Hendrix's lyrics – emotional enough in the context of his original record – are complemented by Vaughan's raw, unrelentingly powerful vocal expression, you are left with just under twelve minutes dripping with passionate anguish only coolly alluded to in the original. 
If the sort of brilliance created by the renovation of old, well worn favourites doesn't fill you with a fresh breath of inspiration and curiosity, it's hard to imagine what will: after all, we have more opportunities than ever to access the cornucopia of sonic artistry built up over the years. We should take a dip into of the vast ocean of music made accessible to us by streaming services, and sit in the front row seats preserved forever in the immeasurable archive of concert footage on the web: of course, not forgetting the glorious resurgence of record shops, and timeless appeal of live music – uniting all of the corduroy clad, window gazing, Dark-Side-of-the-Moon-loving dreamers once again. 
Perhaps a little nostalgia isn't so bad after all.
Varsity is the independent newspaper for the University of Cambridge, established in its current form in 1947. In order to maintain our editorial independence, our print newspaper and news website receives no funding from the University of Cambridge or its constituent Colleges.
We are therefore almost entirely reliant on advertising for funding, and during this unprecedented global crisis, we expect to have a tough few months and years ahead.
In spite of this situation, we are going to look at inventive ways to look at serving our readership with digital content and of course in print too.
Therefore we are asking our readers, if they wish, to make a donation from as little as £1, to help with our running costs at least until this global crisis ends and things begin to return to normal.
Many thanks, all of us here at Varsity would like to wish you, your friends, families and all of your loved ones a safe and healthy few months ahead.
Sponsored Links
Partner Links