Handel's Giulio Cesare, a Night to be Remembered
Mateo Lincoln reviews the student performance of Giulio Cesare, which took place in Trinity College chapel.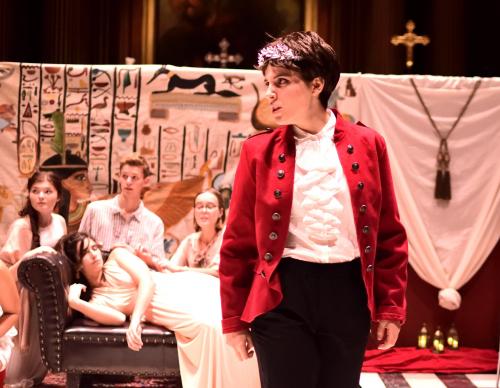 Two weeks ago, a remarkable student performance of Handel's Giulio Cesare took place in the majestic Trinity College Chapel.  The music was of a professional standard, and the two performances, which took place on Friday and Saturday the 15th and 16th of November, drew around seven hundred audience members young and old to witness an unprecedented show of student talent. 
Written in 1724, Giulio Cesare loosely adapts the story of the Great Roman Civil War between 49 and 45 B.C.  The opera begins with an ending: Cesare (Caesar) has just won a grisly war against military leader Pompeo (Pompey).  Cesare and Cleopatra fall in love at Pompeo's funeral, setting in motion an elaborate romance involving no shortage of disguises and eavesdropping.   Later, when Cesare is rumoured to have been killed by Egyptian troops, Cleopatra falls into a deep depression, and is imprisoned by her duplicitous brother, Tolomeo.  At the last moment, Cesare comes out of hiding, takes over the government to release Cleopatra, and the conniving Tolomeo is stabbed to death. Cleopatra and Cesare are married and celebrated by the people of Egypt.  
The co-directors, Aïda Lahlou and Louisa Stuart-Smith (who managed to play the title character as well), had a clear vision that was ambitious and extremely well-executed.  The show, originally a four-and-a-half hour long operatic marathon, was skilfully reduced by the production team to two and a half hours. Lahlou and Stuart-Smith's ingenious staging dramatically utilised the size and topography of Trinity College Chapel, with characters taking shelter in the pews, dashing down the aisle, or looking out from the organ loft: a highly immersive theatrical experience.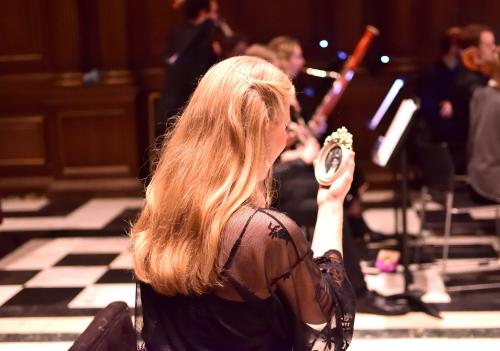 As noted in the programme, the co-directors sought to highlight the cosmopolitan nature of the Mediterranean in the 1st century B.C., a valiant goal indeed.  To achieve this end, the costume designer (Clarissa Hard), choreographer (Mihaela Petrova), and set designer (Apolline Bökkerink, Christina O'Brien, and Lydia Wilford) worked together to represent cultural diversity onstage.  Indeed, the set was miraculous (an Egyptian-style mural) and the choreography engaging. Though some of the efforts to foreground multiculturalism were less successful, such as a few more garish and exoticised garments, many of the costumes were transcendent––especially the glittering suit worn by Matthew Sargent, playing Tolomeo.  The choreography, though running the risk of discordance by incorporating a dash of Bollywood, was bold, unusual, and exciting.  
Even with the convergence of all of these impressive elements, the cast was still the evening's shining light.  Stuart-Smith made a formidable Cesare, a role originally written for an alto castrato, with beautiful timbre, phrasing, and projection.  She conquered the role with impeccable musicality, magnificent coloratura, and a convincing stage presence. Anna-Luise Wagner, a graduate student at Cambridge, was a dazzling and masterful Cleopatra, adding pathos to the production by so fully inhabiting her role.  Matthew Sargent was perfect for his countertenor role as Tolomeo (also originally for an alto castrato) and stunned the audience with his virtuosity. His knack for physical comedy, too, added necessary comic relief to the show. Lara Cosmetatos (Cornelia), Tom Butler (Achilla), Robert Nicholas (Curio), and Nina Vinther (Nireno) all held up their roles beautifully.  One of the greatest standouts was Anita Monserrat as Sesto, whose arias were among the evening's most spine-tingling. Her clear tone – tailored well to the Baroque style – sounded sublime in the Chapel's acoustic.  
The orchestra – consisting of strings, winds, harpsichord, and theorbo (a giant Baroque lute) – never lost a beat, in perfect balance with the singers, and offered plenty of dynamic contrast and sensitive musicality.  The music direction of Edward Lilley, Jamie Conway, and Sophie Westbrooke is to be lauded, as well as the leadership of Leo Appel and Harry Guthrie. The chorus, too, provided a rich and colourful musical backdrop to the show.  
Overall, Giulio Cesare in the Trinity College Chapel was surely one of the strongest operatic and musical performances at Cambridge in recent years, a perfect storm of talented student directors, producers, singers, and musicians.