The future of pop? Charli XCX's Charli is explorative, but is hindered by its sense of confusion
Izzi Dickson argues that Charli XCX's music undergoes a futuristic transformation in her latest album, but is undercut by the lack of coherence amongst the tracks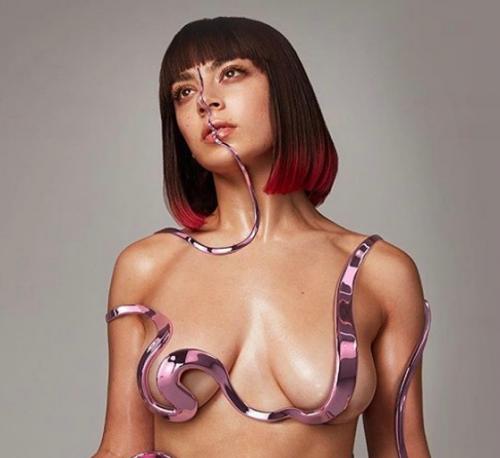 Charli XCX has envisaged the future of pop music and it will not be held down by border, genre or gender. On her latest project, self-titled album Charli, her reverie comes to realisation in full, perhaps for the first time in her career.
Charli sees the 27-year-old, real name Charlotte Aitchison, at her most experimental. The album is rooted in 90s and 00s pop, with Aitchison's ability to create catchy tracks being the common thread throughout. Her formula is perfect; she can optimise the conventional pop melody to create a dancey, already-familiar hook. (Sucker, her last full-length album, demonstrates this ability with huge singles like Boom Clap and Break the Rules.)
Where Charli excels is in the futuristic embellishments, courtesy of PC Music producer A.G. Cook – glitchy synths, bubbling sub-bass, and auto-tuned chimes reminiscent of old video games. Cook's production is accompanied by features from a host of international artists, such as Korean-American producer Yaeji and Estonian rapper Tommy Cash. Cupcakke, Lizzo and Troye Sivan can be heard on the album too. Charli is an exercise in maximalism, seen in its production, collaborators and lyrics (the album starts with the lines I go hard, I go fast / And I never look back). It's pushing the boundaries of what pop music can be.
The project feels like a reaction to being pigeonholed in with other female popstars like Katy Perry, Taylor Swift or Halsey. Arguably, this is partly Charli's own doing – she's been on tour with all of them. Her last full-length album is ostensibly straightforward pop-punk – accessible, inoffensive and a little generic.
Now, she is shaking free of her confines. In Charli, Aitchison has created music that feels far truer to self. The pop is there, but so are traces of her other projects: her pre-breakout album True Romance which tinkered with darkstep, witchhouse and happy hardcore; her recent mixtapes No. 1 Angel and Pop 2, of a similar hard-to-categorise nature to Charli. In a recent interview, she stated that from 2016 (ie after Sucker), she feels she's been making music that "only she could make". Lyrically, we get to see behind her glittering façade of hedonistic partying, revealing vulnerability and that perpetual millennial self-doubt.
Click is my personal favourite from the new album. Slick to the point of sexy, it is brimming with punchy attitude and unusual production in equal measure. The track sounds like the clanking of strange futuristic machinery, featuring metallic distortion and dubstep drops. Kim Petras (a German dance-pop artist) and Tommy Cash impress with strong verses too. The lyrics come across as a satirical examination of what it means to be part of the Instagram generation. Get what I want like "click" / They want a pic like "click", Aitchison chants in a self-assured singing-rap.
"Aitchison is not making the most cutting-edge music out there ... But this album distinguishes Charli XCX as someone who's not afraid to make waves in the mainstream."
The album's low points fall where the production is not quite enough to disguise weak song writing. I Don't Wanna Know, for instance, uses heavy-handed reverb to create a sonic landscape, but there simply aren't enough ideas here to fill a three-minute song. Thematically, the album is a little confused, as it juxtaposes tracks which indulge Aitchison's experimental tendencies with more orthodox pop songs like 1999 and Blame It On Your Love. Charli XCX can't quite seem to leave the party anthems behind. Though unquestionably well-executed tracks, they don't gel particularly well with the rest of the album. Aitchison is not as certain of her trajectory as she wants you to think.
If her first and last track (Level Up Charli and 2099) represent a mission statement for the album, it seems the singer is gearing up to leave conventional pop behind and continue pursuing her futuristic cyber-pop aesthetics.
Aitchison is not making the most cutting-edge music out there – a lot of the production is clearly influenced by contemporary outsider artists (for instance, the choppy, mechanical distortion is typical of Scottish producer SOPHIE, whom Aitchison has worked with before). But this album distinguishes Charli XCX as someone who's not afraid to make waves in the mainstream, and that makes her an important and irrepressible voice in modern pop. I'm looking forward to seeing what else she has to offer.