Noel Gallagher's 'Black Star Dancing': watch out Liam, your brother's gone supersonic
Why settle for the same old guitar thud when you can explore new sonic territories?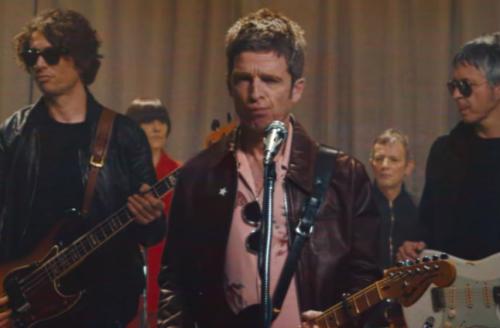 The least shocking thing to have happened so far in 2019 - the year having provided stiff competition - must have been the release of Liam Gallagher's new single 'Shockwave'. It is not that the crashing guitars and screeching harmonica of the song are bad so much as they are dull - an early indication that Liam's new album will be as reactionary and archetypal as his last. For Liam it seems that almost nothing has changed: loutish antics, Benson & Hedges cigarettes and self-satisfaction still compose nearly the sum of his character. But a navy-blue parka stuffed with Class C drugs looks increasingly pitiable on a middle-aged man with four children.
Whilst the 'back to basics' mentality may work for the junior Gallagher, and apparently provides enough material for a new documentary (As It Was), it certainly doesn't for his brother Noel. The response to the senior Gallagher's last album Who Built the Moon? was a tender one, with general appreciation that he had finally produced something beyond the soaring choruses and slogging chord progressions which made his name - and which he can write in his sleep.
'Nature is dancing/And it makes me sweat'. Nope, not a clue
Well free from the haze of Britpop, Noel seems genuinely content to push his musical envelope, even if only hesitantly and gently. This new EP, the first of three apparently scheduled for this year, proves that what he proudly called 'cosmic pop' wasn't some sort of happy accident, with Gallagher determined to write something different or, to use a word that he has disparaged when applied to music, 'interesting'.
Black Star Dancing is unfortunately not really either of those things, but no worse for it. Immediately, the opening and title track still contains as its centrepiece a typically bellicose and optimistic chorus cry ('We can ride on/We can ride all night') despite now being enmeshed in disco synths and dance beats. This song is then the root of more than half the EP, an alternate mix and an extended 'Reflex Revision' forming all of the second side. Though a good tune, it does lose some power when it forms 19 minutes of the entire collection.
The other two tracks, 'Rattling Rose' and 'Sail On' are similarly 'cosmic' realisations of the typical Gallagherian formula, that of coupling themes of escape/ambition/carpe-diem with neat melodies. Now though, this idea is encased in a sound more reminiscent of Reflektor-era Arcade Fire than anything from Definitely Maybe or even his last two solo efforts. 'Sail On' is undoubtedly the most interesting of these two, a deceptively poignant shanty akin to the reflective acoustic B-sides from Oasis' heyday.
Yes, paeans to soaring out of some nameless city are all he has been writing since 'Rock 'n' Roll Star', but this is a tirelessly affecting message in itself, which he can deliver again and again. And even if it is a derivative idea, surely it is better than the kind of recondite nonsense on 'Black Star Dancing': 'Nature is dancing/And it makes me sweat'. Nope, not a clue.
No-one should be ecstatic about this EP; it is doubtful that it will convert any new fans to the song-writing of The Chief. But it counts as development if Noel's bank of inspiration begins to involve anything other than the British Invasion style which provided the recipe for his early success. If you listen to 'Supersonic' and his recent solo work back-to-back it hardly seems like the same songwriter, not least due to the absence of the iconic nasally whine which, try as he might, Noel's own voice can't match in intensity or potency.
Indeed, with only a serviceable voice, what Paul Weller has called 'rudimentary' guitar technique and a knack for a melody, what can we expect from Noel Gallagher? That is, what can we expect other than his prolific ability to turn out albums of rousing and optimistic music, some of which can prove highly emotive?
For those resentful of the new style, there may be some hope in the second EP of the year, which Noel has described as a more 'Mancunian' sounding record. Presumably this means more 'Oasis-y', given that 'Mancunian' could encompass everything from The Chemical Brothers to The 1975. But whether the next EP is some kind of electronic big beat production or if Noel embraces his inner millennial in imitation of Matty Healy, as long as the tunes carry themselves it is sure to be as hearty as everything he has released to date, including Black Star Dancing.