…& Me: Bon Iver
With the recent release of their new singles, Lottie Reeder reflects on the band that have been the constant soundtrack to her life.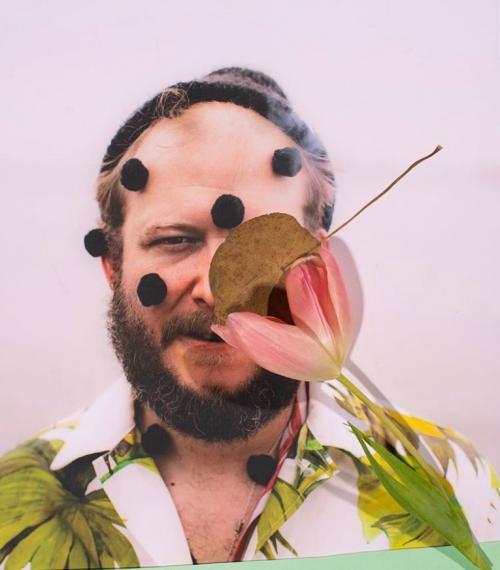 I remember hearing it for the first time with great clarity. I was so confused; it was the first time I'd heard music sound the way like this. Like many, 'Skinny Love' was my introduction. There was something about the tinny guitar and ethereal falsetto vocals that captivated me. I felt like I was watching myself listen to the song, it carried me through the emotions so effectively, the roughness of Justin Vernon's vocals at the climatic points struck me. I am forever thankful that I listened to For Emma, Forever Ago for the first time in the winter, the way it is meant to be heard. Even listening to it on a summer's day, it radiates a cold hollowness that transports you straight back.
Their second album became my permanent background music. It was perfectly easy to get lost in and fittingly accompanied the period of disillusionment during secondary school. Vividly, I still see myself sat in a cold science lab, flicking through a chemistry textbook that meant nothing to me, with the albums on.
At this point, I noticed how frequently they were used in film and TV. Bon Iver epitomise my interest in music and visual culture, always providing the perfect cinematic accompaniment. 'Woods' is used perfectly in the second generation of Skins, 'Beach Baby' features in my favourite rom-com Stuck in Love and the first season of Chuck uses a variety of songs from For Emma, Forever Ago to accompany moments of convincing emotion amongst comedy. 'Roslyn' (with St Vincent) was used in Twilight, New Moon and captures the hollowness of loss. When I lost my grandmother last year, 'Roslyn' was on all the time. Whilst it accompanied the loss of a lover in Twilight, the feeling of life stopping whilst the world carries on around you is in that song.  
Vernon released the third Bon Iver album, 22, A Million in my first year of sixth form. I was shocked by it, as it was such a contrast to his previous body of work, yet it was met by a period of clarity. I became able to listen to electronic music – it was so exciting to me. It marked a shift in my taste, as synth-pop replaced indie as my genre of choice.
I saw Bon Iver at Hammersmith, a year after the release of 22, A Million. It was midweek, mid-March and I really didn't feel like going, knowing I had to get up for sixth form the next day. Thinking I'd probably regret it in the long run, I went anyway. For the past years, I had listened to them passively, as if they were the personal soundtrack to the everyday. This was the first time I had ever listened to them actively.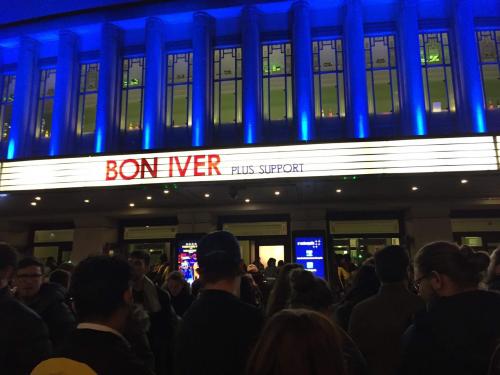 I was utterly transfixed. I'd never seen or felt anything like that before. I couldn't speak, or sing. To this day, it gives me shivers thinking about the performance, as if it were an out of body experience. Vernon opened the show solo, illuminated by a single spotlight, and performed 'Woods'. It was immersive performance in a way I had never seen before. He closed with a solo performance of 'Skinny Love' acoustically. Whilst it was the first song I'd heard, 'Wash', 'Blindsided' and 'Blood Bank' had developed much stronger attachments for me and I was never particularly phased by it. He began fiddling around on the guitar, before unexpectedly transitioning into the opening chords of 'Skinny Love'. For some reason, still unknown to me, that transition made my stomach lurch and there were tears for the entire song. It was as if someone had projected the footage of my entire teenage years in front of me for four minutes. It was utterly bizarre. It's not unlike me to find the music emotional, but to experience such a moving moment, out of nowhere, was otherworldly.
They are my go-to band in every way. They accompany my study, exercise, sleep. When people ask me who my favourite band are, they became the answer following the Apollo show. This weekend, I was at All Points East when they announced their new album, and aired their first two singles. 'Hey, Ma' and 'U (Man Like)' are the satisfying combination of their previous styles. Whilst performing to 40,000 people in a field will never top 3,500 in a theatre, the volume and body of sound was captivating and their performance of 'Blood Bank' and 'Creature Fear' were exceptional.
Usually, I am attracted to the spectacle of performance, whether it be movement, visuals or charisma. Bon Iver do not exhibit any of that, but Vernon is an artist that I think is a privilege to see perform. The music is everything, and for me to be entirely satisfied by that makes them extremely special.