Tom Odell interview: "keep that fire stoked"
From John Lewis to the Union, Tom Odell chats to Varsity about self-care, chaos, and a desire for a better world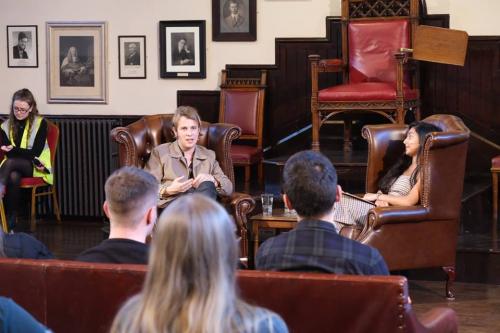 There's a buzz in the Cambridge Union from the dozens of eager students filling the benches as Tom Odell finally arrives. 35 minutes late to his own Union event, he breezes into the chamber, all floppy hair and trench coat, and apologises to the crowd. Charmed by his easy, friendly smile, and painfully acquainted with the struggle of parking in Cambridge, we all instantly forgive him.
"The pressure on us all these days to have a perfect life is terrifyingly heavy"
The 28-year-old was born and raised in Chichester, but moved to Brighton aged 18 to study at the British and Irish Modern Music Institute. Lugging his keyboard relentlessly around open mic nights, he was eventually noticed by Lily Allen, and signed to her record label in 2012. His first EP, Songs From Another Love, was released the same year. Though he claims to have mellowed, Tom tells us he's shocked by just how determined he used to be: "I look back at my 18 and 19 year old self, and I think to myself, 'you were a psychopath'. Every breath that I drew was used to try and make an album, get a record deal and write those songs." It seems his hard work paid off: 3 albums later, he's performed at Glastonbury, shared the stage with his idol Elton John, and even beaten him to a John Lewis Christmas Advert (2014 – the penguin one), while last year's Jubilee Road peaked at No. 5 on the UK charts.
Having spent the best part of his twenties in the spotlight, he's pretty well acquainted with the highs and lows of the industry, and the pressures that face young hopefuls starting out in music. "The music industry is behind with regards to mental health," Tom states candidly. His own experiences have taught him that the hard way – he admits that he himself has suffered from some "stuff to do with that". Now, he says, a significant proportion of his day is spent engaged in self-care - he's been meditating everyday for two years. Being in the public eye has forced him to learn to take care of his mental wellbeing: "the pressure on us all these days to have a perfect life is terrifyingly heavy – it's no wonder so many of us are having panic attacks."
Tom's father's job as an airline pilot meant his childhood was somewhat irregular, and he lived briefly in New Zealand as a boy. When asked how he got into music, he tells us that "there were lots of elements in my upbringing that made me feel like an outsider. It was a very natural progression that I ended up doing what I'm doing, because I always felt like I was between two teams. Now I almost enjoy being there."
But Tom thinks that the feeling of never quite belonging has helped him gain perspectives from which to write his songs: being an observer, it seems, has its benefits. "It all looks so complete and right when I look at someone else's life," he says, "but when I look at my own life it feels like fucking chaos." This generates a laugh from the audience – it's not hard to relate to that.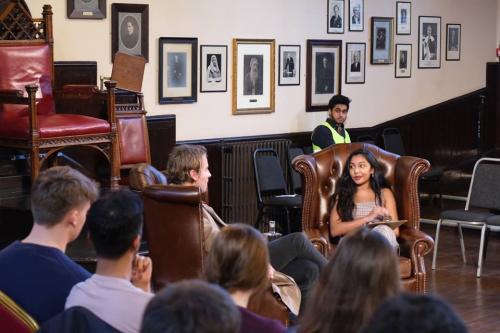 During the event, he tells us about a song that he's been working on, one that started as nothing more than a scribbled title – 'Girls Without Fathers'. "It was in my notebook on multiple pages, but eventually I managed to find a melody and the title popped back into my head. The song has taken months to write, and every few days a new idea will come with it, but it's very slow." It's about the lasting repercussions of a father leaving a mother and children – so what draws him towards these difficult themes? Tom's silent for a long moment. My transcribing suddenly seems thunderous in the echo of the Union chamber, and it appears to have caught his attention. "Who's typing?" he demands. Embarrassingly, I've thrown him off his train of thought. "The irresponsibility of men…" he sighs, trailing off. Mood.
"There's just this incredible love and intelligence among the young people – a desire for a better world"
When we speak alone after the event, I ask Tom about his ongoing Jubilee Road Tour – he's just finished the 5-week second leg, during which he played in over sixty cities around Europe. A lot of artists complain about how hard touring can be, with weeks on the road in a cramped bus, facing exhaustion and homesickness, but Tom seems to speak of his experiences as if he cherishes every moment. I'm interested to hear how he manages to stay positive throughout. "It's difficult like any job's difficult," he admits, but also claims that travelling and touring are as much a part of his job as actually writing and recording albums: "I've really tried to travel as much as possible, to see interesting places and be around interesting people. A huge part of my job as a songwriter is to keep that fire stoked."
For Tom, the "greatest privilege" of touring is being able to meet the fans who come out in their thousands to watch him perform. "Everywhere we go," he explains, "there's just this incredible love and intelligence among the young people – a desire for a better world." He sees this hope and acceptance as "the exact reverse of what's going on in Western politics: bigotry, closing borders, segregating people. But I find it to be the exact opposite in the youth."
I ask Tom about the differences between playing a show on tour and playing festivals. Dancing in a muddy field in the height of summer is a completely different experience to being crammed into a sweaty venue in East London, and, though I'm a fan of both, I want to know what it's like for the artist. And although he's partway through his third headline tour, Tom is no stranger to festivals, either: he tells me he's done 25 festivals each summer for the past 5 years. So how do they compare? "When people come to my show on a Tuesday night in Cambridge, you've got them for 2 hours but you know they've got to catch the bus home at the end and they'll get on with their lives. But with festivals, you've got this audience who are completely different, because they've abandoned all responsibility. You don't need anything on you. It's like a hippie's utopia."
As Tom kicks off the next leg of his Jubilee Road tour in Asia this March, followed by a month-long stint in North America before a summer of festivals, I wonder when he'll get the chance to release some eagerly awaited new music. Where's he going next? His reply, though unexpected, is utterly unsurprising. "Back to London, probably."