An (Odd) Encounter with Tom Odell
Lottie Reeder is exhilarated by the chance to meet one of her teenage idols, but has mixed feelings about his performance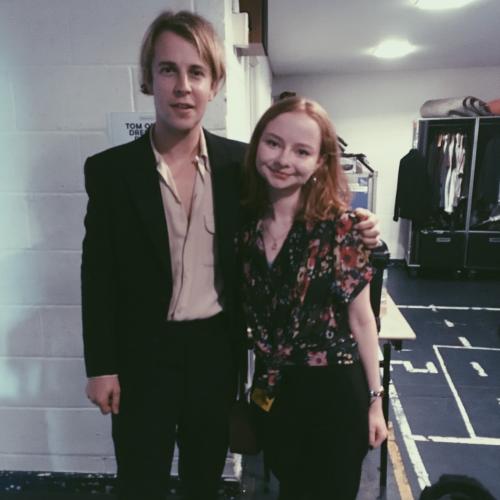 Coming back from the supervision from hell, I checked my phone to see I'd been emailed by Columbia records. The subject line read: 'Congratulations! You're meeting Tom Odell!'. There was a moment of confusion, a stomach lurch, and a great amount of doubt. I read and re-read the email. It was official: I had won tickets to meet Tom Odell at the Corn Exchange. About a month ago, I had put my email address into a meet and greet ballot for his Cambridge show, expecting to hear nothing back. I enter these competitions whenever I see them, and have never had an ounce of success, to the point where I was convinced that they had to be fake. My luck turned that day – I had a week to prepare myself to meet Tom Odell.
Like many of his fans, my interest in his music stemmed from his winning of the Critics Choice Award at the Brits in 2013. His debut album means a lot to me; a synthesis of bitter-sweet love songs, the tracks embody a hollowness that reminded me of Coldplay's 'The Scientist' – piano driven and raw. I found it unsurprising that a few of these songs were included on movie soundtracks: they are undoubtedly cinematic and lyrical. His follow-up album and most recent singles share a similar quality, but perhaps lack the authenticity of his debut. I feel he has not done anything that lives up to his first album, but his upcoming album, Jubilee Road, might be different. I remain optimistic.
I feel he has not done anything that lives up to his first album, but his upcoming album, Jubilee Road, might be different
The set-up of the meet and greet confused me. I had expected a decent sized group of local fans, yet when I met him, it was me, my plus one and Tom Odell. Naturally, having followed his music for a while, I introduced myself and mumbled something about it being very 'surreal'. I can only hope he didn't hear. We were taken to meet him at 8:55, when he was due to go on stage at 9:00. In the time it took for us to get a drink after meeting him, he was on stage. For these reasons, I forgive his slight awkwardness, I understand it even. I feel this was wholly a label faux-pas. There were many things I could have asked him, but it was not the time or place. We spoke about a song I had heard him play the first time I saw him, but had gone unreleased. We spoke about the city. He asked me what I was studying. He deemed English Lit 'heavy', with which I sympathise. We took a photo. He went on stage. The main thing I took from this encounter is that Tom Odell is a musician - not a frontman or a 'personality'. His music is the focus, and whilst this may hinder success in the modern pop climate, it is refreshing in many ways.
This was not the first time I had seen him live. Nearly four years ago, in the lull between his first and second album, I saw him perform at Thetford Forest. Not much has changed since; his lengthy piano interludes, his interaction with the crowd, his jump off the piano (which resulted in a trouser split causing him to run off and change) were all gimmicks four years ago. To someone seeing him for the first time, my plus one included, it would be fresh. However, despite a distinct gap between the two shows, it almost felt recycled. Even though there was a new selection of songs that I had not seen him perform, I felt myself waiting to hear his older tracks. His three biggest songs from the debut (Grow Old with Me, Hold Me and Another Love) were held just before the encore and played almost sequentially, when perhaps a spread would have been more effective.
There were many things I could have asked him, but it was not the time or place
The crowd did not help. From my assigned seat, I could see they were lethargic – yet picked up at the singles. I would expect this reaction from a festival set, but from an extensive UK tour of intimate venues, I had hoped for more energy. Although some of the songs, particularly the newest singles, are slow and best appreciated in silence, many of them have a strong beat and deserve movement and enthusiasm. Although he often dragged out a 3-minute song into a 6-minute jazz recital, one of the highlights for me was his break into Lennon's Imagine, mid Son of an Only Child. It was by far the best cover I have ever heard of perhaps the most over-done song in history, and I could only have wished it went on longer.
His vocal performance was faultless throughout – something that has definitely improved over time. Having such a raw, emotional voice, I expected him to falter, but he was consistently smooth and melodic. His downbeat songs were a showcase of his spell-binding talent, the reverberation on his microphone hauntingly beautiful.
Odell's music is designed for Corn Exchange-sized venues. What the show lacked in originality was certainly compensated in atmosphere. The intimacy of the Corn Exchange certainly works. I have seen several shows there, the majority standing, and no matter where you are positioned, you are brought into the world of whoever is playing. It is personal, whereas arenas are impersonal. One would think this would be a given for a smaller venue, but I have attended enough small venue gigs to spot the difference. The lofty ceiling and light arrangement makes an other-worldly experience. The sound quality is unlike anything else.
Odell's music is designed for Corn Exchange-sized venues
Tom Odell suited the setting, yet I felt his set list to be relatively average. Although this is entirely subjective, I felt his arrangement of songs was not the standard it could have been. His 'samey' songs were placed together in ways that often stopped me realising when one song blended into another. You could draw lines in between the set list, sectioning off the songs into arrangements that did not cohere. It was a jumble of mini concerts – his back-of-the-hotel piano music, his dabble in rock, his heart wrenching ballads. Even a few of his more upbeat songs, including Wrong Crowd, were painstakingly slowed down, where their original, upbeat format would have worked better at that time.
Whilst I walked away from the gig feeling a little bittersweet, I can't deny that Tom Odell's talent and musicality is immeasurable. Ironically, his older songs sound as fresh as the day he released them, and his newer songs sound dated. As a Monday night break from work, it was a perfect, relaxing evening, but I would not have got the train down to London for the event. If you have not seen Tom Odell already, you must. If you have, save your money  
Tom Odell's third album, Jubilee Road, is out now