Kurt Vile is the soundtrack for days of self-doubt
Long-time fan Tom Breakwell ruminates on Kurt Vile's latest record Bottle It In, which explores issues from mental health and masculinity to isolation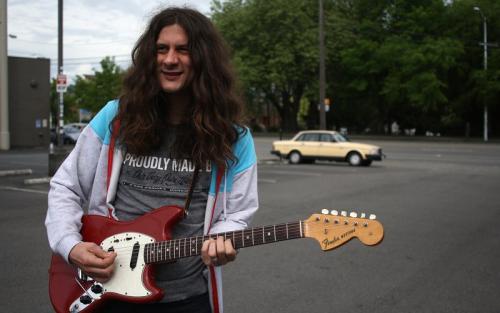 I've always had a soft spot for Kurt Vile. I recall first hearing him when I was working as an usher at an independent cinema in Birmingham; it was my bar manager who introduced me to Kurt's characteristic drawl and his washed out, psychedelic guitar (plus a crisp hint of bluegrass banjo snaking in and out). On that shift it made good background music as I cleaned the empty screens.
It is pure stoner poetry as Kurt weaves a tale of existential pain fitting for an uncertain age
At Cambridge I have been plagued, as I guess many of you reading have also been, by periods of self-doubt. For me, Kurt Vile is often the soundtrack for those days. The Kurt Vile experience has developed from the workplace to those introspective melancholy moments at university. Those moments when the pressure and stress is too much to handle and the odd lyric from the former forklift driver seems to sum up everything you feel.
Bottle It In, his seventh record in eight years, has all the typical trappings of a Kurt Vile record. The opening track 'Loading Zones', a song about the banality of daily life and the need to get "shopping done, and laundry too", is hardly Sex, Drugs and Rock n' Roll. But as a lyrical companion to songs such as 'Pretty Pimpin'' off 2015's b'lieve i'm goin down, the theme is familiar.
But then there are those surprises: the track opens with electric fuzz that sounds like a malfunctioning R2-D2 swirling in a blender, while the chorus of "I park for free" is sang with a surprising amount of gusto. Hey, I'm trying to be moody here, don't be so upbeat!
The title track is a ripe emotional canvas onto which I can project my own thoughts and feelings
For me, Kurt has never been much of a lyricist, even if the occasional line may hint at something more profound. On this new record he's outdone himself, with some of the lyrics sounding like they have been made up on the spot after about six pints. A real highlight appears in 'Hysteria' with the beautiful semi-couplet, 'Like, mmm girl you gave me rabies/And I don't mean maybe." But saying that, some of the longer cuts such as the almost 10-minute track 'Bassackwards' are pure stoner poetry as Kurt weaves a tale of existential pain fitting for an uncertain age.
'One Trick Ponies', features Kurt introspectively acknowledging his own music style, accepting his fondness for 'repetition' and ultimately shirking off any fears about being seen as a one trick pony. But it also a bright and positive song about friendship, the perfect counterweight to the gloom of 'Bassackwards'.
The respite is brief, for the woe returns on the title track. I guess that many listeners might be put off by another 10-minute run time and some fairly sparse instrumentation, but on a personal level at least, the song acts as an emotional exploration of male mental health and isolation. This is the song I have on repeat, while simultaneously trying to figure out why I keep returning to it. Ultimately, it is the static instrumentation which transforms the song into a hypnotic experience, a ripe emotional canvas onto which I can project my own thoughts and feelings.
Overall, Bottle It In is a mixed bag. It is very much a typical Kurt Vile album, not really adding anything particularly new to his oeuvre. A new listener may not find it his most accessible work, especially compared to the immediately arresting songs on b'lieve i'm goin down. But for me, as a long-time fan ploughing through Bottle It In's 80-minute run time, there are just enough riches to reap.