Vulture Tunes: Birds
Esme Garlake's bird inspired Vulture Tunes feature.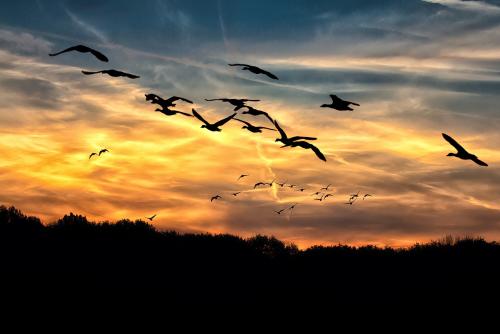 As a child, I was obsessed with birdwatching, and was constantly gazing from classroom windows, the kitchen table, park benches, or anywhere I found myself. For those who don't enjoy it, it may seem like a strange case of premature middle-age. Those who share it, however, will recognise that time spent watching birds holds a deep comfort of discovery and companionship. I made this playlist to celebrate the world that lives alongside ours. If you allow yourself to see them, birds are everywhere. In Labi Siffre's Cannock Chase the simple line "there's a bird in the tree, singing a song just for me" perfectly captures a moment of hope after emerging from a difficult period. Even if it is in a small way, with birds you are never without company.
It is certainly a common idea to associate birds with music, and not just because of birdsong. In the classical piece Lark Ascending by Vaughn Williams the evocation of the lark's movements through the music always amazes me. Similarly, in Fleetwood Mac's instrumental Albatross it is the flight of birds to which only music can bring us closest.
Often when a bird is mentioned in a song, it is a clichéd reflection of the singer's mood, as in Dream A Little Dream Of Me with "birds singing in a sycamore tree". The bird becomes a signifier of our emotional state, but not always for romantic oversentimentality. Many of the songs on this playlist were written in the 1960s and often have powerful political messages. I Wish I Knew How It Would Feel To Be Free was an anthem for the Civil Rights Movement in America, and Nina Simone's version powerfully builds to the final verse, "I wish I could be like a bird in the sky/How sweet it would be/if I found I could fly". There are echoes of this in Blackbird, which Paul McCartney allegedly wrote in response to the movement: "take these broken wings and learn to fly". The power is in the simplicity of the image, for although a flying bird is a daily sight, it is one which offers an ideal of absolute freedom, perhaps unattainable yet always sought after.