Take a Chance on These!
As we anticipate the release of ABBA's new music we turn back to remember five of their hits that we think went unappreciated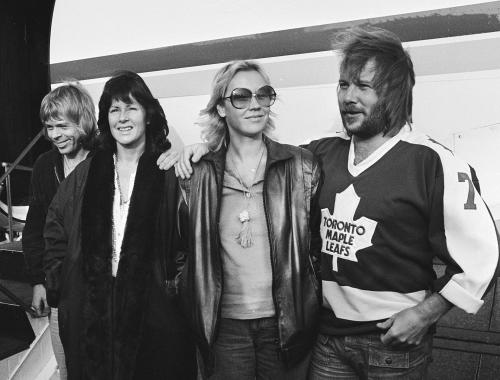 When the news of the two-song ABBA comeback broke on Instagram, it was a definite mamma mia moment for me. My, my, how can I – or anyone who isn't dead inside – resist you, and your synth, disco beats, and some lyrics that, well, won't exactly be affected by the Noble Prize for literature being scrapped (getting those rhymes right isn't always like shooting a sitting duck – that doesn't matter, though, because, baby, I am stuck).
But, with the first song to be released only in December, and the avatar tour kicking off next year, it'll be a while yet before the quartet will gimme, gimme, gimme those new tunes. So I must ask in all honesty, what would life be? Without a song or a dance what are we? Not much, I'm sure, but make the wait a bit sweeter and take a chance on these lesser known ABBA gems.
'Dance (While the Music Still Goes On)'
'Knowing Me, Knowing You' is the ABBA breakup song, but it's not exactly uplifting, what with being faced with "no carefree laughter" and "silence ever after". This is where 'Dance (While the Music Still Goes On)' brings hope to the heartbroken and tells how to separate in a responsible, sophisticated way, without broken plates nor feuds in college that will have only one of you eating in hall: "God knows that we've been trying/ But we didn't make it 'cause nothing's the same/ We just couldn't help it, nobody's to blame/ So dance while the music still goes on/ And let it be our last goodbye." I mean, who'd be better for providing break up advice than ABBA? Try churning out hits in a band consisting of two increasingly dysfunctional and eventually divorced couples.
'When I Kissed the Teacher'
Some of ABBA's lyrics might not make it past the producer and into the studio if they were proposed today. 'When I Kissed the Teacher' is, essentially, a description of classroom sexual harassment: "Leaning over me, he was trying to explain the laws of geometry/ And I couldn't help it, I just had to kiss the teacher." But it's performed with such joy and innocence that you just have to ignore the implications of Frida and Agnetha happily declaring that "One of these days/ Gonna show him I care/ Gonna teach him a lesson alright." Please don't try this in lectures, though.
'Soldiers'
Thought ABBA was all about men of midnight, dancing queens, money, money, and, well, money? Well, you thought wrong. 'Soldiers' from the band's last studio album plays out darker undertones and a message somewhat deeper than getting off with your teacher: it is all about how soldiers justify their actions, complete with metaphors that, as put by Billboard, "envision impending nuclear holocaust." This is probably not the no.1 choice for your party playlist (unless you're going for a nuclear radiation vibe), but it is an absolute must-listen for those more somber, thoughtful moments.
'Dum Dum Diddle'
What should be on your happy play list is 'Dum Dum Diddle'. This love child of Alexander Rybak and Cliff Richards showcases some of Benny and Björn's, well, less profound lyrics: "And you're only smiling/ When you play your violin/ Dum-dum-diddle, to be your fiddle!" It can't all be about making historically informed references to Waterloo, can it?
'Kisses of Fire'
If you thought ABBA was on fire when they won the Eurovision with 'Waterloo', you haven't heard 'Kisses of Fire'. This song ticks all the boxes in a Eurovision bingo sheet: a ballad that turns into a near-psychedelic blasting out of some of the band's finest rhymes ("Kisses of fire, burning, burning/ I'm at the point of no returning" and "Kisses of fire, sweet devotions/Caught in a land-slide of emotions" – what's not to love?) that morphs into disco beat -fuelled repetitions of the song's title. 'Kisses of Fire' may leave you screaming S.O.S., but if you were to condense ABBA into one song, this is it.
Go on, press play, and never say no to a little dum dum diddle.