Warm Laundry presents: 'clean but not clinical'
"Adieu, Warm Laundry. We'll miss you." James Martin praises the collective's final night in Cambridge and mourns their departure.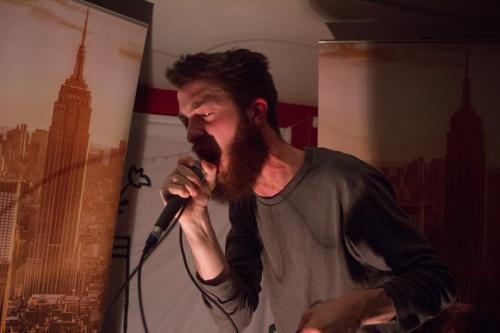 Warm Laundry, Warm Laundry, Warm Laundry. I said the name of Cambridge's independent label-cum-curator to myself three times on the way to their final night at the CB2 Bistro. Warm Laundry. A simple pleasure. Warm Laundry. Clean, but not clinical. Warm Laundry. You will be put through the wringer. Co-founded by philosophy finalist Tiernan Banks, Warm Laundry is about some, all, or none of these things. I have oceans of goodwill for the Warm Laundry family, not only because they seem nice, but because they've hosted some of the best gigs I've seen in Cambridge. By slotting together ambient dream-pop, avant-garde electronics and ferocious guitar bands into single sittings, they prove that genre means nothing, and style means everything. If you've got that laundry-warm swagger, chances are your laundry's warm enough for Warm Laundry to laud warmly.
That diversity was exemplified by the first act, local legend Pete Um. Sat behind a sound desk on the stage in a raincoat and sunglasses, Um introduces his miniature songs with a trademark ramble, punctuated by eponymous hesitation. Each 90 seconds of music is a different story, and with twenty-two years of work behind him, Um has no shortage of pieces on love, politics, and the irrepressible banality of now. "I know there are a lot of younger people here tonight, and you're probably all polyamorous or in some weird cult", he quips, before diving into a song written, he tells us, in the name of straight-up romantic love. Long may this quirky and thoroughly contemporary songster grace Cambridge's independent venues. It's not to everyone's taste, but neither, you imagine, is everyone to Pete Um's.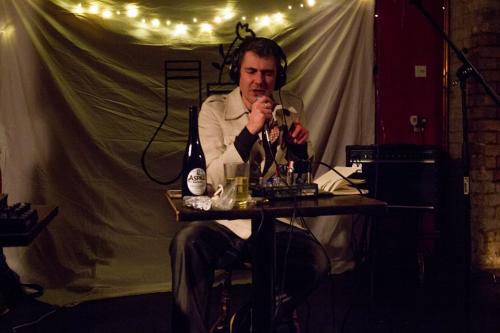 Cavernzz, the moniker of Luke Bolitho, is a perfect choice of name for his act. In the dim basement of CB2, the singer-songwriter's voice and guitar float on a chthonic background of bass and electronics, unlike either of the acts bookending his appearance. I got the chance to listen to a copy of Cavernzz's upcoming EP before the gig, Nothing Left (release is set for 5th March). It's a seductive sound-world, composed of molten dream-pop that melts on the tongue. Cavernzz typifies the response of 21st-century pop to an accelerating world: it's hazily unspecific in its subject matter, and wearily ironic in its tone. It was hard not to find Bolitho's bashful stage presence charming. Like Pete Um, each of his songs was announced with a delightfully idiosyncratic delivery. It felt wholly genuine and inspired a suitably genuine response from a warm crowd.
"I knew that guy was going places when I saw him in that basement in 2018", I'll say to disbelieving folks at bus stops"
The finale to the evening arrived in the form of Jerskin Fendrix, a.k.a. Joscelin Dent-Pooley. For the past year, Fendrix has been descending into an electronic netherworld that pits ironically crass instrumental backings against some of the wittiest lyrics you've heard this week. Dent-Pooley did not disappoint, dressed to impress and roaring his poignant tales of heartbreak through a wall of affectation and effectuation. Few crowds can fail to enjoy his J-Pop inspired hit 'Onigiri'. By modulating his voice up an octave with a vocal transformer, Fendrix performs a clever deconstruction of the traditional masculine breakup song: the angrier he gets, the squeakier his voice becomes. It's a poignant and wickedly funny idea. But a more typical Jerskin offering is the recently-released 'Manhattan', which manically veers between chirpy piano hooks and growling synth textures. Fendrix's performance style is rooted in the broiling physicality of first-wave emo and rock groups of the 1990s. At one point he swears at a member of the audience for laughing during one of his more melancholy tunes. But don't assume this Jerskin's no fun; a bitter comedy plays out in the background of this cathartic drama that rewards multiple listens with a host of in-jokes and references. It was a joy to watch him perform in his final Cambridge gig and I expect to hear of him in the near future. "I knew that guy was going places when I saw him in that basement in 2018", I'll say to disbelieving folks at bus stops.
Warm Laundry gigs have been strange affairs, by and large. The rhythms of the night are inevitably dependent on the choice of venue, the inevitable delays of staging several emerging acts, and the strange mix of overenthusiastic dancing and cool, intellectual appreciation that their audiences display. We can expect them to refine their trademark formula in coming years, though with the backbone of the acts setting up shop in London or elsewhere it's unlikely that they'll be revisiting Cambridge any time soon. But I'd go a long way for a night of such unremitting newness and bonhomie. Adieu, Warm Laundry. We'll miss you