BROCKHAMPTON SATURATION III Review: 'unique hybrid of alternative pop-rap'
Alexei Russell is impressed by yet another project from BROCKHAMPTON, a group that refuse to be defined by anyone else.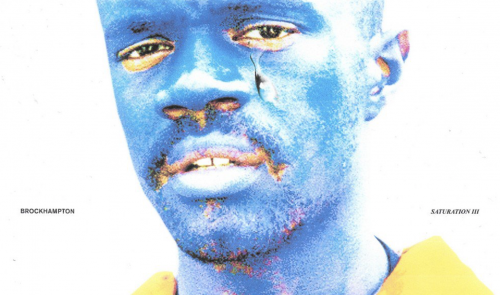 BROCKHAMPTON have easily been the most prolific, vibrant and attention grabbing hip-hop newcomers of 2017. June's SATURATION began a trilogy of albums set to be released before 2017 was up; an artistic project which literally saturated the music industry with their work to the point at which they could no longer be ignored. Now with the release of SATURATION III, an era comes to an end for the boys who can already boast an almost mythological notoriety in the hip-hop community.
Their origin story of meeting through an online Kanye forum and moving to create music in a shared house in South Central L.A. undoubtedly plays a part in this, as well as, of course, the feat of releasing three full projects this year. Perhaps most interesting for me, however, is the way they present themselves as a boyband, refusing to be referred to as a hip-hop collective. In this we see the way the group coalesce their mainstream and alternative influences to produce a unique hybrid of alternative pop-rap owing both everything and nothing to their influences.
"BROCKHAMPTON have demanded success and popularity with zero compromise regarding their own tastes, determined to make the alternative popular"
SATURATION III proves to be a successful continuation of this trademark sound whilst pushing new territory within an extremely well crafted tracklist. The opener 'BOOGIE' is as bombastic and danceable as it is odd and unnerving, members delivering short punchy verses with the frantic screeching of Joba being a highlight, as well as Merlyn's cheeky, smirk inducing 8-bar verse. 'ZIPPER' is a similarly boastful posse cut with an infectious hook and gritty synth lead while siren noises are used to re-emphasise a sense of nefarious criminal swagger. The lyrics mirror this, each member using unique evocative imagery and wordplay to boast of their success, yet, in spite of this, they will always "stay nasty". The song is also one example of rapper Matt Champion's recently discovered vocal versatility, his deep mumbled tone similar to that of a Future or Migos yet taking on a totally different vibe when set against the playful bounce of the track. His stellar performance across the album is an obvious highlight, his rapid flow in his 'SISTER/NATION' verse and his singing on 'RENTAL' revealing a wealth of talent previously unmined on other SATURATION projects.
The true show-stopper on SAT. III however has to be Joba, transforming from a lesser contributor to providing some of the most stand-out moments of the group's discography. His verses on 'JOHNNY' and 'SISTER/NATION' are his best performances, especially on the latter in detailing his struggles with mental instability and mood-stabilizing drugs.
However, not all BROCKHAMPTON members on SAT. III delivered – there being obvious shortcomings in Ameer Vann's contributions to the project. Some have already criticised him on previous projects, or been early to criticise on SAT. III, for a predictable and unchanging flow, which they are right in acknowledging. However, more contributes to the monotony of his verses than just his flow. Looking back to some of his best verses his flow remains the same but his vocal inflection and tone give much needed flare, with sheer explosive aggression on 'HEAT' from SATURATION I, for example, whereas on tracks like 'ALASKA' he sounds quite plainly flat. 'ALASKA' is coincidentally a disappointment in itself; the far too feeble opening to the beat does little to remedy the shortcomings of Ameer's verse and proves to be the album's least interesting moment. 
Despite this, first-rate tracks like 'JOHNNY' outshine the minor setbacks of the project, with its rattling drum beats beneath Kevin's autotuned vocal stylings, BROCKHAMPTON's foray into jazz rap pops with that signature BROCKHAMPTON energy whilst smooth sax sounds perfectly suit the meditative and at some times emotional tone of the song. The aforementioned first half of 'SISTER/NATION' is another track that manages to elevate the project with its abrasive intensity, and while perhaps its polar opposite, 'HOTTIE' adds variety as a sugar sweet pop track with a ridiculously infectious hook and a stellar bridge with vocal tradeoffs between Joba and Matt. The slower, more R&B influenced cuts provide much needed balance to the velocity of earlier bangers. 'RENTAL' is the best the group offer of the slower tracks, providing easily the best hook of the project ("Riding on the roof with a dollar sign attached to my head, head, head.." etc.).
It's also vital to acknowledge the fantastic construction of the album, different vibes from different tracks keeping the listener intrigued and not knowing what to expect from each new turn. Furthermore, as a general point, the group delivers catchy hook after catchy hook whilst still exploring a wealth of different sonic approaches and crucially still manage to sound consistently like BROCKHAMPTON, more than any specific influence. The final track, 'TEAM' concludes not just the project but the trilogy with a set of short verses from members over a soul guitar beat, the short burst of noise that opens 'HEAT' on SATURATION I finishes the album, looping the trilogy for a satisfying note to end on.
It would be a disservice, however, to examine SATURATION III solely as an individual project, rather than as part of the full SATURATION trilogy and more generally as part of the collective artistic statements of BROCKHAMPTON as a group. Whether through albums, music videos or short films, in 2017 BROCKHAMPTON have demanded success and popularity with zero compromise regarding their own tastes, determined to make the alternative popular. If anything, this is the philosophical project of the boyband, apparent in their lyrical approach, production style, aesthetic, organisation and marketing. Taking as much from NSYNC as Odd Future, the way this group of troubled outcast young men with their unabashed alternative preferences and exuded aura of difference appropriate and engage in the mainstream provides a reaffirming statement of self-worth and self-truth in a world too often comprised of fear, isolation and confusion