Liam Gallagher at Birmingham Arena: 'The ultimate rockstar'
Performing a range of solo, Oasis and cover material, Liam Gallagher hosts an explosive night in Birmingham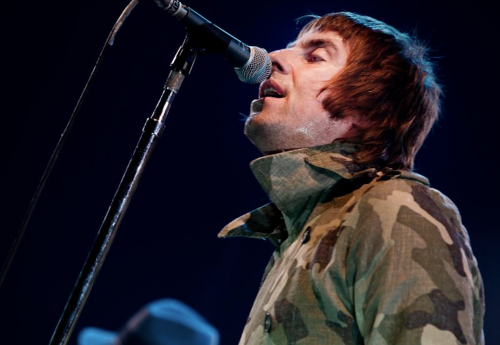 The king of rock 'n' roll is back. Parka-clad, rooted to the spot like a titanic statue, looking, to quote the man himself, "cool as fuck", Liam Gallagher captivated an awe-struck audience for a night of unadulterated, legendary, indomitable rock 'n' roll. Rocking up on stage to the sound of Oasis' 'Fuckin' in the Bushes' with his distinctive swaggering walk, exuding supreme coolness and confidence, Liam greets the wild crowds by quoting his greatest hero: "I am here as you are here as we are all together." Standing in front of a white organ covered with the words "ROCK 'N' ROLL" as an homage to the unforgivably overlooked Sheffield band World of Twist, and by the side of rhythm guitarist Jay Mehler (who looks almost disturbingly similar to Noel), the self-proclaimed 'King of the Parka Monkeys' is on top form.
"The crowd had gone full Quadrophenia, with moshing mods and flying pints of lager"
Kicking off the show with the banging opener from Oasis' stellar 1994 debut album Definitely Maybe, 'Rock 'n' Roll Star', Liam shows that he's still got the voice and stage presence that catapulted his band to worldwide superstardom in the nineties. A bit rougher than it was two decades ago, Liam's voice is a perfect combination of The Beatles' John Lennon and the Sex Pistols' Johnny Rotten. In fact, Liam's entire solo musical output seems to be an amalgamation of Lennon's emotional, minor-fourth-laden ballads and the Sex Pistols' overdriven guitar riffs. Before delving into his new material from his charts-topping album As You Were, Liam delivered a mind-blowing rendition of 'Morning Glory', the title track of Oasis' second album.
By this stage of the gig, the crowd had gone full Quadrophenia, with moshing mods and flying pints of lager wherever one looked. Following the two opening Oasis tracks, Liam played a number of songs from his new album; first the snarling punk-rocker 'Greedy Soul', then the critically acclaimed, soulful and bluesy 'Wall of Glass'. Gallagher then played two sweet-and-sour acoustic ballads dedicated to his older brother Noel, 'Paper Crown' and 'Bold', both of which were well-received by the crowd, who took these songs as a chance to take a break from lively moshing. Liam then played fan favourite 'For What It's Worth', which prompted a mass singalong, with every one of the 15,800 fans present singing their souls out.
"Goaded on by chants of "as you fucking were", Gallagher returned to the stage"
After 'For What It's Worth', Gallagher went back to Oasis tracks, starting with a 1995 B-side co-written by The Real People's Chris Griffiths, the beautiful mid-tempo ballad 'Rockin' Chair', and impressively hit all the strenuously high notes in the song. The next track rekindled the moshing, as Liam and his band played a gritty version of the prior track's corresponding A-side, 'Some Might Say'. This was followed by another stadium-sized singalong of 'Slide Away'.
Liam then played three more solo tracks, the growling banger 'Come Back To Me', which could have been one of Radiohead's angsty rockers from The Bends, the Rolling Stones-y 'You Better Run', and the Harrisonesque psychedelic folk tune 'Universal Gleam', which were all relished by the crowd.
The first part of the show ended with Liam playing two more Oasis songs; an unbelievably perfect rendition of the band's first single 'Supersonic' which transported the crowd back to the height of the Britpop movement, and then the title track of Oasis' ever-underrated third album Be Here Now.
Goaded on by chants of "Liam Liam Liam" and "as you fucking were", Gallagher returned to the stage to ask whether there were any "parka monkeys in the house", and played a foot-stomping version of 'Cigarettes and Alcohol' followed by a stripped-down, deeply emotional acoustic rendition of 'Live Forever', to which every single member of the crowd almost cried out each word. "Here's that shit tune 'Wonderwall'", shouted Liam as he ended the show with yet another mass singalong from adoring fans.
On his As You Were tour, Liam Gallagher has demonstrated that he still has the raw energy and talent that made him rule the world in the nineties. Propelled by the excellent songwriting talent of his brother Noel, Liam truly made the songs his own, and over the decades influenced countless wannabe rock stars on the scene in both image and vocal style. More than twenty years after his band released their first single, Liam has shown that he really is the ultimate rock 'n' roll star. It's good to have our kid back