CUMS – Beethoven's Piano Concerto No. 3 Review
'An intricate balance of power and poetry': Raveena Sethia discusses this 'magical' performance of a Beethoven classic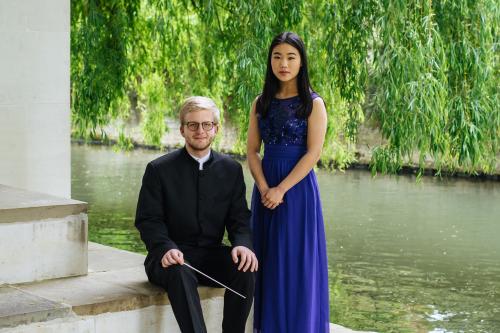 I recall gasping in awe as soon as I entered West Road Concert Hall. Suddenly, the harshness of the cold on the long walk to the venue was forgotten amid the grandeur of the modern, brightly-lit stage. Little did I know that the night would not only reignite my love for classical music, but also fill me with warmth in seeing the performers support each other, coupled with the pride in the eyes of multiple generations of observers.
The Cambridge University Music Society's rendition of Beethoven's Piano Concerto No. 3 was nothing less than a masterclass in grace, co-ordination and teamwork. Not only was the music spectacular, but the impact it had on the audience was all but transcendent.
First performed in 1803, the Piano Concerto No. 3 is regarded as a departure from Beethoven's earlier work; some refer to it as 'Mozartian' in style on account of the several dramatic punctuations in the first movement. This gives way to a more tenderly romantic largo second movement. The contrast is marked, and takes the listener through a bouquet of varied emotions till the finale beautifully concludes the piece.
"The performance beautifully captured this possibility of feeling beyond oneself"
The performance beautifully captured this possibility of feeling beyond oneself and one's enclosed surroundings; it was as if I were being transposed into several different clouds of emotion as the performance progressed. The music exuded the correct amount of energy and emotion, leaving us with smiles and chills simultaneously.
Adelaide Yue performed magically. Her command over the piano keys and energy on the instrument was impressive and heartwarming in equal parts. Toby Hession as conductor was powerful and poetic, ranging through the movements effortlessly. The audience's applause for him at the end reflected his success in capturing the spirit of the Concerto.
I sat amid proud parents and grandparents, who sat through the two-hour performance with pride in their eyes and smiles on their lips. Each time that I stole a glance to observe their faces intently cheering on the performers, I was filled with heartfelt warmth. It made me more aware of the students behind the instruments and backgrounds behind the faces, which made the experience more human and comforting.
The contrast of power and poetry was palpable; it resonated through the blue walls and yellow lights, and reflected in the eyes of the audience. To add to the contrast, the expressive faces of the performers, along with their support for each other through foot-thumping applauses and gleams of pride, was what stayed with me; this sense of enjoyment and admiration made a wonderful evening even more memorable