Lil Peep's untimely death could see a happy ending for America's sadboys
Following the death of rapper Lil Peep earlier this month, Alex Mistlin explores the call for a newfound transparency and honesty within the rap industry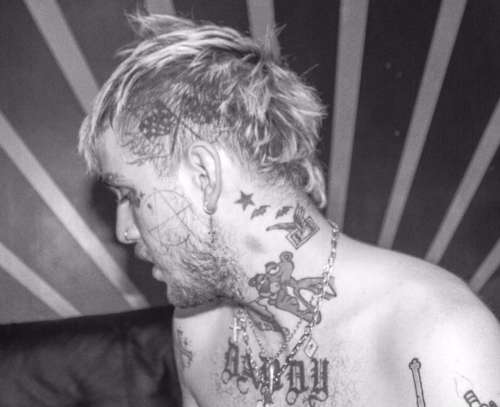 Gustav Åhr, better known by his stage name Lil Peep, died last week in Tucson, Arizona. He was 21. When any young person dies, it is of course a personal tragedy, but Lil Peep's death feels hugely significant, not just because of what it means for hip-hop but also for American youth culture. Lil Peep, who recently released his only album, Come Over When You're Sober, Pt. 1, was emblematic of a new breed of pop star. Not least in the fact that his aesthetic and use of social media were often more interesting than his music. Nevertheless, this heavily tattooed young man (including one on his face that spelled "crybaby") was very much at the vanguard of the nascent emo rap movement, and a lot of smart money was on him to be a genuine crossover sensation by the end of 2018.
These young men – variously described as emo rappers, sadboys or Soundcloud rappers after the online platform upon which many of them first shot to attention – exhibit a vast array of musical and stylistic influences; while Lil Peep could be conceived of as Kurt Cobain with an Instagram account and a penchant for Yung Lean, Kodak Black has far more in common with the woozy trappers who have dominated the Atlanta scene for well over a decade. They are however united by their lyrical focus on the bleak reality of their hedonistic lifestyles and mental illnesses, and the fact that their vocals hinge on the stark contrast between lackadaisical verses and helplessly wailed hooks.
"What marks the new kids on the block out from their predecessors is their unashamed desire to escape the monotony of their hedonistic existence"
So far then, nothing radically new. Precocious rappers from Snoop Dogg to Future have loudly and lucratively extolled the virtues of drug-fuelled introspection since the dawn of hip-hop. However, what marks the new kids on the block out from their predecessors, is their unashamed desire to escape the monotony of their hedonistic existence. This usually comes in the form of opioid abuse, a worrying trend in of itself, but the frequent discussion of suicide is also a feature of sadboy culture.
Before Lil Peep's untimely death, this movement had arguably already reached its logical conclusion in the enigmatic and extreme person of XXXTentacion (known as X for short). XXXTentacion — real name Jahseh Onfroy — grew up in and around Lauderhill, Florida. His upbringing was turbulent. "My mom just had it hard", he said last year in an interview on the podcast No Jumper. "Raising a kid, honestly, was one of her last priorities. So what she did was she passed me from hand to hand to people who could take care of me." Counterintuitively, XXXTentacion's bleak introspection is fully realised in technicolour, almost in defiance of the monochrome, nocturnal audiovisuals of the Drake generation. If Drake is the rapper you'd like to take home to meet your parents, X is the rapper you're sneaking out to see on a school night. Both rappers are black men, but it is almost as though XXXtentacion's harsh upbringing and experience of economic deprivation led him to embrace a far more politically incorrect vision of the black experience.
"Sadboy culture is colour blind, and the death of Lil Peep could well be a catalyst for real cultural awareness of these deep-rooted social problems"
Upon closer inspection, it is not too difficult to see why. Simply by virtue of his race, when X was born he was five times more likely to end up in jail than a white kid. Something that he unapologetically addresses in the video for his hit song 'Look At Me' in which his mindless opening salvo ("I'm like bitch, who is your mans? / Can't keep my dick in my pants") is played off against powerful visuals that evoke the worst excesses of police brutality. The moral quandary that X's popularity presents, however, is that his own experience of life on the legal periphery (X, who is currently on probation for armed robbery, was recently accused of battering and strangling his pregnant girlfriend) makes him a problematic spokesperson for judicial reform. Of course, it is not his fault that the more erratically he behaves, the more popular he seems to become. Just as artists have to take responsibly for the psychologically and physically damaging lifestyles they glorify, perhaps it is time for us as consumers to take responsibility for our role in financially supporting the perpetrators of criminal activity.
The difficulty is that as technological change allows our culture becomes more immediate, it also renders it more extreme. Indeed, one of the most chilling aspects of Lil Peep's death is that the more public his cries for help became, the less seriously they were taken by both his fanbase and his management. Hours before he died, he wrote on Instagram hours: "I need help but not when I have my pills but that's temporary one day maybe I won't die young and I'll be happy?" Unfortunately, Lil Peep's short story had a sad coda, but the continued popularity of both his music and that of his fellow travellers shows that when people listen to songs like 'Awful Things' and X's 'Jocelyn Flores', people are hearing their own pain.
When a young man dies and others are incarcerated, it is easy to be pessimistic. Lil Peep's story features drugs, crime, abuse and ultimately, this all represents a new iteration of the same old cycle of depression, destitution and death. However, there are grounds for optimism: sadboy culture is colour blind, and the death of Lil Peep could well be a catalyst for real cultural awareness of these deep-rooted social problems. Perhaps along with his only album Come Over When You're Sober, Pt. 1, Lil Peep's legacy will be in forcing a genuine shift in American youth culture. Maybe, one day, 2017 will be seen as a year zero in which some long-overdue conversations about abuse, addiction, deprivation and depression finally took place