Review: Vince Staples – Big Fish Theory
Staples' latest offering features a great mixture of old and new tricks, finds Max Goodall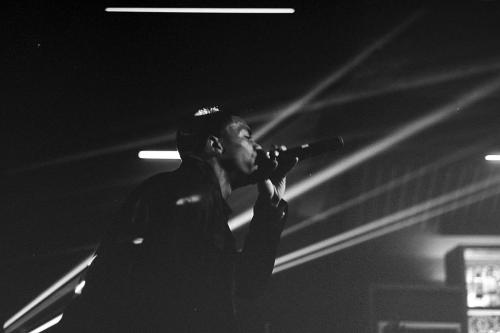 In an interview with LA Weekly this May, Vince Staples said of his forthcoming album, "All I can tell you is that it's current. It's tomorrow. It's next Thursday… This is my Afro-futurism."
Big Fish Theory is an album with significant progressive credentials, filled with very fresh beats, alongside some typically hard-hitting bars. Though Staples later claimed he was "trolling" while making these statements, it appears that his second full-length album was always intended to defy expectations.
From the opening seconds of 'Crabs In A Bucket,' you could be forgiven for assuming you'd mistakenly played a Joy Orbison track. The album is defined by deliberate forays into electronic dance music, particularly house and soft techno. While on his debut Summertime '06, Staples had worked predominantly with veteran hip-hop producer, No I.D., Big Fish Theory's producing credits feature names such as Flume, the Miami-based House and Trap duo GTA, as well as the producer and DJ Sophie, known for his 'Hyperkinetic' and progressive take on electronic pop music.
The main drive behind the album's fresh sound however, was the LA beat-maker Zack Sekoff. With main production credits on five tracks, Sekoff is responsible for many of the interesting and slightly unexpected elements which make up Big Fish Theory.
Sekoff and Staples shared a vision of an album defined by constant shifts in mood and tempo. They enacted this in tracks such as 'Yeah Right', with the unexpected truncation of the macho trap beat by sweet female vocals. Sekoff is also responsible for a large chunk of the electronic dance elements in Big Fish Theory. For example, the garage beat which enters as 'Crabs In A Bucket' continues is a legacy of Sekoff's experiences during a semester spent abroad in London (he is currently studying at Davenport College, Yale).
"Sekoff is responsible for many of the interesting and slightly unexpected elements"
However, despite new approaches to production, it is the same Staples who emerges. The first track's title depicts the gang environment Staples experienced as a young Crip in Compton. Right from the opening moments, he moves into high gear, addressing the issue of race in America and the relationship of this to the creation of the environment to which he refers. He raps "They don't ever wanna see the black man eat/Nails in a black man hands and feet/Put 'em on a cross or you put 'em on a chain/Lines be the same: 'he don't look like me'."
The album's progressive impulses, however, are not all encompassing. Staples also returns to tropes that have long occupied his thoughts. The reflective third track, 'Alyssa Interlude', samples an Amy Winehouse interview from Asif Kapadia's 2015 documentary Amy. The sample concludes with Winehouse's stating "I'm quite a self-destructive person so I guess I keep giving myself material," before segueing into a cut from The Temptations 1967 track 'I Wish It Would Rain'.
Staples has long considered Winehouse an inspirational example of an artist who truly and uncompromisingly stuck to her vision. She inspired his 2016 EP Prima Donna as he explained "I saw the Amy Winehouse documentary and I was like, this is sad. This happens a lot. Thought of all the other times it happened, and I was like, I wanna make a little movie thing about it. I'm gonna make a soundtrack. That was Prima Donna."
"Staples has long considered Winehouse an inspirational example of an artist who truly and uncompromisingly stuck to her vision"
Staples is certainly not shy of dealing with serious themes. In 'Party People' he takes on some of American's greatest problems, rapping "Propaganda, press pan the camera/Please don't look at me in my face/Everybody might see my pain/Off the rail, might off myself".
He sneers: "Prison system broken, racial war commotion/Until the president get ashy, Vincent won't be voting." The track moreover, builds to a poignant critique of modern society, with Staples' questioning "How I'm supposed to have a good time when death and destruction is all I see?".
Big Fish Theory, however, is not devoid of traditional rap bravado and trap bangers. The album's penultimate track 'BagBak' brags "Tell the president to suck a dick because we on now." In 'SAMO' Staples boasts of his own credibility in the hook "watch me do the same old thing," Staples raps "never blow it don't change/rather blow my fucking brain." Suspicion of this aspect of rap culture, however, actually inspires one of the album's highlights, 'Yeah Right' featuring Kendrick Lamar.
Though both Compton-born artists are both seen as members of a contemporary elite of MCs producing complex and highly political music, Staples has yet to reach Kendrick's now confirmed status as rap royalty. On 'Yeah Right', however, he more than matches Kendrick's lyrical mastery.
Big Fish Theory is a highly ambitious album of great scope. Staples' verses throughout are hugely impressive both technically and conceptually. Despite this, the production remains the album's most interesting component. Staples and his collaborators clearly had high pretentions of a ground-breaking synthesis of many elements, most of which are unfamiliar on a mainstream hip-hop record.
However, as the album draws on, the high standards set by its opening gradually recede, and the influence of mainstream elements grows (tracks such as '745' undoubtedly owe much to Kanye's Life of Pablo) until the final few tracks feel far more standard and predictable. Perhaps ultimately the album fails to accomplish everything it set out to do, but this does not lower it from a position of one of the best albums of this year so far