Here's to Chance
The criticism of Chance the Rapper following the revelation of his streaming deal with Apple has been far too harsh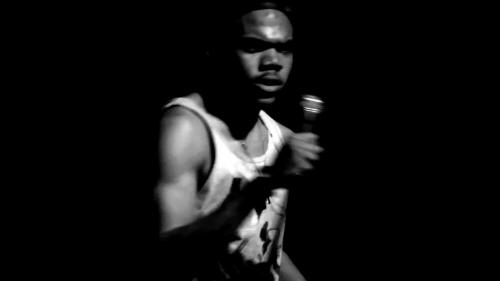 When it comes to the music industry, Chance the Rapper cuts an outspoken figure. Famously and vocally 'independent', he has eschewed a record deal and refused to charge for his releases, despite his growing popularity and fame. Although the rapper of 10 Day and Acid Rap (nasal, hyperactive, and care-free) has been replaced by a more responsible, religiously-inflected artist ("we don't do the same drugs no more", he sings in 'Same Drugs'), one thing has remained constant: Chance's music is only available online and it is always free. Coloring Book, his most recent record, most powerfully articulates this industry iconoclasm. 'No Problem', its lead song, featuring two heavyweight collaborators (2 Chainz and Lil Wayne) and a star-studded video which darkly threatens any executive who might stand in his path: "if one more label try to stop me, it's gon' be some dreadhead niggas in your lobby. You don't want no problem, want no problem with me." When Chance performed the song live on The Ellen DeGeneres Show, these references were made more explicit (if that were possible): in the routine, suited fat-cats sit round a table at 'Generic Records' and are mobbed by Chance and his band, who throw contracts in the air and stamp on papers as they jubilantly dance and sing. It's a brilliant, exciting, and infectiously amusing skit. Who doesn't love to see the underdog win, who doesn't love to thumb their nose at 'The Man'?
Given this vocal opposition to labels, it was surprising to see him embroiled in a scandal surrounding his own artistic integrity. Last year was, after all, the year of Chance the Rapper: after delivering the best verse on Kanye's brilliantly and powerfully introspective The Life Of Pablo (not to mention producing and writing a sizeable chunk of it), his mixtape Coloring Book cemented him as a name known by 17- and 70-year-olds alike. Things weren't meant to go wrong for Chance. Yet here he was last month, defending himself on Twitter.
So there you go: Chance took money. Money from Apple, no less, a mega-conglomerate to put even 'Generic Records' to shame. And critics have been quick to castigate him, pointing to the hypocrisy of preaching independence while covertly lining his back pockets.
"A compromise whereby Chance benefits from some of the vast cache of riches he otherwise eschews, yet continues to fight the cause of and open avenues for the independent artist, is one that I, personally, can live with"
This criticism, although understandable, to me is counter-productive. Nobody likes the power record labels hold over artists, and to criticise one for attempting to re-take a modicum of control (albeit slightly hypocritically)  misses the point. Chance, while benefiting from a (let's face it, pretty minor) streaming deal, still remains unsigned and still released the entirety of the mixtape on SoundCloud after the two weeks during which Apple-held exclusive streaming rights had elapsed. Yes, perhaps it was disingenuous for him to trumpet his own freedom ("am I the only nigga who still care about mixtapes", he asked on 'Mixtape'), but let's remember what he has achieved by being so vocal. He campaigned for streaming-only artists to be considered for Grammy nominations, and he won. Having done so, he dominated this year's rap awards, winning three of the most prestigious in his field (Best Rap Album, Best Rap Performance, and Best New Artist). He has broken other new ground, too, making his music simultaneously egalitarian (he became the first artist to release a music video, 'Same Drugs', through Facebook live) and incredibly successful (he was the first unsigned artist to perform on Saturday Night Live), a feat achieved by few before him. Thanks to sheer talent, Chance has smashed through the musical glass ceiling which suggests that you cannot become a global superstar without label backing. He could, he did, and he paved the way for others to do the same. As he rapped in 'Blessings': "I don't make songs for free, I make them for freedom." This is especially pertinent given the causes he fights for using his funds (some of which, yes, came from Apple). Recently, for instance, he donated $1 million to public schools in Chicago in an attempt to narrow its gaping funding gap. Likewise, he runs Open Mike Chicago, an initiative which encourages schoolchildren in the city to express themselves in performance and is often attended by celebrity names (Dave Chappelle, for instance, made a recent appearance). This is hardly the cynical artist ruthlessly having his dough and eating it. A compromise whereby Chance benefits from some of the vast cache of riches he otherwise eschews, yet continues to fight the cause of and open avenues for the independent artist, is one that I, personally, can live with. There is no one in the musical world, or at least the rap world, doing what he does, and that's because it takes some serious bravery.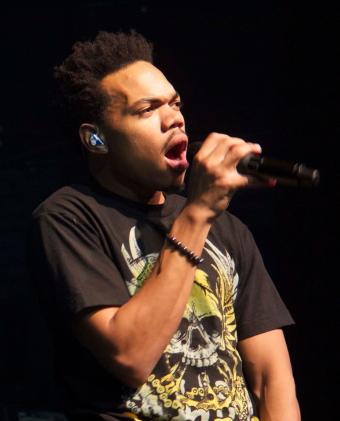 And it is undeniably brave to take on the record labels as vocally as he has. In 'Finish Line/Drown', Chance vents: "I've been blocked just trying to make songs with friends, labels tell me to the face that they own my friends." He illustrated his frustrations further in a recent interview with Complex: "if you knew how many artists are in deals with any label, you'd be like, who the fuck is this? Why did you sign this person seven years ago and their debut album is still shelved? […] I don't want to be the one guy it worked for. That's not my goal at all. I'm trying get other motherfuckers to just do it." Given his influence (this is hardly a dad railing against the injustices of an industry which never let his Chumbawamba tribute act hit the big leagues), Chance is a danger to executives everywhere, painting a picture of a record industry which attempted to bully him into silence once it realised that it couldn't buy him. In the same Complex piece, he described being denied headline spots and refused samples thanks to big-label pressure. Take that with a pinch of salt if you will, but 'Grown Ass Kid', meant to be released as part of Coloring Book (and eventually leaked, much to Chance's chagrin), was not included because of sampling issues. In a Reddit AMA, he lamented: "GAK ['Grown Ass Kid'] had a sa,ple [sic] clearance issue, bummed it leaked. bummed it didn't get cleared it would've been track 11 [on Coloring Book]." Likewise, a Big Sean feature was refused because "they stopped" him. Either Chance is utterly paranoid, or there is a nasty and spiteful side to the music industry which we should be congratulating him for confronting.
Let's celebrate Chance, then, for his independence, even if it is not as pure as we once thought. If we plague one of music's good guys with criticism in an industry in which the cards are stacked against the independent artist, we will lose his powerful, positive impetus. So here's to you, Chance. Thanks for the tunes, the community projects, and for sticking two (or even one) fingers up to the business juggernauts that lie behind almost all the music we listen to