Humble? Don't count on it: previewing Kendrick's new album
Daniel Adeyemi reviews Kendrick Lamar's new tracks and wonders what we can expect from his upcoming album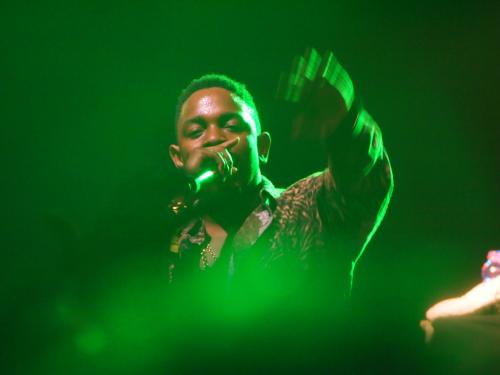 Kendrick Lamar has got us all excited again. On 'The Heart Part 4', his first solo release since his B-side project untitled unmastered, Lamar sounds as hungry as ever, reminding us why he might just be the best rapper alive.
At their core, the songs in the 'Heart' series all showcase Lamar's honest, heartfelt verses with little concern for conventional song structures. However, 'The Heart Part 4' is far more aggressive and brazen than its predecessors. The various beat changes give Kendrick the license to switch up flows, but the production throughout is sparse enough to give him space for what really matters: bars.
The first section sees Kendrick rap over a woozy Khalid-sampling instrumental courtesy of Axl Folie and Syk Sense, with the James Brown referencing hook acting like a warning to his peers ("Don't tell a lie on me/I won't tell the truth 'bout you"). But with the first beat change, Kendrick quickly changes his tone. The second verse starts with the lines: "My fans can't wait for me to son ya punk-ass/And crush ya whole lil' shit/I'll Big Pun ya punk-ass, you a scared lil' bitch", seen by many as an attack on Big Sean. Kendrick's manner is reminiscent of his name-dropping 2013 verse on Big Sean's 'Control', although he opts for less overt disses here. After just eight bars of this soulful instrumental, the beat again changes. Over a thumping yet ever-building 808-driven instrumental, Kendrick takes aim at Trump and calls out the disgraced former Los Angeles County Sheriff Lee Baca ("Lee Baca on trial, tryna portray a boxer/Beatin' up on my niggas while the CO's watch him"). Later on, Kendrick hints at a new album ("My next album, the whole industry on a ice pack"), before using the last bar of 'Part 4' to announce what seems to be a release date ("Y'all got 'til April the 7th to get y'all shit together").
"Lamar has now reached a point in his career in which he no longer needs to remain humble, and he knows it"
Over the last few years, Drake and Kendrick have battled a subliminal war. Kendrick has attacked Drake's reliance on subliminal disses ("Tiptoein' around my name, nigga, you lame"), but 'The Heart Part 4' showcases some of his own. On the song 'Gyalchester', Drake raps "I know I said top five, but I'm top two/And I'm not two and I got one/Thought you had one, but it's not one, nigga, nah". But Kendrick doesn't seem impressed by Drake's claims, rapping, "One, two, three, four, five/I am the greatest rapper alive!" Lamar has now reached a point in his career in which he no longer needs to remain humble, and he knows it.
'Part 4' was released on 23 March, just five days after Drake's More Life. According to Peter Rosenberg, Kendrick only came up with the song two days before its release: suggesting an effort to silence the commotion over Drake's new album playlist. It's unfortunate for Drake, who planned to take the rest of the year off ("Taking summer off cause they tell me I need recovery… I'll be back in 2018 to give you the summary"): it's like Kendrick wants to make us all forget about More Life.
If he is releasing a new album, Kendrick is doing it differently. Unlike 'i', which was released six months before 2015's To Pimp a Butterfly, 'Humble', the only pre-album single so far, has dropped just over a week before the apparent release. In a recent New York Times interview, Kendrick did say that his upcoming album is "very urgent".
Sonically, 'Part 4' doesn't give us much to go on in terms of what to expect, and nor does the leaked in-studio footage. Though the soulful and jazzy beats sound reminiscent of Kendrick's earlier work, the bass-oriented second half of 'Part 4' sounds more like some of his more recent trap-leaning songs ('untitled 02' and 'untitled 07|levitate'). In a now deleted interview, producer Syk Sense spoke about the upcoming album, claiming that the music he has heard (mainly beats) is "not like the jazzy sound you would think. I don't know what to call it. It's L.A., it's Memphis." That southern-influenced sound is exactly what we hear on Kendrick's new song "Humble", produced by Mike WiLL Made-It. The punchy piano stabs and thumping bass give Kendrick space to flex his lyrical muscles; the song even has its grimier elements.
In a similar tone to the hook on 'Part 4', the chorus on 'Humble' has King Kenny telling his peers to "sit down, be humble" while he sits in Jesus' spot at The Last Supper. If 'The Heart Part 4' was his 'left stroke' that 'just went viral', it seems that his upcoming album will be the 'right stroke' to 'put lil' baby in a spiral'.
The visuals in the music video for 'Humble' are unashamedly black. There is great imagery throughout the video: the viewer finds Kendrick amongst a pool of black heads, in a hair salon and thumping golf balls from the roof of a car. He's even seen cycling around a globein a shot rather reminiscent of the video for Dizzee Rascal's 'Bonkers'.
Based on Kendrick's previous work, his next album is likely to be thought provoking, although 'The Heart Part 4' and 'Humble' so suggest a less conceptual piece. Whatever Kendrick does release, it seems 7 April will be hip hop appreciation day