Review: Milky Chance – Blossom
The German folk trio's second album builds on the success of their first while making significant changes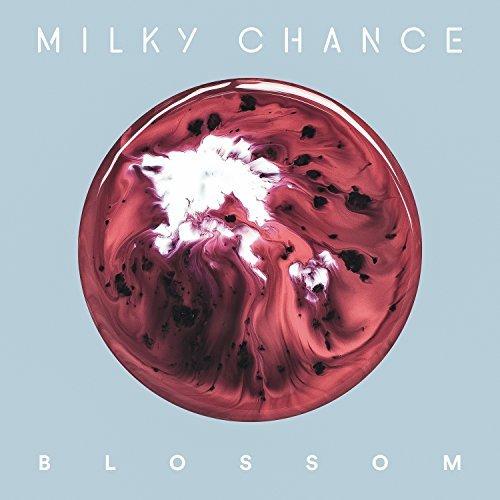 Out of nothing, a crescendo of synth seventh chords and off-beat percussion grows slowly, until the guitar and vocals suddenly all tap in at once, interrupting this seemingly unrelated prelude with a dynamic pulse of bass drums and strummed chords.
This is the titular opening of Milky Chance's second album, Blossom. Within the first 30 seconds of the album we are abruptly taken from an unusual building riff to the band's classic sound: thumping drums, vigorous guitar strumming, acoustic noodling and the gritty vocals of lead singer Clemens Rehbein.
This alternation between expected and unexpected, acoustic and electronic –  even a juxtaposition of simple and heavy production – is what both characterises and distinguishes the group's newest album from their earlier work. And while Blossom remains loyal to the winning formula of the hits on Sadnecessary, it features a refreshing balance between upbeat and mellow, simple and complex.
"Alternation between expected and unexpected, acoustic and electronic – even a juxtaposition of simple and heavy production – is what both characterises and distinguishes the group's newest album from their earlier work"
With an energising start to the first track, 'Blossom,' the refrain of the titular song then backs off again, exposing only faint background vocals and a single acoustic guitar melody. "All I feel," croons Rehbein, "is that I need you to blossom out, blossom out, blossom out." The next song, 'Ego,' features similarly repetitive lyrics, albeit  with a slightly more upbeat feel reminiscent of Vampire Weekend, energised by polyphonous guitar lines and wood-block percussion. The vocals, on the other hand, are uniquely those of Milky Chance, with sensual hums punctuating the end of every verse. Like in 'Blossom,' the one-word song title – ego – is repeated throughout.
Contrasting with these punchy openers, 'Firebird' begins with a soft, ethereal prelude, only to then return to the sound popularised by their earlier hits like 'Down By The River'. Here, the predominant simile of "You're like a firebird" plays into Milky Chance's knack for unusual yet striking comparisons – much like "I am attracted to you like the sun" in the earlier 'Sweet Sun'. Seeing as the members of the German band are non-native English speakers, their linguistic background becomes here an asset for their lyrical writing: a lack of familiarity with the blasé tropes of anglicised expression allows them to create poetry both beautiful and candidly simple.
This is why I was disappointed by the cliché sound of 'Cold Blue Rain,' which revolves around the line: "I know that we'll be forever; forever together as one." In the bonus acoustic version of the song, the rawness of pairing one voice with one guitar saves the emptiness of the lyric, transforming it into something intense and genuine. But in the context of layered guitar work, chord progressions and occasional punctuation from a harmonica, the heavy production buries the possibility of redeeming simplicity.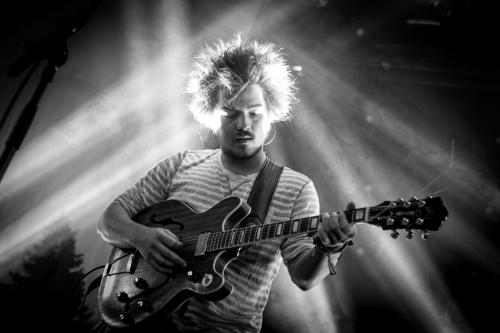 That being said, most of the textures in Blossom are vibrant and diverse, perhaps even more so than in Sadnecessary. 'Firebird' has, for example, an acoustic guitar solo, which through funky and changeable rhythms invigorates the momentum of the piece. I only wish that the solo could have explored more tonal realms, rather than playing over two repeated shifting chords – although this unfulfilled expectation might result from hoping to find some of the discordant grit that Rehbein injects in his signature vocals in the instrumental sections.
'Peripeteia' has a similar instrumental moment, although this time, surprisingly, on the harmonica. The addition of the harmonica to the album is a result of the work of Antonio Greger, the group's third member who only joined after their first album in 2013, which had been released when they were still a duo. Here the sliding harmonica solo works nicely with the Morricone-esque guitar riff in the refrain. The theme of the sun returns, with musings about the "dawn" and the "California state of mind." This imagery, paired with layers of syncopated rhythms, creates the kind of cohesive yet aurally interesting soundscape found throughout the album.
'Doing Good' and 'Alive' strike a similar balance between pattern and variation, with 'Doing Good' featuring quasi-monotone vocals over busy guitar riffs. 'Alive,' on the other hand, is driven by a funky, heavy bass-line, accented by tambourine and, in a touch of electronic production, reverberating synths. Both songs mark a refreshing departure from the usual kick drum and strong guitar presence on the album. 'Clouds' has a similarly high level of energy and diversity with summery whistling overtones, Latin-style background vocals and a percussive bongo groove.
My two highlights from the album, however, were 'Bad Things' and 'Cocoon.' 'Cocoon' was released as the first single off the album and is already being played all over the radio – for good reason. Although it doesn't stray far from the characteristic Milky Chance sound, the upbeat background vocals, percussive accents and layers of guitar work create an energetic and dance-worthy track, one true to the best moments on Sadnecessary. 'Bad Things' is, conversely, more experimental in its upbeat feel, taking a break from heavy strummed guitars and instead featuring an ascending syncopated electronic keyboard line. Izzy Birdu's light, oscillatory vocals meld seamlessly with Rehbein's gritty sound. This new vocal texture, accompanied by interludes of Beach-House-like filters and cowbell punctuation, is both a refreshing and energising detox from Milky Chance's typical style.
Before reaching the two acoustic versions of 'Cold Blue Rain' and 'Alive,' the album concludes with 'Piano Song' and then 'Heartless.' These two pieces perhaps display best the album's balance between upbeat and serene, acoustic and heavily produced. 'Piano Song' is the apotheosis of Milky Chance's simplicity; just piano and layered, coarse vocals, Rehbein conjures a kind of emotion that almost cries out with yearning nostalgia at the refrain. 'Stay,' which is earlier on the album, has a similar acoustic simplicity, featuring only Rehbein's vocals and acoustic guitar, although I think it perhaps lacked the emotion and tonal interest that we get in 'Piano Song' or the two acoustic covers at the end of the album.
'Heartless,' on the other hand, is a masterful feat of layering and production. Switching between a cappella moments of intense, choral harmonies and pulsating beats, the piece mimics a quasi-orchestra with texture and polyphony. First, we get a wavering, high-pitched harmonica and synth pad, evocative of a starry night sky and complete isolation. Then the gritty guitar noodle comes in, switching capriciously between minor and major tonalities. The soaring vocal lines repeat "remember" over and over again, until it all comes to a pause. And suddenly the drums kick in, followed by an overarching guitar melody, then bass, wordless vocals, percussion, harmonica, hi-hats – all blending together in perfect polyphony as quavering high pitched synths waver eerily above.
While Blossom combines an attention to detail with a diversity of sound and polyphonous intersection, I don't know if we got the same kind of raw, romantic sensuality that we heard in older tunes like 'Summer Sun.' Yet Blossom is certainly evocative, exploring a greater range of texture than in the group's previous work. The balance between their classic, pulsing folk-electronic sound and the more acoustic, stripped-down moments allows Blossom to tell a bigger story, one of both sunny memories and quiet reverie