Restaurant Review: Carlos BBQ
Max Simmonds pays a visit to Carlos BBQ on Mill Road, where he experiences the joys of a solid kebab.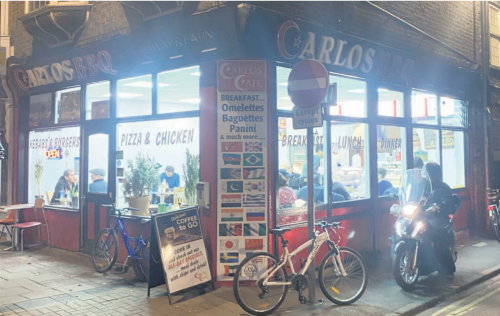 I have quite a strange relationship with menus. Sometimes when I'm on the toilet I'll choose a random city, do some research to find its best restaurants, and then spend a long time pouring over their menus. It's tough to pinpoint exactly what my little ritual gives me (other than hemorrhoids); but I think it's telling that when I was feeling really homesick on my gap year (sorry), I would soothe myself by looking at the restaurants I could visit when I started at Cambridge.
One of those restaurants was Carlos BBQ. Apparently it did peng kebabs, and that's all I really needed to hear. I was in Mill Road last week, completing my descent into softboi-hood by way of double ear piercing, when, as if it were someone I'd stalked on Instagram before meeting in person, I found myself outside of a restaurant I'd stalked on TripAdvisor before meeting in person. I nipped in, took a takeaway menu home, and, enamoured by the photos of kebabs on the front, stuck it on my empty pinboard.
Meanwhile, my girlfriend had come into contact with someone who had Coronavirus and was isolating until she got her test back. This meant I had a lot more time to do that four letter word that begins with 'w' and ends with 'k'. Yeah, that's right, work.
"Apparently it did peng kebabs, and that's all I really needed to hear."
I was also wanking myself into oblivion at this point and had depleted the oh-so-rich 'natural resources' of online porn so completely, I was sure that Extinction Rebellion were going to insist that Robinson College divest from me and then also dig up my parents' back garden. A combination of boredom, lack of imagination and eyes which relentlessly darted towards the sexy stock photos of thicc doner meat and curving cubes of kofta on my pinboard, led to a 'yeah, go on then' moment for the ages. As I said, strange relationship with menus…
I also have a strange relationship with Mill Road. If you know me, you know how much I hate the taste of dairy. What you may not know, however, is that I love milk… ing the fact I got stabbed. When I went to Carlos BBQ yesterday, it was the first time I'd been to Mill Road at night since 'the incident' and I was feeling quite nervous. At least Carlos BBQ could rest assured that however badly their food could go down, it definitely wouldn't go down as badly as a 1AM call to your parents telling them you're in hospital with a slashed liver because you got mouthy in a smoking area.
Enough talky-talky, more eaty-eaty. I'm joined by my friend Sameer, who's half-Pakistani and Saul (not my friend), who's half Iraqi; as for me, well I just really like kebabs. As a collective, this makes us a considerable authority on chargrilled meats. Indeed, wafting out of the restaurant onto the street is the glorious smell of burnt, dead animals — not since Second Temple Judaism has animal sacrifice been so *chef's kiss*.
The interior is confusing. The walls are white and clinical, like the inside of Addenbrooke's. A badly designed graphic menu with stock photos of fried chicken meal deals hangs on one of the walls (to be fair, this is also a chicken shop – and they do fish and chips and omelettes and fry-ups and paninis and baklava.) Above the counter are even more menus, but with red neon borders that could actually make for some sexy mood lighting, though the mood in Carlos BBQ is a bit more subdued. Sameer insists I talk about the enormous succulent that's growing by the door; it is really big, to be fair.
"The generous glugs of good quality olive oil push it into even creamier waters."
The waitress is really friendly and asks what we'd like to drink. We ask for tap water and are given three bottles of water. I channel my inner Karen and after a gentle correction (I'm a really nice bloke), three glasses of tap water magically appear where those plastic pisstakes once stood. Great success.
The hummus appears next. On earth, there are two kinds of hummus: the smooth, creamy, well-balanced purée of the Middle-East and the bitty, earthy wet cement of the Mediterranean. This hummus is the latter, and whilst it's evidently not my preference, it's a really decent rendition. Bitty, yes, but rich and velvety too. There's lots of garlic, which is no bad thing (girlfriend isolating) and the generous glugs of good quality olive oil push it into even creamier waters.
My lamb kofte arrives, glistening under the harsh, dental-practice lights, studded with deep-emerald nuggets of parsley. It rests upon a gorgeous surprise of not just rice, but a bed of hundreds of tiny orange bulgur wheat suns.
The kebab is good. It's not great, but it's good. It's got a fair taste of charcoal, but the meat is too lean. I want globules of fat coursing through it like it's Coronavirus surging through a population with a track and trace system run by Dido Harding. What I have instead are two long, thick legs of minced meat, which are a bit dry and lacking in flavour. The tomatoey sauce on top is fairly bland, but the rice gets approval from Saul (half-Iraqi and incredibly fussy) – and my-oh-my, the bulgur wheat! Each little bulgur pillow overflows with the tomatoes and peppers and onions and stock it was cooked with, creating a sauce that deftly coats the grains, without swamping them. I could eat an entire meal's worth of the stuff alone. Given the size of the portions, and the quality of the dish overall, the fact I only paid £9 for it is an absolute steal.
"Each little bulgur pillow overflows with the tomatoes and peppers and onions and stock it was cooked with, creating a sauce that deftly coats the grains."
The waitress brings us a big bowl of chilli sauce. I have a tendency to overdo it when it comes to chilli sauce — I once had so much on a doner in Berlin that it made me delirious and I couldn't stand up. Admittedly there were other factors involved that night, but my point is that I know what I'm on about when I say that the chilli sauce at Carlos BBQ is one of the best I've ever had. I am consumed with regret for not buying a little tub to dip Robinson's flaccid chips into. It's got a weighty allium punch thanks to considerable doses of onion and garlic, and, crucially, manages to be proper spicy (without making me do the #BerlinStumble) whilst also actually tasting of fresh chillies. I will be so embarrassed if it turns out they just copped it from Tesco, but blimey, that stuff was unreal.
Sameer and Saul get the chicken and lamb shish respectively. Sameer lets me try his chicken and it's really good — lots of nice crispy burnt bits on the outside and it's surprisingly moist for breast meat. Saul doesn't let me try his lamb shish (not my friend), so I tell him the person who stabbed me just walked past the window and plate-pocket him whilst he's distracted. I felt a bit guilty, because the portion amounted to a miserly six cubes, which was a little questionable at £11 – especially relative to the otherwise reasonable prices. It's unctuous af though: with all the lambiness and marbling I yearned for in my own kebab, and a divine mouthfeel — straddling the buttery-softness/chewy-meatiness binary with the grace of Jesus himself.
Carlos BBQ is not the best kebab I've ever had. I live in North London (as if you couldn't already tell) and the Turkish community there absolutely smash it. Carlos BBQ is one of the best value kebabs I've ever had, though. It's not as cheap as a doner kebab roll I had from that van outside Churchill, but they're in different leagues, different sports, even. If you ever find yourself hankering over smoky, dead animal, and want to eat it from a plate rather than a styrofoam box, without having to spend your entire maintenance loan, get your batti down to Carlos BBQ. I'd be very grateful if you could bring me back one of their takeaway menus whilst you're at it.
Varsity is the independent newspaper for the University of Cambridge, established in its current form in 1947. In order to maintain our editorial independence, our print newspaper and news website receives no funding from the University of Cambridge or its constituent Colleges.
We are therefore almost entirely reliant on advertising for funding and we expect to have a tough few months and years ahead.
In spite of this situation, we are going to look at inventive ways to look at serving our readership with digital content and of course in print too!
Therefore we are asking our readers, if they wish, to make a donation from as little as £1, to help with our running costs. Many thanks, we hope you can help!